"The Miraculous Journey of Edward Tulane", Edinburgh Festival Fringe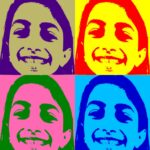 Nora Al Mazrouei in Edinburgh
28 August 2023
This is about an expensive toy rabbit called Edward. He is owned by a little girl called Abilene who loves him very much.
But Edward loves only himself. The story is in the 1930s, almost a hundred years ago.
Edward falls off the Queen Mary which was a very big ship and sinks to the bottom of the sea. We follow his adventure – this is a family friendly adventure show.
It is scary when Edward has no control of what is happening to him. There are some thrills and spills and some sad scenes. But everything turns out pretty well!
Nora Al Mazrouei
#entertaining #kid-friendly #amazing show #great acting #wonderful acting
#lovedit #cool to watch and enjoy #really special experience