"The Greatest Magic Show", Edinburgh Festival Fringe
Children's Shows (magic)
Assembly George Square Gardens – Palais du Variete
Suitability: 3+ (4-12)
Group: Showmen Productions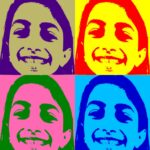 28 August 2023
Nora Al Mazrouei in Edinburgh
The actors are Australians. But no koala bears and they are not upside down standing on the ceiling!
It's such an interactive performance as they asked the audience for volunteers!
You get a free magic wand when you go in. Well, the other children did – perhaps I wasn't paying attention.
The final message is to believe in yourself. Sometimes I have trouble with that. But with three sisters and a brother, my family all encourage each other. Now he has seen this show, my brother wants to be a ring master.
Nora Al Mazrouei