"'Any Suggestions, Doctor?' The Improvised Doctor Who Parody" Edinburgh Festival Fringe
Comedy (improv, family-friendly)
Pleasance Dome – AceDome
1 hour
Suitability: 8+
Group: Any Suggestions Improv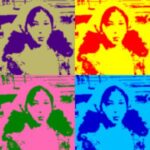 28 August 2023
Jamilah Al Mazrouei in Edinburgh
The audience could decide a lot of this for the actors. And some of it was decided by rolling a dice.
The actors must have been thinking very quickly to make it up as they were going along, all from what we said we wanted to see. My mum, who has been an actress, said this is called improv and for it to be done well like here the performers are very clever.
This was all about a show called Dr Who – somebody was travelling about in time. The older you were the more you seemed to know about this show. But that's okay. I know about modern shows that they don't understand!
Jamilah Al Mazrouei
Photo credit: Steve Ullathorne.