Dublin and Galway theatre round-up
Bill Grantham in Ireland
20 October 2021
It's been two years since there was a Dublin Theatre Festival that occurred in actual theatre spaces. The 2020 edition, livestreamed from lockdown, was a heroic response to impossible circumstances – but, in the end, not the real thing. These setbacks were shrugged off in 2021, resulting in a capturing set of productions. I saw eleven of these (and still missed a few), and there wasn't a dud among them. Welcome back …!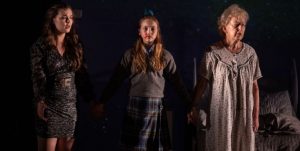 Sarah-Shine, Caia Leseure and Joan Sheehy in The First Child.
Photo credit: Ste Murray.
Three years ago (Plays International & Europe, Winter 2018), I wrote of the tsunami of rage among women theatre workers in Ireland whipped up by the Abbey, our national theatre, and its male-dominated programme for 2016. Their fury was compounded even further by claims of sexual harassment made against Michael Colgan, the head of the other principal Dublin theatre, the Gate. Separately , I wrote harshly about the Abbey's creative doldrums that saw it "sinking into dullness" under its then co-directors Graham McLaren and Neil Murray. It was a gloomy time. In 2021, after our enforced hiatus, strong drama re-emerged with woman directors, writers, actors, and others well to the fore at the festival and, very happily, a new artistic regime installed at the Abbey. We had good reasons for thinking that we'd turned a corner.
And so it has turned out. Starting with the very best: The First Child, an opera by the composer Donnacha Dennehy with libretto from the playwright Enda Walsh, was a world-class event. It is the third collaboration between Dennehy and Walsh, functioning as the concluding opera in a trilogy, and it demonstrates a mature command of this tricky medium.
A little girl is cruelly bullied by her peers, and the resulting harm unfolds throughout her life. So far, so ordinary. But the prosaic setting of the opera in contemporary suburban Dublin resonates with the enormous symbolic and psychological weight of its treatment. Walsh has said that The First Child "cuts between the normal and the mythic", but more precisely the opera embeds what is the mythic in regular everyday life, as both are part of the rich complexity of life. In that sense, dramatically it's the obverse of operas such as Tristan und Isolde or Die Zauberflöte, where the drama is engendered by defamiliarizing well-known fables. The First Child by contrast finds its shocking vigour in the implications hovering beneath its quotidian surface.
The music is rich and complex, the libretto – unusually for an opera – is psychologically dense and rewarding. The singing by Eric Jurenas, Sarah Shine, Emmett O'Hanlon, Niamh O'Sullivan, and Dean Power was very fine, as was the playing of a complex score by the members of the Crash Ensemble under the conductor Ryan McAdams. A charming children's chorus was also effective, partly thanks to Enda Walsh's delicacy in staging the piece. I hope to see The First Child again – it has all the elements of a work that should become part of the standard operatic repertoire.
Drama set in the dark days of the AIDS crisis of the 1980s has become a sub-genre – Larry Kramer's The Normal Heart (1985) [a current production is reviewed in this issue] and Tony Kushner's Angels in America (1991) led to many other dramatic reflections on those awful times, among them Robin Campillo's 2017 French film 120 BPM and Russell T. Davies's 2021 UK television series It's A Sin, both of which were extremely affecting. The dramatic challenge of these AIDS-themed stories is that, in their 1980s settings, they head in only one direction: towards inevitable death. I'm of the age where young friends of mine died this way – as did an even greater number of friends of friends. But drama is unforgiving, and we won't tolerate the soft touch or the easy denouement. As a theatre practitioner, you therefore have to make the journey, and now, after more than 25 years of such stories, you have to find new ways of telling these old, harrowing tales so as to achieve the poignancy they deserve.
Which is exactly what we don't get in Phillip McMahon's Once Before I Go (2021), a desperately sad account of living and dying in the 1980s that is playing at the Gate Theatre. In terms of playwrighting, McMahon makes the smart move of setting the play's opening in the present day, 25 years after the death of Bernard (Matthew Malone), the main character. Bernard's sister Lynn (Aisling O'Sullivan) turns up in London with her brother's ashes in an urn, looking for a long-lost friend and Bernard's lover, Daithí (Sean Campion), who fled Ireland long ago.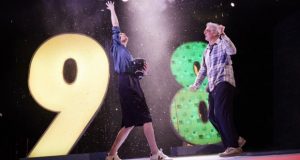 Aisling O'Sullivan and Sean Campion in Once Before I Go.
Photo credit: Ros Kavanagh.
The play then segues back to Dublin in the 1980s, with Lynn (Martha Breen) and Daithí (Desmond Eastwood) both young; she's an outspoken gay activist and he plans to opt for a quieter, albeit gay, life. But Bernard, an almost stereo-typically flamboyant gay man, is also a compelling force of nature who sweeps Daithí to a place he didn't plan to go to. It's truly a love match, and the rapport between staid, steady Daithí – whose qualities Bernard needs – and Bernard's outrageousness becomes a deep, touching connection.
We know where this is all going, but McMahon has a playwright's control of his material. The moment when Bernard, stripping to the waist after a magical night out in Paris, reveals the Kaposi's Sarcoma lesions on his lean body is genuinely shocking and balances the inevitable, but apt, show-stopping performance that ends the show. The title of the play tells us what is to come – it's Peter Allen's confessional torch song "Once Before I Go", made even more famous by Hugh Jackman's performance as Allen in The Boy From Oz, but it's not a dramatic indulgence. It represents what Bernard is and his refusal to give in even as he knows he's dying.
Malone's performance as Bernard is quite wonderful, and he's very well supported by the familiar stalwarts of the supporting cast, O'Sullivan, Campion, Breen, and Eastwood. Sam Crerar is also excellent in the first act as Jase, an impossible transsexual that Daithí is trying to help. Selina Cartmell's direction is really immaculate. She's announced that she's moving on, and this is a worthy end to her stewardship of the Gate Theatre. Costume (Katie Davenport), lighting (James F. Ingalls) and sound (Alma Kelliher) were also spot-on. A really fine and moving evening.
The other big show of the festival was Marina Carr's new play iGirl on the Abbey's main stage. It was the first production by the Abbey's new artistic director Caitríona McLaughlin who had already done a number of successful shows at the theatre, including a very good revival of Carr's On Raftery's Hill in 2018. iGirl is a solo drama, played by the great Olwen Fouéré, and it is, in some ways, a companion piece to Carr's Hecuba, performed at the Dublin festival two years ago. It riffs off Greek mythology, Irish stories, and other women's stories, including some about the Neanderthals and Joan of Arc. It's a very rich and challenging piece, and I would frankly like to have seen it more than once and to have had the additional benefit of reading a published text. So, my take on it is a little provisional – one good friend of mind, whose opinion I respect, absolutely hated it, and while I wouldn't go that far, not in the least, my own personal jury is still out on it.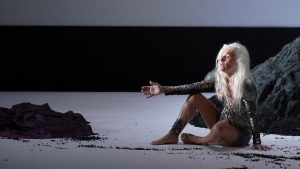 Olwen Fouéré in iGirl. Photo credit: Ros Kavanagh.
iGirl is in the voice of not so much an Everywoman as a collation of all women represented by one voice. Fouéré spends the entire 100 minutes (no interval) alone on stage during much of which time her breasts are bare. So, she's very, very exposed but has extraordinary force that seems to normalize this. She's quite compelling, in command of the stage, the text and the audience the whole time. It's very difficult to inflect so long and difficult a piece, to make it constantly interesting. It takes an actor of Fouéré's experience and talent to pull this off, and she does it quite magnificently.
The iGirl set, designed by Joanna Parker (who also worked on On Raftery's Hill), is minimal but quite considerably enhanced by video additions (also by Parker). McLaughlin's direction is very good indeed; it's a real pleasure to see a challenging piece in control of an artist who knows what she's doing. Almost an all-woman production – the composer and sound designer Carl Kennedy is the sole representative of the distaff side, iGirl in its ambition and realization, it gives reason to hope for a new era in performances at our national theatre. I'm still thinking about the play, which tells you something, and I plan to see it at least once more. It's an incredibly encouraging start to the McLaughlin regime.
Ireland may not have invented the play that deals frontally with modern issues – maybe we should give Ibsen the credit for that – but George Bernard Shaw and Sean O'Casey are two playwrights among others who have made the country's stage an engine for discussions and evocations of contemporary themes decades before anybody had the idea of putting a kitchen sink on the stage. The latest Dublin Festival was not short of work in this line. Two plays, Caitríona Daly's Duck Duck Goose for Fishamble at the Pavilion Theatre in Dún Laoghaire and Geoff Power's Stronger for Gúna Nua at Smock Alley, were sensitive accounts of sexual assault.
Fishamble has a long record premiering new plays, and it has a well-earned reputation for careful dramaturgy that consistently translates into rewarding drama. There's a rape theme in Duck Duck Goose, but we aren't asked either to piece together what happened or to mediate between conflicting stories. Instead, we're invited to reflect on the meaning of the facts we already know and how these facts influence the characters. Caitríona Ennis is the accuser Jane and also a range of other characters; I found the way she was deployed by the director, Jim Culleton who is usually a very safe pair of hands, a little confusing. Partly, it's because Ennis has quite striking looks, so it took a while to work out that she was playing different people – particularly given quite minimal costume changes. She reminded me of Deborah Kerr in The Life and Times of Colonel Blimp playing three characters who happen to look exactly the same, although in that case, the effect was intentional. But Ennis's performance was extremely good, as was that of Aidan Moriarty as Chris, who in the beginning can't believe that his best friend could have committed the assault. John Doran, Naoise Dunbar, Liam Heslin and Roseanna Purcell rounded out a strong ensemble cast. It's a sobering subject, well-written and realised.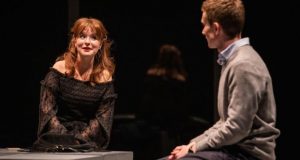 Caitríona Ennis and Aidan Moriarty in Duck Duck Goose. Photo credit: Ste Murray.
In Stronger, the focus is different. Mary Murray is Jen, a teacher who is raped by Damon (Scott Graham), one of her students. Damon is caught and jailed, but Mary feels that the grinding wheels of justice have not dealt with her needs or allowed her to heal from her ordeal. The play is an explicit argument for what is called "restorative justice" where a perpetrator meets the victim to take responsibility for the act of violence (in this case). The mediated meeting in the presence of a therapist is effectively realized in Paul Meade's production. Less good in the writing is Jen's husband Rob (Marcus Lamb), who's a bit of a cypher, a well meaning fool who constantly says and does the wrong thing so that we understand what the wrong things look like. I felt as if I was being led by the nose through a thicket of legal and therapeutic issues, however worthy. But Murray is a strong actor and her connections with Damon are convincingly realized.
In Mark O'Halloran's two-hander Conversations After Sex by Thisispopbaby at the Project Arts Centre, Kate Stanley Brennan and Fionn Ó Loingsigh, start the drama completely and disturbingly naked but then, in the scenes that follow, are more, if mainly scantily, clothed. Brennan plays the same character through a series of brief sexual encounters while Ó Loingsigh is a number of different men whom Brennan meets, some of them more than once. She is wounded, and the source of her pain is slowly stripped back in O'Halloran's measured, careful script. The third wheel in her life is her sister (Niamh McCann), who is both a sibling antagonist and a close friend, sometimes at the same time. Brennan's performance is particularly good, finding nuance and depth in a character that lesser actors might overplay. Tom Creed directed, very well, with excellent sets by Sarah Bacon.
Kate Stanley Brennan and Fionn Ó Loingsigh in Conversations After Sex: 
Photo credit: Ros Kavanagh.
I confess that Michelle Read's Bang! at Smock Alley, did the least for me of all the productions I saw at the festival. It's well-written by a seasoned pro, well-performed by a talented cast of five, and well-staged by Davey Kelleher. It deals with contemporary issues – a suburban family, dealing with the provocations of their teenage daughter (Maura Bird) coming out as gay, is rocked deeper by the revelation that their pater familias (Mark D'Aughton) is transsexual. You can't get much more contemporary than that, and Marion, the Irish mammy at the heart of the family (Gene Rooney) holds the fort as the family undergoes its human convulsions. It's done with great sympathy and a certain flair, but the suburban milieu of the play and the sitcom tropes – a Latina au pair (Alexandra Conlon) and a n'er-do-well in-law (Simon O'Gorman) among them – have a limiting impact on the real drama that's at the heart of the work. I felt it could have been bolder and gone further. It was unduly limited by the conventions that it had adopted.
Similarly conventional was Deirdre Kinahan's The Visit at the Draíocht Theater, Blanchardstown. Kinahan is an old hand at writing, and I liked her play Rathmines Road, another of many contemporary meditations on rape, for Fishamble in 2018. The Visit is a one-woman show directed by Veronica Coburn with a powerful performance by Mary O'Driscoll as Rose, a suburban widow dealing with the sudden revelation that her late husband had led a double life. Rose is an appealing character, appearing on stage in a cowgirl outfit before that evening's performance with the local choir that she's joined. As she reflects on that morning's shocking discovery – that her husband was in a long-time affair with another, a man – she shows herself surmounting her normal diffidence and hints at the life she's intending to lead in future. It was very well done, with good writing, directing, and acting, but at all times I felt that I knew where I was going with it and that the conventions of one-person confessional drama – one thinks of Alan Bennett – create a difficult balance between telling us what we know already and revealing the truly wounded human within.
I saw a couple of more experimental pieces that were enjoyably challenging. Pan Pan Theatre's production The First Bad Man directed by Gavin Quinn was an amiably nutso riff on Miranda July's novel of the same title (we critics received a copy in the post before the performance). It took place in Wesley House, a non-theatre space and, on entering, we found ourselves in a book group with the actors scattered among the audience. One trend of the festival this year was short works – 60-70 minutes, no interval – but this one was a monster, five hours long, albeit divided into 60-minute segments seen on different nights. I only got to see the first instalment and wished I'd been able to see more. The actors Andrew Bennett, Luka Costello, Judith Roddy, and Grace Morgan are characters in the book group, bringing their own lives to their appraisal of the novel (and other things), but also dramatizing elements from it. They suggested that we were just eavesdropping on their group, but that belied the quite considerable craft that went into creating the work.
I also liked Shanna May Breen's and Luke Casserly's performance piece Root at the Samuel Beckett Theatre, with, in addition to the two creators, Breen's mother Fiona and Wayne Jordan. It's a meditation on trees in Ireland which was once heavily forested. Now, thanks to centuries of charcoal burning and felling trees for the construction of ships and buildings, Ireland has sparse tree cover. A charming, thoughtful work nicely staged and performed.
As I pointed out, the Dublin Festival presented several plays about rape and other forms of "bad" sex. There were also some reflections on good(ish) sex, albeit not entirely realized. In Purple Snowflakes and Titty Wanks at Abbey Theatre's small stage called the Peacock, Sarah Hanly, in another one-woman show, plays Saoirse, a girl from County Wicklow who recounts her teenage and young adult experiences at home and in London. The core of her experiences is sex – Saoirse tells us that she is "just very, very horny" and then gives us lots and lots and lots of examples, many of them not great. The trouble with this is that we're pretty much all very, very horny and so Saoirse isn't telling us anything that we don't know already. Hanly has talent, presence, and good movement, and Alice Fitzgerald's directing was confident. But the earth didn't move for me.
Before the festival, we had Decadent Theatre's production of Kevin Barry's There Are Little Kingdoms, taken from his short story collection of the same title, at the Town Hall Theatre. It was part of the Galway International Arts Festival. The stultifying and oppressive impact of Irish small-town and country life has been a literary trope as least as far back as Brinsley MacNamara's The Valley of the Squinting Windows (1918) (which was to have been staged as a contemporary stage adaptation but was disrupted by the Covid pandemic).
The trope is wheeled out again in There Are Little Kingdoms, and there are some finely-calibrated moments in the production – not least because the director, Andrew Flynn, trimmed Barry's often over-indulgent prose, making something leaner and more appropriate for a stage presentation. But, as with Sarah Hanly's production, too much is made to hang on sexual longing of different sorts – teenage lust, adult swingers, and other forms of desire. This is all very well but not enough – at least, not enough for me. The ensemble cast is excellent, not least being Zara Devlin, who I liked very much in On Raftery's Hill and The Glass Menagerie. This was the first play I had seen in two years, and it was very much worth the four-hour drive to Galway. But it still left me wanting more.
What struck me most after seeing these twelve shows is that there are an astonishing number of good actors, directors, writers, designers, and composers currently in Ireland. I said that there wasn't a dud in the whole lot, and this is true even if my personal tastes didn't lead me to experience everything with equal pleasure. The establishment companies at the Abbey Theatre and the Gate Theatre are doing better work than they have done for years, and the other ensembles are doing very good work indeed. I'd like to see a little more tilting back in favour of the repertoire – the only classic play this year was a revival of Beckett's Happy Days in Irish, which I sadly couldn't see but which I was told was very good indeed. But that's not to complain about the range and quality of what we have. Theatre is back, thank goodness.