"A Streetcar Named Desire", Edinburgh
Jeremy Malies on Leith Waterside
There is an element in A Streetcar Named Desire that makes the play an explosive piece for youth theatre groups. As Blanche's sordid past begins to envelop her, she makes a resolution: "I've got to keep my hands off little children."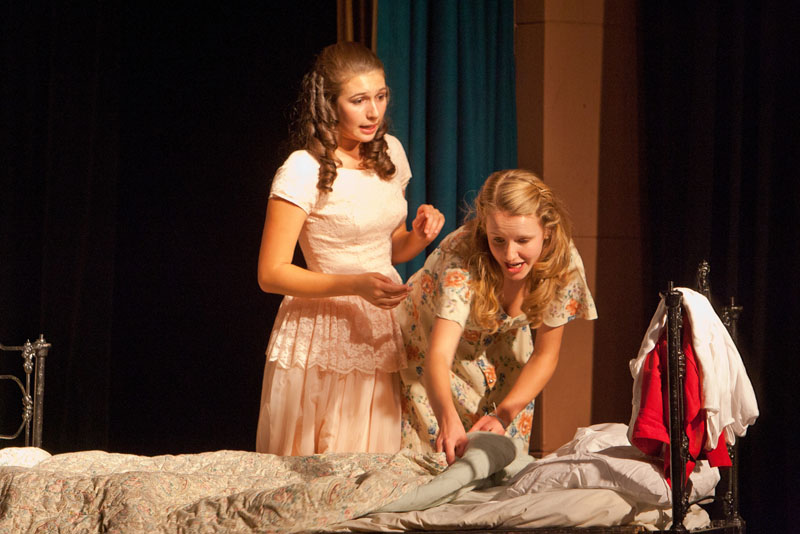 Ashley Shuster as Stella and Tlalli Moya-Smith as Blanche.
Photo credit: Pat Digregorio.
It should be remembered that she is a schoolteacher with a playing age well into her thirties, and her flight to her sister has been hastened by the exposure of a relationship with a 17-year-old male pupil. I don't know the average age of the cast of a superb production by Piedmont High School at the Pilrig Theatre as part of The American High School Theatre Festival, but these Californian actors must have been in their teens, a fact which gave this aspect of the plot additional resonance.
Moments after her appearance, Tlalli Moya-Smith as Blanche had shown quick wittedness. When a door refused to open and she was forced to enter from the side of the stage, she produced ad-libs which were not only timely but a logical continuation of preceding action. (I once saw Sinead Cusack, who has almost 50 years' more experience, struggle when presented with the identical problem at the National Theatre.) Elsewhere, Moya-Smith even manages, despite not been out of her teens, to evoke nostalgia for a lost youth and wasted opportunity. I even began to think that she was old enough for her love letters to have turned yellow over decades.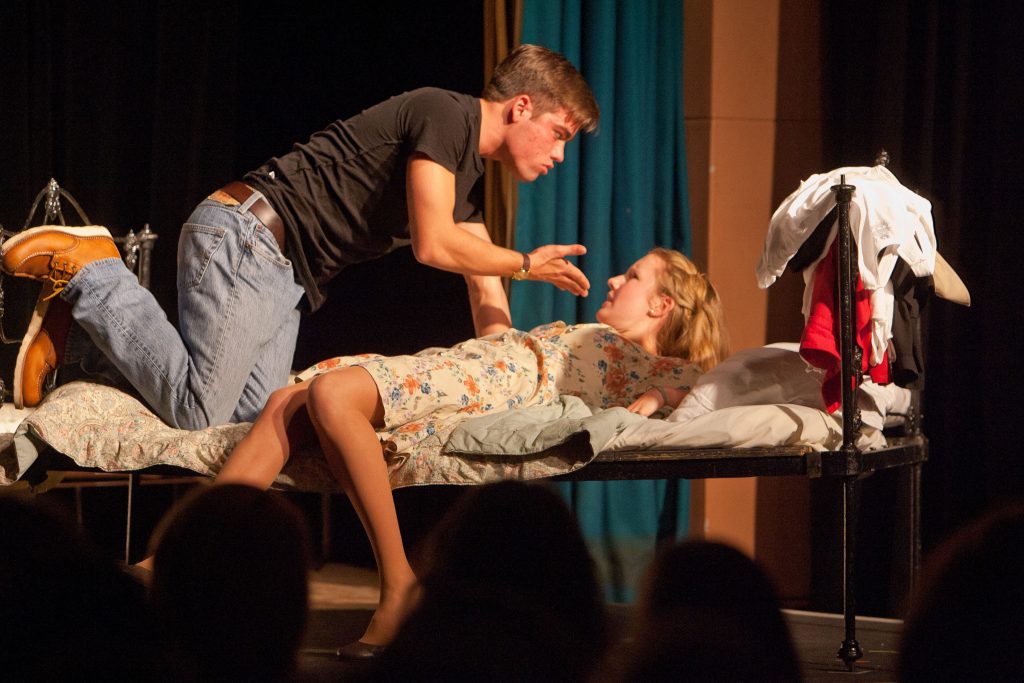 Augie Grahn  as Stanley and Tlalli Moya-Smith as Blanche.
Photo credit: Pat Digregorio.
Direction is by Kimberly Taylor, a staff member at the youngsters' college – Piedmont High School. She is scrupulously faithful to the text apart from a few excisions of lines that would have been wincingly inappropriate for teenagers. Taylor ensures that the clinical details of Blanche's final departure for a secure mental hospital are chilling.
As Stanley, Augie Grahn has to portray an epitome of American-Polish manhood with a smouldering sexuality. He also has to suggest that he has only recently been demobbed and is still empathizing with neighbours and poker buddies who served in the same platoon as he might have done on active service. It's all conveyed with an emotional depth that belies his years. He taunts his sister-in-law with a savage command of irony while moving with a grace and magnetism that would have seen him at home in the Northern Ballet dance-drama version of the piece.
Many of the themes are as relevant as ever; the sub-prime lending fiasco echoes the disastrous equity release on the family plantation, Poles in both the UK and US continue to question their assimilation as immigrants, and current feminist writing on the Fringe may be the summation of the "dark march toward whatever it is we're approaching" which is Blanche's rallying cry to her sister.
Williams often complained that his plays were far funnier on the page than over-reverent productions might suggest. This self-aware group were always alive to their own natural comic potential, and all-round technical excellence allowed them to bring a fragment of the bayou to a north-eastern suburb of Edinburgh, conjuring up "a long rainy afternoon in New Orleans when an hour isn't an hour but a little piece of eternity."