Dale Rooks of Chichester Festival Theatre
Dale Rooks is the Youth Theatre Director at Chichester Festival Theatre. Her playful spirit first came on my radar sixteen years ago in a promenade performance of Marlowe's Doctor Faustus when she and fellow directors began the piece in Chichester's studio space, the Minerva, only to have Faustus (Samuel West) leave the theatre and take his one-way ticket to damnation via a walkabout through numerous passageways in the city with the climactic scenes in the cathedral. Dale tells me how her many tasks in terms of participation by over a hundred children and non-professional local actors included depicting the Seven Deadly Sins. She placed Gluttony outside a pastry shop on the high street where spectators were offered edible goodies. Far from seeing this as brand endorsement, the proprietor responded with a stern rebuke! Jeremy Malies spoke to Dale about the theatre's current remote work with children and young adults, and how technology is allowing theatre-makers of tomorrow to stay in touch with their mentors and continue learning new skills during the Covid-19 lockdown. 
Dale Rooks interviewed by Jeremy Malies
1 September 2020
In these times of virtual contact, I interview Dale over Zoom and find her sitting in front of a poster for her 2011 production of The Lion, the Witch and the Wardrobe in which she marshaled a huge cast with invention and slick choreography using the venue's revolve to great effect. There is something neat and logical to this poster background insofar as the 2019 Chichester season (reviewed in this magazine) included Shadowlands about C.S. Lewis in which we saw a young actor step into that same magical world that Lewis created on the page. The interview with Dale is over a bank holiday weekend when the stakes for live drama could never have been higher; Sonia Friedman, the country's leading producer, has just written a feature in which she describes theatres as "beacons of civic life" where "youth groups … spoken word sessions and education programmes can take place".
I ask Dale how she and colleagues at Chichester are continuing with what Friedman rightly identifies as vital work. "Let me give you some context first. What we would deliver in a normal [non-Covid-19] world would see us working with around 1,300 participants every week in fifty-four sessions. We're now operating virtually using Zoom. Obviously, we can't reach people the same way in this remote fashion, but we've already engaged with over 50,000 people of all ages since lockdown. We've had a ten-week schedule that we put together prior to lockdown starting."
"This put us in a good position to kick into action what we were going to do digitally. I won't deny that there are challenges on the technological front and there can't be a professional sound system. One of the strands has been to stay connected with our current eight hundred youth theatre members. Each week, we've been sending them out a newsletter telling them what's coming up and what's on Instagram and other media that they can take part in. There have been things like a jitterbug dance, making a bug hotel, and puppet-making."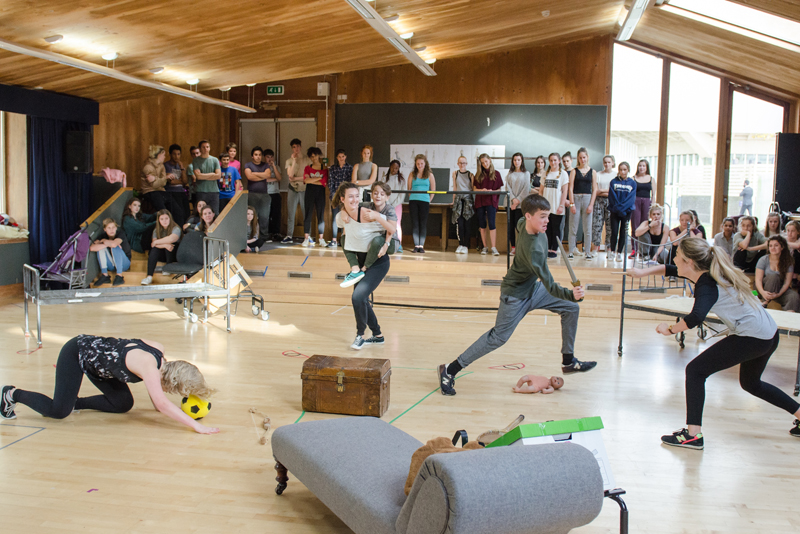 Peter Pan in rehearsal. Photo credit: Richard Gibbons.
I ask Dale to expand on puppetry. "We've had two of our youth theatre alumni creating puppets. People who have signed up to this workshop get a code to sign in to Zoom. This and other measures mean we have the highest possible level of student safeguarding. The mentors teach children to make paper puppets, taking them through each stage right up to manipulation and endowing the puppet with 'breath'. What has been wonderful about these classes both within our membership and for the wider audiences is that we've had lots of families working together. From a starting point of not being very tech-savvy, I've picked up a lot of skills since I've been at home. My team knows how to admit people into Zoom from a waiting room and allow a chat session as one of the remote workshops is happening. We've a wonderful video of our finance director doing some musical dance moves. Everybody is up for being as creative as they can be." I can't help but reflect that in these straitened times, however positive the responses are, the finance director's movements might be unusually animated.
Dale continues, "You can have up to fifty people in the workshop and are able to see absolutely everybody unless they opt not to be seen, which is of course perfectly fine. If you're teaching something like making a bug hotel out of all the junk material you have in your home, you want to see the practitioner and it's better that they can see everybody so they in turn can monitor how your efforts are coming along. We can mute or unmute people as they wish."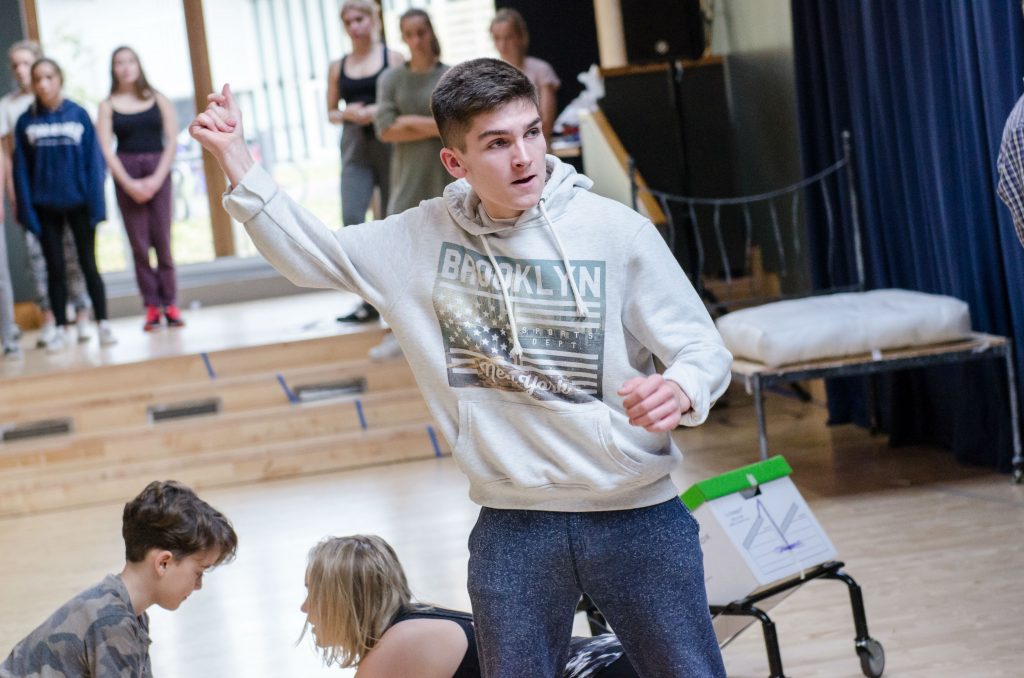 Hay and Rudi Millard rehearse Peter Pan. Photo credit: Richard Gibbons.
A major way of ensuring that the young theatre members stay creative is the Five Day Plays whereby they are tasked with writing a play of no more than ten pages from a short brief. Winning entrants have their text published on the theatre website and receive professional feedback. Dale tells me, "The youngest entrant so far has been eight years old. Overall, we've had in excess of 250 submissions. A lot of the plays have concerned the past or been about relationships, and I think subconsciously people have been writing about their present anxieties but not necessarily related them directly to Covid-19. One play that I remember is about a person who is stuck in a lift and not able to get out and that familiar feeling of being trapped and isolated."
"A lot of schools have responded. We've had interaction from Dubai, Canada and all over the UK. There's a thirteen-year-old girl who has written three plays so far and the one that she wrote most recently was phenomenal. It was a dream of somebody going to sleep as a boy and waking up in a girl's body. It's a monologue and is stunning. This young playwright is from Leeds. We selected four plays and as a prize the winning entrants have had an individual tutorial with Kate Bassett, our resident literary associate. Yesterday we had a group of professional actors reading the scripts. It's wonderful for the writers to have feedback and improve their plays. We're going to record the plays in a radio style. The actors we contacted to help out responded so generously and with such enthusiasm."
Prior to the interview I looked at a list of play ideas that tutors have given the youngsters and am intrigued that in one week it was a requirement that the play should focus on a character from history. I ask if anybody interesting appeared as a subject. "There were certainly some big names – Adolf Hitler, Lady Jane Grey, Mary Tudor and Leonardo da Vinci. Most unexpected was Rudolf Dassler, the German founder of the sportswear company Puma!" Dale and I both find this bizarre, and I tentatively conclude that the choice may underline the importance of training shoes as fashion items in the lives of young people.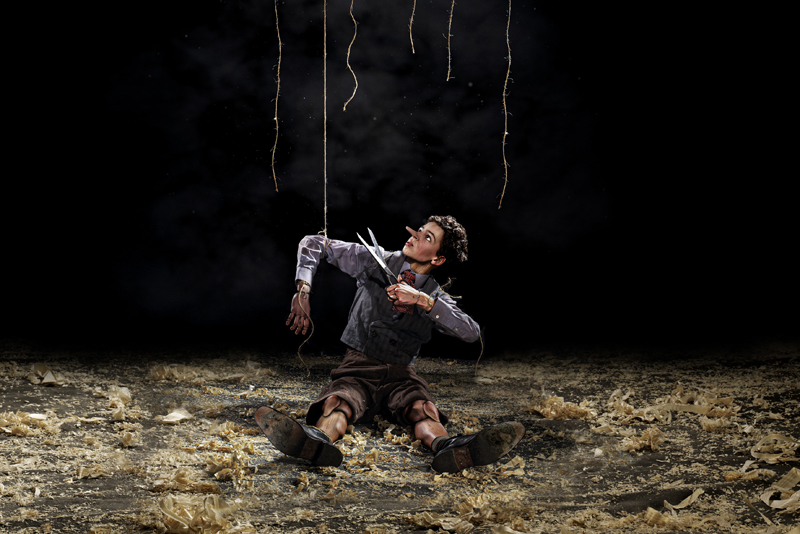 Pinnochio adapted by Anna Ledwich with music by Tom Brady. Photo courtesy of CFT.

It's easy to suppose that Chichester and its surroundings are one large leafy area of privilege. This could not be further from the truth, and everything that Dale and her associates do at the theatre is broad and inclusive. I'm sure the tradition is continuing under the current artistic director Daniel Evans but, writing annual Chichester previews for Plays International & Europe in the form of interviews with his predecessor Jonathan Church, I would often find Church having just returned from a hands-on workshop with kids at state schools in tough kitchen-sink council estates.
Dale expands on this. "You're right about the misconception that Chichester is totally affluent. There are pockets of deprivation and our work, above anything else, does reach out to more marginalized and vulnerable young people. So, for example, we have a lot of things going on with young carers. We work in the Arun District in areas including Bognor Regis and Littlehampton where there is a large Polish community, so with projects like our The Midnight Gang and Beauty and the Beast we've done some Polish translations to make the plays accessible."
"But we spread ourselves anyway because our work is over a fifty-mile radius normally. We've got eight satellite groups and they tend to be in areas where there are more socio-economic problems and social housing areas. In that way, we do reach out. But the thing about this being digital is that it highlights the inequalities even more in that those young people are less likely to have the technology. It raises a big question of how to reach those people who are even more isolated, more vulnerable, and really struggling with their mental health and wellbeing. So, we've come up with the idea of providing resource packs. We've been working with educational product suppliers and craft material companies. We've had a wonderful donation from Old Barn Books in Fittleworth near Pulborough. They gave us a hundred books – the delivery just arrived unexpectedly at the theatre the other day and we're about to give them out. This is an effort to ensure that people who don't have technology within their homes and the same level of privilege as others aren't excluded. All the time we're thinking of strategies – things we can do to keep people engaged. Of course, it isn't vital to have super-fast broadband coming into your home onto a snazzy computer. Some people are using their phones and a 4G signal. The majority of young people these days do have their own smartphone but you can't just assume that."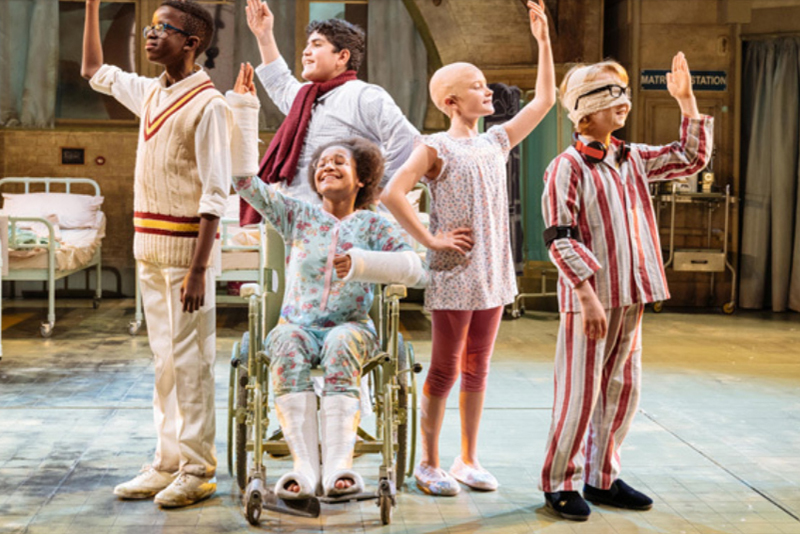 The Midnight Gang by David Walliams adapted by Bryony-Lavery.
Photo credit: Manuel Harlan.
The Chichester website section for home-based activities aimed at youngsters teems with material. I mention a video in which one of the youth actors, Riordy Kelly, who has just finished sixth form, talks about a Facebook item received from a participant in China. Riordy says, "I wanted to share a little bit of positivity. This is written by a girl called Amy who lives in China in an area where they have just lifted a quarantine measure. It shows what it's like to be on the other side of what we're all going through. Amy writes: 'The relief and joy that you feel to see that the world has started up again is amazing. To those of you who are in quarantine – just hang on! Be responsible and take the proper precautions – it's worth it. Don't take that risk! When you finally get to step outside risk-free it's incredible!'" It's worth noting that 'quarantine' in this context is being used in a different way to any kind of regulation in the UK, even the stricter measures currently in place in Scotland, but there is something universal in Amy's experience and Kelly's responsiveness. Amid statistics with so many zeros on the end that you can barely process the numbers, it's important to focus on individuals.
In turn, Dale takes up Riordy's own story. "Riordy is eighteen today. Last night I went to the theatre and recorded a little video to send to him. He's been with me since the age of eleven when he played Boy in The Witches in our Minerva studio space. I've watched him grow and develop into a charming young man who is destined for drama school."
The Witches depicts a young boy who stumbles across a meeting of witches in a hotel in the resort of Bournemouth on the Dorset coast. To thwart their evil plan to kill off all children, he must pay the heavy price of being changed into a mouse forever. Instead of resorting to animal costumes, Dale and her team made adroit use of puppetry. All of this is relevant to the world's current predicament since the theme is self-sacrifice for the general good. There is now even sympathy between people at either end of the age spectrum, and Dale gives me the remarkable detail that youth theatre members, on their own initiative, started telling their tutors that they had heard residents in care homes were feeling isolated and could they start making some films to cheer them up?
With everybody's emotions already fraught, many elements on the youth section of the website acquire huge resonance. I'll confess to have become extremely moist and croaky after listening to a young contributor reading Emily Dickinson's "Hope Is the Thing with Feathers". There is no preamble, no context, just an adolescent born one hundred and seventy years after the notoriously reclusive and almost self-isolating Dickinson reading a poem whose theme is that optimism is durable even when beset by massive dispiriting forces.
The Midnight Gang cast and ensemble. Photo credit: Manuel Harlan.
I tell Dale that the pervading quality of her young pupils seems to be resilience, and ask if she can see any positives that might emerge. "I think a huge legacy will come from this. It will be an improved ability by us to reach young people who can't necessarily come to the theatre or our satellite locations physically. We'll be able to better connect them to arts and cultural experiences."
"One thing that I've found really affecting is that we've remained in contact with our young people who have learning disabilities. On a weekly basis, they have a Zoom chat and they play games, perform exercises, and do the sort of things that would usually be arranged for them in a session at the theatre. It's really important for them to have routine and structure to their day, so this is one of their absolute highlights. It's massively rewarding for us to see on their faces how much it means to them to see their friends on screen and the familiar people who have been organizing the workshops. These youngsters are facing challenges including autism, Down's Syndrome, and general learning difficulties. Focus and concentration is always a difficult thing but they have all managed to connect with us, and it just makes my heart sing to see it."
I ask Dale to elaborate on the Commissioning Circle which is mentioned frequently on the website. "It's for 16 to 25-year-olds and every year we select twenty young people who are allowed to go behind the scenes at the theatre and follow one of the plays through from first reading into rehearsal, technical rehearsal, first preview, and press night. This is all for free; it's actually subsidized by some of the main sponsors and members of the adult Commissioning Circle. They also have the experience of meeting the director and the actors as well as having a Q&A. They really start to understand what happens in terms of a show progressing from when it's first selected until it's onstage. I remember one of the young people in this process saying that she's always wanted to be an actor but when she came onto the Commissioning Circle it inspired her to look at other creative paths and now she's started writing plays."
Prior to the interview I watched The Midnight Gang, Dale's production of Bryony Lavery's stage adaptation of a David Walliams book. The play ran in 2018, and an archive recording has been put online for a month. Walliams' multi-faceted talents and abilities as an actor mean he injects qualities into his children's books that make them eminently bankable when transformed for the stage. The story is set in a decrepit children's hospital where hero Tom has been admitted with a nasty bump from a cricket ball. There are some topical themes – particularly solidarity between a set of inventive, fun, and determined children who are trying to break free from boredom in difficult times.
The website encourages viewers to act out a scene from the play after watching the recording. I ask Dale if anybody has done this. "Oh yes! One group of viewers created their own miniature theatre using shoe boxes. There is an educational resource pack that runs alongside the film and a lot of people have responded to that, particularly schools but also families. We even had a review from an eight-year-old budding critic. It was a good review; she gave me five stars so I'm chuffed and she said it was 'well staged'. (There is now a bidding war among theatre publications to secure the young lady as a reviewer, but our magazine has the inside track and has made a substantial offer.)
Another archive recording, Beauty and the Beast, has been available through a stream until 19 June. Ahead of its release date, I ask Dale about that choice. "I hope that young people will feel really inspired by watching kids of their own age performing. It's epic with a cast of seventy young people. I like to think that families will watch it together and have some discussion around it afterwards. It's a lovely thing when families interact culturally as a group and this is an opportunity.  I just hope it meets their expectations – it's not Disney!"
World-class youth theatre doesn't happen in a technical vacuum. Staff at Chichester excel at teaching technical disciplines to youngsters who are showing interest and ability in this direction. Dale expands, "Our technical youth theatre has a great part to play in all our productions. At the moment they are operating remotely of course and are working towards their Silver Arts Award via Arts Council England. I'm so impressed with one of our fifteen-year-old students. He has to teach a skill to gain the award. He's got a basic lighting rig at home so he decided to light up his whole house in blue. He instructed his whole family how to operate the lighting and that's the teaching element. To have such a limited resource and produce something meaningful from it is wonderful. Instead of saying: 'Oh! I can't do that until I get back to the regular sessions', he's found a really interesting way of moving forward with it. For VE Day he even lit his house like a Union Jack. Genius! And it shows how young people are consistently coming up with amazing responses to this crisis."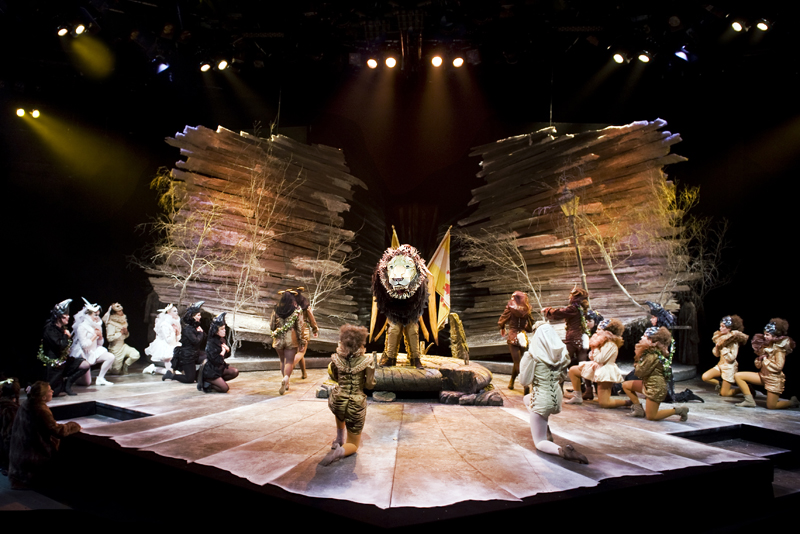 The Lion the Witch and the Wardrobe. Photo credit: Mike Eddowes
I ask about Pinocchio which is Chichester Festival Youth Theatre's next production scheduled for December in the main house. It's a new adaptation by Anna Ledwich based on Carlo Collodi's novel. Ledwich is a product of Rose Bruford College and has a significant track record of work at Chichester including assisting Rupert Goold. "We are supposed to have our development week in June to work up the script and music. But Anna is in New Zealand so we're going to develop the play over Zoom with ten of our young people reading in. I'm confident it will all come together. We'll then move on to our final draft, and nothing is going to stop us! Anna happens to be in New Zealand at the moment and is of course likely to stay there for quite a while so we'll have to negotiate one heck of a time difference. We're hoping to be able to start rehearsals of a conventional kind in September though that will of course be all subject to how social distancing rules evolve."
I ask Dale to get out her crystal ball and speculate on what is in store for our sector. My own daily cycle ride takes me past the Brighton Open Air Theatre (BOAT) which is a Guthrie-thrust style wooden venue. Dale herself has directed at the Regent's Park Open Air Theatre alongside Timothy Sheader, earning plaudits for an adaptation of Michael Morpurgo's Running Wild. Might open air or less enclosed spaces be a way of easing back into theatre?
"Everything is up for grabs now and however theatre comes back post-Covid-19 there are likely to be new ways of working. We have a lovely park adjacent to the theatre in Chichester, and I have weathered the storms in terms of doing many outdoor shows. People might be more confident about being in the open or in a marquee-type space. Pinocchio of course will need to be indoors because it is to begin in December, but the theatre will give great thought to how we can get groups and families into the main house with complete respect for social distancing. As youth theatre practitioners, our guidance comes from the Department of Education primarily with other sources of information and advice on good practice being Arts Council England and UK Theatre."
Dale and I have both watched the BBC's flagship current affairs programme "Question Time" on the previous evening and she mentions it. Guests included playwright James Graham who is the author of Ink and also Quiz which premiered at Chichester before a West End transfer. She highlights Graham's positive spin on many of the themes we have touched on, and I quote what he says: "We are using cultural institutions effectively to contribute to children's learning. A whole generation of children is sitting at home with these incredibly eager minds and a desire to be learning. And that's something that the theatre industry, in its lockdown, is proving good at. Educational departments have been continuing to function and to work with teachers to get actors and musicians who currently can't travel anywhere to inspire kids in that way. We [the theatre industry] aren't going to open any time soon, and it's incumbent on us to find as inventive and as exciting ways to keep our kids stimulated as possible." Dale and her colleagues at Chichester Festival Youth Theatre are an outstanding example of this.