"Romeo and Julie", National's Dorfman Theatre
Mark Shenton on the South Bank
23 February 2023
On consecutive nights this week, theatre travellers have been summonsed to Cardiff. Diana Nneka Atuona's Trouble in Butetown at the Donmar Warehouse (also reviewed in this magazine) is set in an area known locally as Tiger Bay during the Second World War. Now, Romeo and Julie by Gary Owen at the National's Dorfman Theatre takes us to the contemporary working-class suburb of Splott. The Welsh playwright used the same location for his previous play Iphigenia in Splott, which was itself recently revived at Lyric Hammersmith by director Rachel O'Riordan (who also directed that play's original production in Cardiff in 2015).

Callum Scott Howells and Rosie Sheehy.
Photo credit: Marc Brenner.
Now Owen and O'Riordan – who have also collaborated on Killology for the Royal Court – have reunited for this rather lovely and loving play about young love, which owes even less to Shakespeare's romantic tragedy than the West End and Broadway hit & Juliet but is more utterly delightful yet also piercingly heartfelt.
The mostly bare stage has a pram centre stage – a nod, perhaps, to the infamous scene in Edward Bond's Saved that involves a baby being stoned – but it's a false signal: this baby was abandoned by her mother leaving the father, teenager Romeo (or Romey, as he's nicknamed), to look after her. He also has his plate full tending to the needs and emergency call-outs of his alcoholic mum Barb.
As he struggles to meet the demands of parenting his young daughter Niamh, Romey's mother urges him to give it up for adoption; but his impulses are to instead to love and nurture the child, whatever it takes. Seeking refuge in a library to get a bit of rare peace, he meets Julie – whose own life looks like it is on a surer path, as she is looking to gain the right grades to go to Cambridge University to study physics.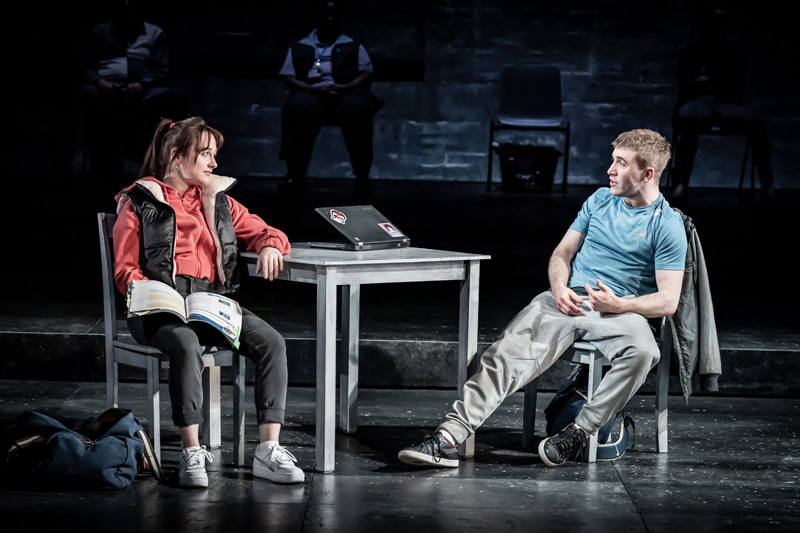 Rosie Sheehy and Callum Scott Howells.
Photo credit: Marc Brenner.
Romey and Julie fall in love; but the path of love, as in Romeo and Juliet, doesn't run smooth, particularly thanks to parental disapproval – not least when Julie falls pregnant, and she is forced to contemplate some very adult choices about whether to study much closer to home. When her father and stepmother throw her out to try to force her come to her senses, she and Romey's relationship is inevitably threatened.
To reveal more would spoil some of the surprises that the play constantly springs; but the key to O'Riordan's agile and fast-flowing production is the utter, natural charm of its two lead players. Callum Scott Howells, direct from playing the Emcee in Cabaret in the West End, brings a tender vulnerability to Romeo (even if his mouth tends to go into a default position of flattened disappointment mixed with bravado too often); and Rosie Sheehy – so vibrant in the last London revival of David Mamet's Oleanna at the Arts Theatre – has an inner radiance and intelligence as Julie.
The cast is superbly completed by Catrin Aaron as Romeo's mother Barb, Paul Brennen as Julie's steelworker father, and Anita Reynolds as her stepmother.
Hayley Griddle's set, dominated by neon lighting strips that travel in different directions with an assortment of abstract squiggles that are also creatively lit, is simultaneously desolate yet also suggestive of the larger universe that Julie intends to try to make sense of in her studies.
Though O'Riordan's production borrows some Frantic Assembly stylized moves to reinforce particular moments, this is mostly an original and refreshing portrait of working-class lives that inspires by the strength of its characters' aspirations not to be defeated by their circumstances.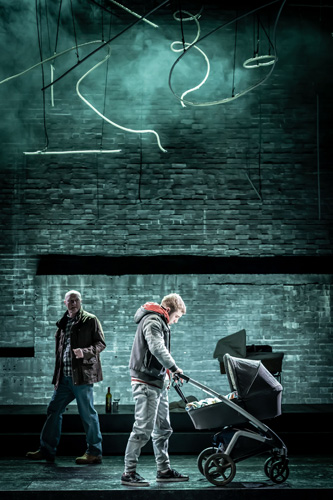 Paul Brennen and Callum Scott Howells.
Photo credit: Marc Brenner.