"NW Trilogy", Kiln Theatre
Jeremy Malies in north London
15 September 2021
Kiln Theatre in Kilburn has commissioned and produced NW Trilogy, a set of plays with overarching themes of race, class, and labour relations written by prominent dramatists as a result of an oral history project in the community. There is plenty to engage theatre-goers from anywhere, but each playlet is set in the few square miles of north-west London that Kiln serves as its core audience and reflects particular ethnic groups with which the area has been associated.
Chris Tummings in Life of Riley. Photo credit: Marc Brenner.
Two of the pieces (Waking/Walking by Suhayla El-Bushra and Life of Riley by Roy Williams) take place in the long hot summer of 1976. They should prove durable, but Dance Floor, set a decade or more earlier, is a surprisingly weak contribution by Moira Buffini and deserves to sink without trace.
The plays are jointly directed by Taio Lawson and Susie McKenna. Kiln's wide stage allows designer Sadeysa Greenaway-Bailey to present the action in a clean minimalist style; evocative props abound but the action has a broad uncluttered sweep.
The strongest of the trio is El-Bushra's Waking/Walking. Here we are in Clifford Odets territory, and I was reminded of his Waiting for Lefty which is also set against the background of a labour strike. It has economics as the fulcrum and is based on the labour dispute at the Grunwick film-processing plant in Willesden near to Kilburn which began in 1976 and gained worldwide attention. It proved a Petri dish for cultivating a Marxist struggle between classes, but the conflict also involved gender and caste since workers were predominantly female Indian migrants who had fled East Africa while the plant's male Anglo-Indian owner hailed from New Delhi.
Aoife McMahon and Claire Keenan in Dance Floor. Photo credit: Marc Brenner.
As is my wont, I saw a matinee and sat with a young, multi-ethnic audience from a state-financed school in the area who were gripped by the drama. When the characters spoke in snatches of Hindi, an enthused British-Indian girl translated the gags into English for her classmates even quicker than the exposition from the bilingual characters.
There is chorus commentary and state-of-the-nation content as the characters repeatedly report what their peers and celebrity tabloid columnists are saying about the dispute, how the Labour government of Harold Wilson got us there and how his successor Jim Callaghan is dealing with it.
In contrast with the other two pieces, El-Bushra really earns the pivotal conflict in her central character. We see matriarch Anjali (exquisitely played by Natasha Jayetileke) put her own finances before the main economic conflict as she crosses the picket line to provide for her family. She has been buffeted by competing forces including her husband, her colleagues, and her conscience but opts to put food on the table.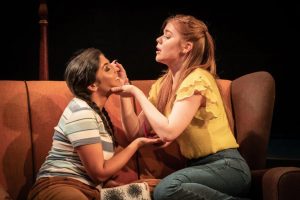 Anoushka Chadha and Claire Keenan in Waking/Walking. Photo credit: Marc Brenner.
I wish the other works were so accomplished. Williams's Life of Riley is set on a pavement corner in Willesden and depicts teenager Paulette (Harmony Rose Bremmer) meeting her estranged father Riley (Chris Tummings). Paulette is mixed race and hovering between cultures. She has made it to study for a university law degree but complains that at school she was not dark enough to have black friends and not light-skinned enough to be invited round for tea with her white friends.
Precise direction from Lawson and McKenna establishes an often mock-courtly dialogue and, with Riley strumming his electric guitar, the pair spar with each other. We finally see them come to what we hope may be a permanent reconciliation as they argue through how Riley has treated the unseen mother.
There is a gulf that must be breached between father and child. Paulette's constant sarcasm and inversion of much of what her father says threatens to camouflage the true meaning of the play. The message is, I think, the advice that Bogart gave Bacall and which she often quoted in old age: "Never forget what brought you to the dance." For Riley and Paulette, this is music. He is an instrumentalist whose 15 minutes in the sun was an extended jamming session with Bob Marley and the Wailers which he would not swap for anything.
Rina-Fatania, Natasha-Jayetileke and Anoushka Chadha in Waking/Walking. Photo credit: Marc Brenner.
We learn during the action that the Notting Hill Carnival a few miles to the west has disintegrated into a riot and arson. The pair become a microcosm and finally bond gloriously in a transcendent moment for them and the audience as he accompanies her on "Young, Gifted and Black". It's a reminder that, as well as the broad perspective of Grunwick, the social history project that has inspired these plays has also connected with life stories in personal and intimate ways.
Criticisms? Just occasionally there is a suspicion that Williams invests the 1970s Paulette with too much glib prescience. Delivered in her aphoristic style, lines like "I wonder sometimes why you lot even bothered to come here …" sit a little too neatly in the context of our current recognition of the Windrush generation.
With its impassioned plea that we should always follow our intuited sense of real purpose even if these decisions bring economic hardship, Life of Riley finally becomes uplifting and profoundly moving. And I sensed that this laudable sentiment was being absorbed by the youngsters around me, all of them on the cusp of their careers. There is a gossamer element to the dialogue and a universal social significance that should see the play endure.
Buffini's Dance Floor features a pregnant young Irish woman from a rural village, a fighting-drunk navvy from Kerry, and a ruminative older Irish woman who has married a Jamaican immigrant and is prone to issuing sage counsel. I've reduced these characters to stereotypes a fraction but haven't distorted them unduly.
This part of the trilogy is pallid, formulaic stuff which makes the quality of the show uneven. It's anchored on Claire Keenan as Aoife, a recent immigrant to Kilburn who has been seduced by an older married man back home, is carrying his child, cannot afford an abortion (which would have been illegal then), and is terrified of ending up in one of the "laundry" asylums run across Ireland at the time by both Catholic and Protestant orders. But, of course, she sings ballads exquisitely and within ten minutes of curtain-up she is confronted with a massive moral choice. It's all hugely predictable.
Aoife McMahon and Claire Keenan in Dance Floor. Photo credit: Marc Brenner.
The setting is earlier – late fifties or early sixties – but there is symmetry with the other plays in terms of broad themes such as music, social mobility, and how even immigrant communities discriminate one against the other. Aoife has not been in Kilburn for more than a few days before she is railing against West Indians while simultaneously complaining that she is being overlooked for jobs on account of her Irish brogue. But the subtlety and verbal ingenuity of El-Bushra and Williams is missing here even though it's probably Buffini who is the best known of the three.
Claire Keenan (doubling up from a minor role in Waking/Walking) rarely proves capable of bringing the role of Aoife to life but the clunky dialogue and plot render her hamstrung. We see another mixed-ethnicity marriage: Katie (Aoife McMahon), the illiterate cleaning supervisor, has an off-stage black husband. Kilburn is her home now; she could not take him and her mixed-race daughter on a trip to Ireland. These themes strike home and there is some adept humour, but it's of the toilet order. "You can do the Gents first and get them out of the way, or build up your mental armour."
The other two playlets can be sure of a decent shelf life; they have a topicality that is likely to continue to appeal. It's a surprise to me how Buffini has produced something so slight and mediocre. This is a mixed trio.