"Antigone", Regent's Park Open Air Theatre
Neil Dowden in central London
14 September 2022
Inua Ellams is a British-Nigerian playwright, poet, and performer best known for Barber Shop Chronicles, which explores the African diaspora via men's conversations in barber shops in the UK. The well-received Three Sisters at the National Theatre in 2019–20 (set during the Biafran War in Nigeria in the late 1960s: "Three Sisters": National Theatre – Plays International & Europe) was billed as "a new play by Inua Ellams after Chekhov".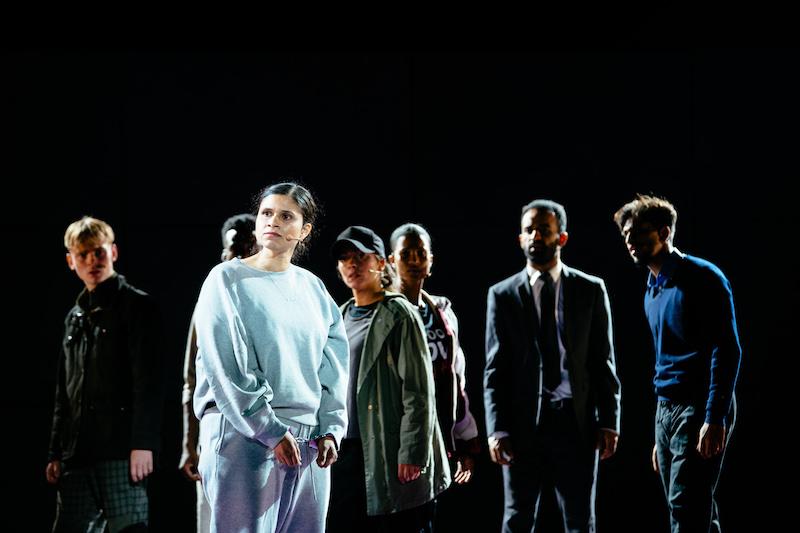 Zainab Hasan as Antigone with the ensemble. Photo credit: Helen Murray.
Now he has written his own highly distinctive contemporary take on the ancient Greek tragedy Antigone "after Sophocles". Anyone expecting just a new version of the final part of Sophocles' Theban trilogy with a modern twist will be disappointed: the bare bones of the original story and characters are here, but the body of the play is completely different. Ellams uses the Antigone myth as a springboard to create a polemical drama that examines hot issues around multicultural Britain such as increasing racism and Islamophobia, as well as the restriction of civil liberties in the name of counter-terrorism.
Ellams's Antigone is a young British Pakistani woman who runs a youth centre which is forced to close after government defunding, putting more strain on the local deprived community for which she is an activist. But after her radicalized Islamist brother Polyneices carries out a terrorist attack during which he and her other police officer brother Eteocles are killed, her life is split apart. Whereas Eteocles is given a hero's funeral, Polyneices is refused Islamic burial and rites with his body left to rot. When Antigone breaks the law to give Polyneices a humane end she incurs the wrath of her uncle Creon (who took the siblings in after their parents' deaths): as a tough home secretary on his way to becoming prime minister on the back of rising right-wing populism, he throws her in jail.
The play is crammed full of topical references to such matters as a British Bill of Rights, the Prevent programme, police surveillance, stop and search, and the stripping of British citizenship (for Polyneices). The latter was of course controversially done recently to Shamima Begum (after she went to Syria to join ISIS) by Conservative Home Secretary Sajid Javid – like Creon a Muslim of Pakistani heritage – and there is the suggestion that certain politicians of colour may feel they have to be more repressive in order to prove their own British allegiance. The content probably also reflects Ellams' own personal experience of conflict with the Home Office as he only received British citizenship this year although he came to this country when he was 12. The overall mood of the play is one of intolerance and polarization.
The ensemble. Photo credit: Helen Murray.
The themes of the play may be weighty – and sometimes over-emphatic – but the dynamic production by director Max Webster and co-director Jo Tyabji pulls out all the stops – including the back wall parting to reveal a pit of fire and the cast waving red flares – to ensure this is no static debate. The chorus of diverse young people – who play the local community commenting on the action, as well as various groups of demonstrators and the media – is deployed with the energy of a musical throughout the auditorium, as rap and poetry mingle with speech, inspirited by Michael "Mikey J" Asante's pulsing music and Carrie-Anne Ingrouille's vibrant choreography. Leslie Travers' design starts with huge pink cushion-like letters spelling out "Antigone" which one by one are thrown off the stage, representing the break-up of the youth centre and body politic as well as the heroine's own shattered identity.
Zainab Hasan's Antigone is a courageously defiant but self-conflicted figure, who we first see playfully smoking dope with her friends but later wearing a hijab in introspective isolation. Tony Jayawardena also impresses as the increasingly authoritarian and patriarchal besuited Creon whose liberal instincts are corrupted by power. Nadeem Islam plays the withdrawn extremist Polyneices who comes back in ghostly white to haunt Antigone, and Abe Jarman the assimilated Eteocles, while Shazia Nicholls is Antigone's more compliant sister Ismene. Oliver Johnstone as Antigone's fiancé Haemon, who supports her against his stepfather Creon, and Pandora Colin as her independent-minded aunt Eurydice also do well in underwritten roles. And Sandy Grierson is Creon's Dominic Cummings-like advisor Aleksy, with Eli London playing the prophetic Tiresius as a digital data nerd in a hoodie.
2022 is the 90th year of Regent's Park Open Air Theatre's splendid history. In past decades it was renowned for its Shakespeare productions featuring some starry names as well as actors who went on to become famous. But since the Globe Theatre opened in 1997 it has increasingly focused on musicals for which it has won many awards. This season a revival of Legally Blonde was followed by its first original musical, 101 Dalmations (after twice being delayed by Covid). But full credit should go to the theatre for ending the summer with a more challenging show in Antigone – its first ever Greek tragedy, of a kind.