"The Clinic" by Dipo Baruwa-Etti, Almeida Theatre
Simon Jenner in north London
15 September 2022
Six into five won't go. When overworked British-Nigerian junior doctor Ore (Gloria Obianyo) tries to save prematurely discharged patient John with home visits and eventual CPR, she answers the suicidal distress of the bereaved too. She brings his widow, Black Lives Matter activist Wunmi (Toyin Ayedun-Alase), and baby August back to her home where she lives with her parents, brother, and sister-in-law.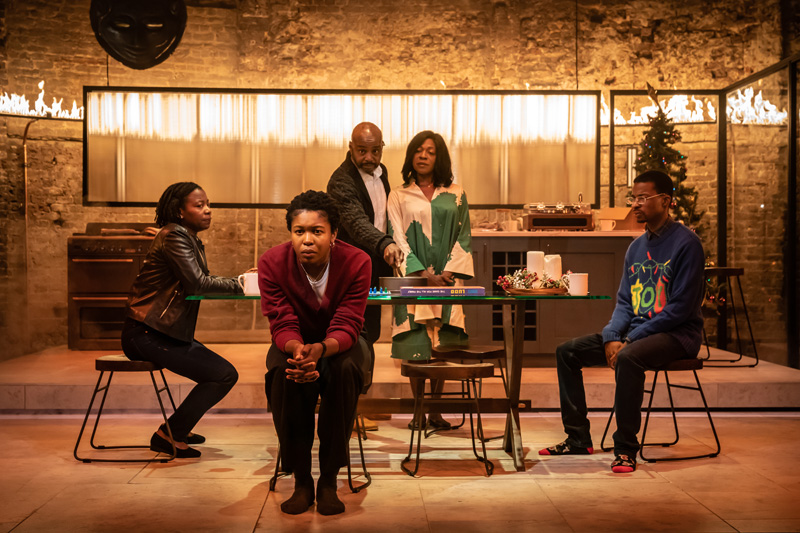 The ensemble. Photo credit: Marc Brenner.
Only in Dipo Baruwa-Etti's new play, "The Clinic" is exactly the name the family give their home. It's a bit like a glass jar experiment, and someone's pumping out the oxygen. Wunmi becomes everyone's project and she reciprocates equivocally.
If we start and end with cakes burning in the oven, "Let it burn" feeds a litany throughout this blazingly argumentative drama directed by Monique Touko. There's some flames leaping in Paul Wills's set, playing off Almeida brickwork against a sumptuous white/glass kitchen with dining table and chairs rising from a fiery abyss used just once, at the start. It's overhung by a large Nigerian mask. Lit with electric flashes, gulfs, and tenebrous brilliance by Matt Haskins, there's a feeling of cliff-edge to cosiness, emphasized in Christopher Shutt's sound and bursts of Shiloh Coke's composition.
It's clinical. Presided over by best-selling psychotherapist Segun (Maynard Eziashi) and women's shelter volunteer Tiwa (Donna Berlin), this family bisects Black middle-class experience, including chic glass ceilings and brick walls.
I missed An unfinished man and Half-Empty Glasses so it's exhilarating to encounter the writing of Baruwa-Etti (Channel 4 bursary playwright resident at the Almeida): headlong, brilliantly polemical without speeches but with explosive interpolations, lyrical – if not here always plot-focused. The family effortlessly absorb diverse professions and emerge believable. Enough for each to be tragically right.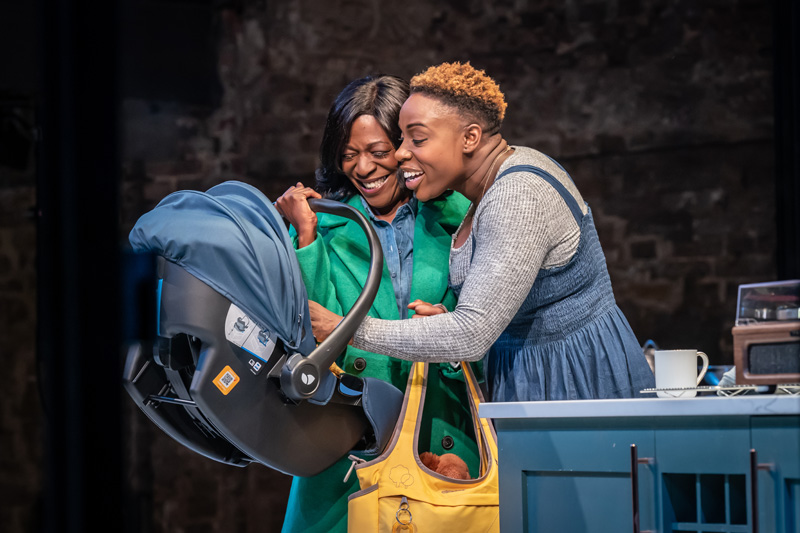 Donna Berlin and Toyin Ayedun-Alase. Photo credit: Marc Brenner.
If Ore's profession hadn't intensified her left instincts, meeting Wunmi pushes her to activism just as Wunmi seems to abandon it to recuperate. Segun and Tiwa, though, take a different world-view, shared to an extent by newly promoted police detective son Bayo (Simon Manyonda) and his wife Amina (Mercy Ojelade), an increasingly disenchanted Labour MP.
We meet Amina recounting an elliptically downplayed Dawn Butler moment, being stopped at the town hall by a white policeman "in my face", rescued by another policeman, her husband. Keir Starmer is name-checked as an insult by Ore, as is the triumvir of Badenoch, Kwarteng and Cleverly. Baruwa-Etti is generous with his characters; several experience epiphanic moments: Amina's comes towards the end. Epiphanies aren't always ecstatic.
Tiwa and Wunmi bond over dancing (some joyous moments from choreographer Lanre Malaolu), and Tiwa's tea with its secret ingredient that Wunmi is soon hooked on. Segun includes Wunmi when completing one book and decides she can co-write the next. Ah.
When Wunmi discovers Bayo's profession she not only rounds on him but – like Ore – on Amina's complicity. Starmer's BLM "moment" doesn't need stating: his name, his party is all the shorthand needed for betrayal, complicity, abandonment.
Baruwa-Etti's catalytic Wunmi exposes everyone's flaws and desires. Less Abigail from The Crucible, more Inspector Goole from An Inspector Calls, Wunmi in a series of jump-cuts moves from desolation to assurance without revealing her feelings. Apart from a craving for Tiwa's beverage, she accepts a range of others' projections then –occasionally – shows herself reactively human too. Ayedun-Alase fine-tunes a performance from vertiginous suicide to flickers of love and dismissal.
Wunmi's reach with Ore is one we're denied here, as the quiet epilogue in the printed play text is shorn in a performance of almost two and a half hours. It renders the end as a "let it burn" TV-like bang when Baruwa-Etti grounds it elsewhere in his text. Both are valid. Ore herself perches on the doorframe of her family, admonished for smoking, the member chosen as advice-bucket and simmering dissent.
Obianyo centres Ore's stillness and stubborn love, critiquing her parents' politics and brother's profession. Her character's dilemma as a person and doctor, bar the tragedy that makes her bring Wunmi back, isn't explored; we rely on Obianyo's exuding bleached-out desperation.
It's a drama of competing views and we're only edged into inner worlds in a sudden tip. There's fissures, though. If she'd been there Ore would have sided with Wunmi when brother Bayo whoops over solving what Wunmi makes him admit is a Black-on-Black killing where the witness will be exposed. Despite name-checking all kinds of racism, Bayo doesn't see he's been chosen "to go into a community / pretendin' / to be someone they could rely on". Yet Wunmi ferociously denies "I'm nothing like Or" when Manyonda's richly confused Bayo so dismisses Wunmi.
There's fine work too from Berlin's slinky, assured Tiwa, refusing to cosplay matriarch, and Eziashi's urbane, calm, at moments authoritative Segun. Ojelade's Amina lights fires with her reveal and self-realization as a tormented MP, accused by her own constituents.
The first half thrills unstoppably: unpredictable whips of argument, temper, badinage. There's a diagrammatic feel to the way Baruwa-Etti tackles Wunmi's probing in the second, asking for more character flecks to open slightly unrealized characters. The often inscrutable Wunmi and peripheral-feeling Ore, though, signal to a hinterland that if denied us (unless we read it) tells us just enough about them.
Impact, though, is everything. The audience explode with laughter and by the end nearly everyone's on their feet. As a state of Black middle-class nation The Clinic is state of the art. As state of the nation, it's ours to refuse at our peril.