"Pass Over": August Wilson Theatre, New York
Glenda Frank on Broadway
23 August 2021
Pass Over is perfect for a newly active Broadway. Playwright Antoinette Chinonye Nwandu read into Samuel Beckett's Waiting for Godot the plight of young black men in the inner city. Moses (Jon Michael Hill, Tony nominee) and Kitch (Namir Smallwood, Jeff Award) are her Estragon and Vladimir; they despair of ever leaving the block where they grew up, in a neighbourhood where police officers are killing black men. They even recite a list of dead acquaintances that is touching in its personal details and includes Moses' brother. The young men are ghetto-charming and funny, locked into a dialogue that won't get them good jobs or opportunities but that has its own poetics and refrains. The most poignant are Moses' "Kill me now" and the many intonations of the 'N' word.
Namir Smallwood and Jon Michael Hill . Photo credit: Joan Marcus.
The street talk slips easily into metaphor – or, as Moses says, "megaphor." Off-the-block is their Promised Land, a place of milk, honey, and room service where they can be all they can be – without joining the army. They live in fear of the po-po or police, signalled by an intense carbon arc light (Marcus Doshi, designer) that comes on when the stage goes dark and they crouch. Occasionally we hear gun shots.
Under the direction of Danya Taymor, the black men and their first white visitor all cringe when the light catches them. (In the 2017 Steppenwolf Theatre production in Chicago, only the black men cringe. The filmed version by Spike Lee is currently streaming on Amazon Prime.)
Two white visitors punctuate the drama and intensify the angst with new allusions. A genial white guy in a white suit (Tony Award winner Gabriel Ebert), whose favourite phrase is "Gosh golly gee!", appears. We – the audience and the black men – are startled, but he's comfortable. On the way to his mother's house, he got lost. He brought a picnic. Are they hungry? He names the goodies as he places them on a blanket. The men had been dividing (literally and metaphorically) a pizza crust. It looks like the world may be changing until the white man shares his name with them: Master. They recoil. He says it's a family name that goes back generations. Only a name. "Not to me," says Moses. Not to us either, yet we are still shocked when he tells them everything, including the 'n' word, belongs to him. Before Master packs up and exits, Kitch hides a small pie.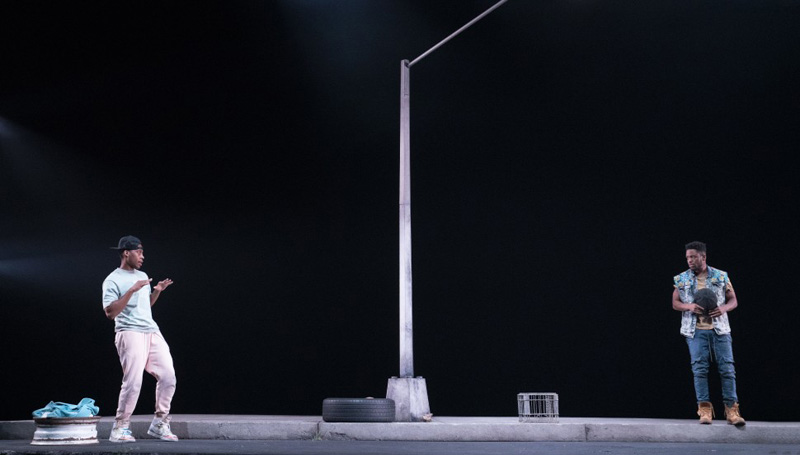 Namir Smallwood and Jon Michael Hill . Photo credit: Joan Marcus.
Ossifer (Gabriel Ebert, double cast), the next white man to appear, is a police officer who is clear about why he is violent: to make sure Moses and Kitch know their place. As he exits, he steals their pie. Kitch searches frantically for it later. It's at this point that Nwandu returns to the source of her inspiration for their quasi[1]comical suicide attempts before deviating radically. In Beckett friendship is consolation, the saving grace. In Pass Over it is the dream of freedom, of crossing the River Jordan to the promised land.
The innovative Hill, Wood, and Ebert, who bring us Nwandu's lines as fully inflected and nuanced conversation, deserve a standing ovation. On stage, the following exchange is both funny and mesmerizing: "MOSES: man you know. KITCH: you know I know. MOSES: you know i know you know. KITCH: you know i know you know i know. MOSES: you know i know you know i know you know. KITCH: you know i know you know you i— you know— you— shit!" At one point they mimic Master's speech pattern and are treated with respect by Ossifer, but they can't sustain it. The actors turn the lids of their baseball caps, throw in gesture for emphasis, transform cliché into invention with attitude, and show us that body language and blocking are dialects in themselves.