"Who's Afraid of Virginia Woolf?", Ustinov Studio, Bath
Simon Thomas in Somerset
20 January 2023
Starry casts are not commonplace in venues with a capacity of just over 100 but such is the prestige of Deborah Warner as Artistic Director of Bath's Ustinov Studio that this revival of Edward Albee's 1962 classic Who's Afraid of Virginia Woolf? has attracted a couple of household names. Quite how the economics of the production work is a mystery but one imagines that for the star players this is a labour of love rather than something that's going to enhance their fortunes.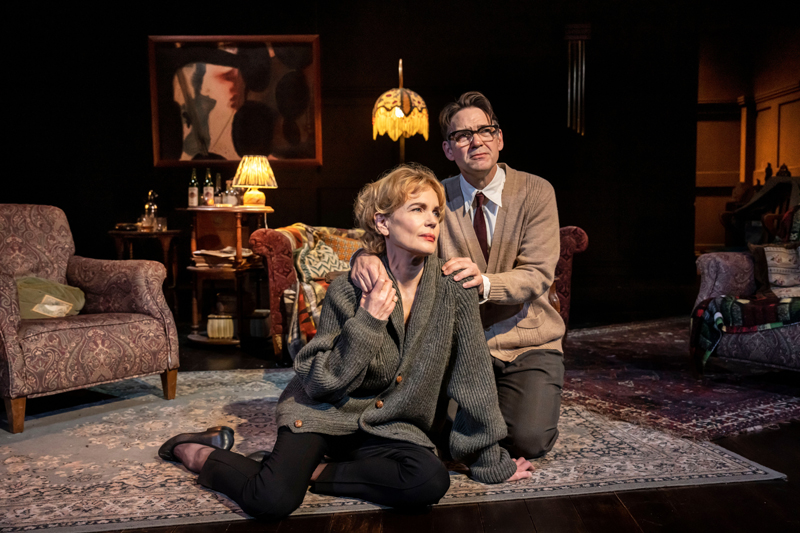 Elizabeth McGovern and Dougray Scott. Photo credit: Johan Persson.
Elizabeth McGovern and Dougray Scott are well known for their many appearances on both big and small screen. Star status is no guarantee of quality of course but here it pays off in spadefuls. McGovern's portrayal of the drunken, broken-down Martha, wife to a mediocre university professor, is a masterclass in subtlety and seething hurt. Tottering on high heels, she's like a tall, hysterical praying mantis, striking at every opportunity and missing none of the nuances of Albee's boiling subtext. Scott matches her in ferocity and viciousness, making the seemingly ineffectual George the driving force of the elaborate games that the pair play out in front of a hapless young couple who unknowingly stumble upon a nightmare of a night out.
It's apt that George is a professor of history, albeit a failed one in his wife's eyes. Personal history just as much as great world events is merely a series of stories told in order to try and bring coherence to a random and uncontrollable flow of everyday happenings. Good historians try to overcome their own biases and the limitations of their knowledge to achieve a degree of objectivity in their portrayal of the past, and it's George who steers the couple through the fantasies and imaginings they use to keep their pain at bay, in an attempt to arrive at something approximating the truth.
Albee is quoted in the programme as saying that he wanted to be a composer at the age of 11 or 12 and that writing a play is like composing a piece of music, requiring absolute precision in the notation. His dazzling text certainly has that and, unlike some other plays of the era, has scarcely aged. His words are as riveting and disturbing as ever.
Charles Aitken and Gina Bramhill. Photo credit: Johan Persson.
This is a play written for a quartet and McGovern and Scott are supported by two extremely adept young actors in Charles Aitken and Gina Bramhill as the young biology teacher and wife with unspoken problems of their own. They stand up perfectly against the maelstrom of the two leads, with detailed and completely believable performances. Aitken is all clenched-fist, bewildered aggression as Nick as he defies George's provocative bullying, while Bramhill's dippy but troubled Honey inhabits her own world of pain and denial.
In keeping with the high calibre of the cast, the design (set and costumes by Paul Wills, lighting by Paul Pyant) is what you'd expect from a West End production more than from a studio theatre.
I've always thought of this play as one with a first act of rare brilliance but diminishing returns thereafter, in what is after all a long evening (three and a half hours). Pinter's The Homecoming suffers similarly, with a superlative first act but a faulty structure that fizzles out later in the evening.
Lindsay Posner's taut production forces me to change that view as, in the right hands, Albee's play hypnotizes to the end. The quartet of players skilfully keep the plates spinning to the last moment. By the second act the dynamic has become smooth and, unlike some previous productions, the momentum continues beyond the second interval. A long evening of obnoxious characters yelling drunkenly at each other can be trying for any playgoer, but with writing and acting of this quality it proves a rare treat.