Jeremy Malies at the Old Vic
2 February 2022
Caryl Churchill's A Number is about cloning though the word is never used. Always setting the bar high for herself, the dramatist avoids anything so mundane as making the play a framework for discussing scientific ethics. Instead, it's a device for talking about free will, rivalry between siblings, what parents expect of children (and vice versa), and defining the essence of our individuality. There is surprisingly little science.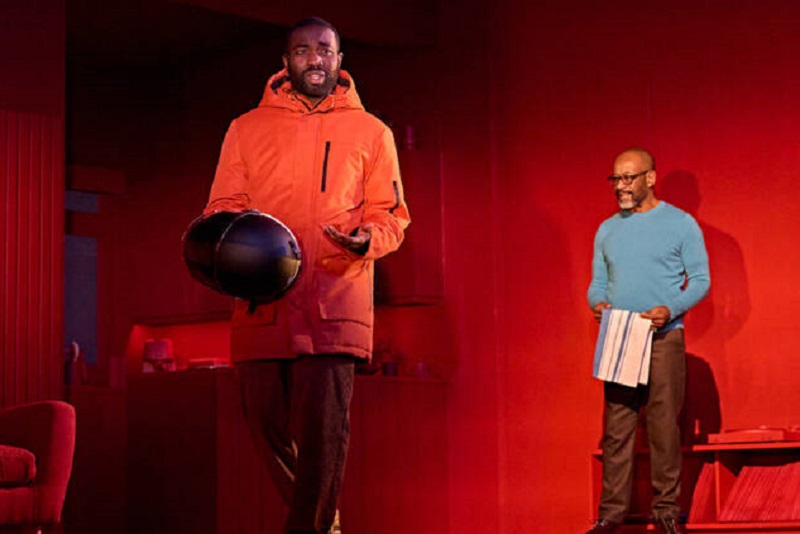 L to r: Paapa Essiedu and Lennie James. Photo credit: Manuel Harlan

.
The play premiered at the Royal Court in 2002 and is now revived at the Old Vic under the direction of Lyndsey Turner. This production stars Lennie James and Paapa Essiedu.
We are in an unnamed faceless city in the near future and learn nothing about the society depicted other than that cloning is achievable perhaps commonplace. James plays Salter, a shifty and self-indulgent father who has been widowed. This is the only thing we know about him for sure. All the other characters (a true biological son and two clones) are played by Essiedu.
In the opening scenes we see Essiedu as a son and a clone both called Bernard (B1 and B2). There is doubt over which one has been conceived naturally, and the one thing that is made clear is Salter's plans for a fraudulent compensation claim. He will allege negligence by a hospital even though he put the cloning in motion himself. Both of the Bernards appear on successive visits. After several dizzying scenes of accusation and counter-accusation about parenting and parentage, we learn that B1 (the "true" son) has murdered B2.
L to r: 

Lennie James and 

Paapa Essiedu. Photo credit: Manuel Harlan

.
The final action is easier to follow. Salter is shown on a mission to meet as many of the clones as he can and we watch him reaching out to one of them, Michael, a mathematician. Michael is of course played by Essiedu who this time dons a wig and adopts a convincing American accent. Something about the symmetry of the relationships and permutations appeals to Michael's logical mind. In contrast with B1 and B2, he is content, even pleased, with the family history. He has a sense of perspective and understands how little separates humans from other living things. Demonstrating a rare flash of intelligence, we see Salter here pleading with Michael to describe his inner self and uniqueness only for Michael to flat bat the questions away with platitudes and generalities.
James has not acted on the UK stage for 16 years and our theatres have been the poorer for missing the subtlety that he brings to Salter and his general facility with dialogue, notably Churchill's signature clipped exchanges in which the characters constantly interrupt each other. The text suggests that Salter is finely balanced between a truly loving parent and a lazy egotist who wants repeat attempts at being a competent father. James inclines to the latter and his take on the character is always coherent, particularly as Salter pokes clumsily at the nature versus nurture debate when questioning his children. At the most extreme, James depicts Salter as a narcissist who thinks the world will be improved by his multiple cloned offspring.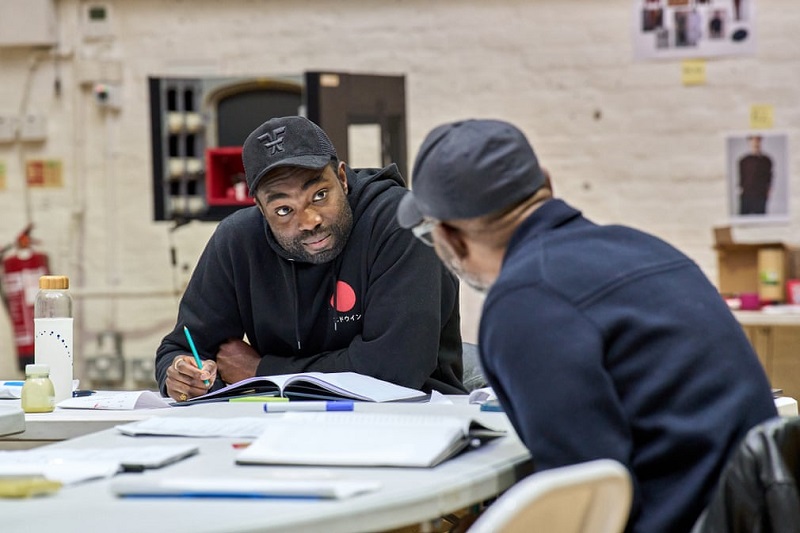 L to r:

Paapa Essiedu and

Lennie James.

Photo credit: Manuel Harlan

.
Essiedu has the greater challenge; he must portray three men with near-identical DNA stressing both their similarities and their differences. Avoiding any crude changes of body language, Essiedu implies that B1 is tougher, physically stronger, less reflective and less sensitive than B2 who corrects Salter on his vocabulary about the clones of which he is one. "You called them 'things'. I think we'll find they're people." It's Essiedu's technical virtuosity that sees him through but he is helped by some of the quickest costume changes I can remember.
The stage directions in my play text have the action as Salter's home throughout but here Turner places the final scene in an art gallery. This stresses the intensity of the father's quest to track down iterations of his son. The new location also gives rein to Es Devlin's semi-abstract set designs which are washed in a single shade of blood-orange with nothing, not even book covers or painting canvases, allowed any dash of another colour. A framed photograph of the dead wife/mother is the solitary exception.
Tim Lutkin's lighting filters are highly effective but his flashes of brilliant white light in between the scenes were dazzling (in the wrong sense) and my eyes were only recovering as Essiedu made his many entrances to Salter's home on his visits. At one point I thought they might be living together and this was solely down to being temporarily blinded. The intensity of the lighting served no apparent purpose. By contrast, Donato Wharton's sound between scenes featuring his own sparse atonal patterns for strings kept things abstract and futuristic.
Turner's direction plots a steady course through a barrage of tense spare conversations. I doubt this is a robust piece; the non-naturalistic tone and complete lack of real time could bring matters to a creaking halt in less assured hands. A playful touch at the end amused me and annoyed purists. As James and Essiedu take their curtain call, another actor of Essiedu's build, approximate appearance and ethnicity also takes a bow further up stage. A lot of incarnations are out there and Salter will be busy visiting them.
This was my first time at A Number but I was left in no doubt as to why companies keep coming back to it. (The play was staged as recently as 2020 in London at the Bridge Theatre.) James and Essiedu are totally credible as father and son; there is abundant chemistry. But my interest is piqued by the fact that among the numerous productions in the last 20 years there have been two real-life father and son combinations – John and Lex Shrapnel and Timothy and Samuel West. (I may have missed some; the piece is performed all over the world.) Of current father and son actors, I should love to see it done by David and Fred Haig.