"Shining City": Stratford East
Neil Dowden in Newham, London.
24 September 2021

One of Ireland's leading playwrights, Conor McPherson is probably best known for The Weir, a teasingly supernatural tale set in a rural Irish pub that won the Olivier Award for Best New Play in 1999. His 2004 play Shining City (now revived for the first time in London at the Theatre Royal Stratford East since its premiere at the Royal Court) is also a kind of psychological ghost story. In it, a recently widowed man haunted by his dead wife seeks help from a therapist and during their consultations reveals various skeletons in his closet – while the therapist has his own inner demons to contend with.


Michelle Fox as Neasa and Rory Keenan as Ian. Photo credit: Marc Brenner.
John – a middle-aged sales rep for a catering supplier – is in a terrible mess and pours out his long-repressed feelings. Since his wife Mari was killed after a stolen car crashed into the taxi she was in, he has been traumatized by seeing her ghost several times in their house so has moved out to a nearby B&B. But it emerges that his relationship with her was strained, and that he feels her sudden death was somehow due to his own errant behaviour. He tried to have an affair with a married woman and also visited a brothel where he got into a fight, then went home and attacked his wife. Is her spirit now trying to save him – or punish him?
Meanwhile, in counterpoint in between their sessions, we learn that his therapist Ian had been a priest but left the Catholic Church when he lost his faith. Moreover, he has just broken up with his girlfriend Neasa, with whom he has a baby girl. Confused – and possibly influenced by John's revelations – he picks up a young man in a park after dark and they have sex in his office. Is he in any position to help disturbed clients? In a way, John's meetings with Ian turn from counselling sessions into confessions – perhaps he is seeking some sort of redemption rather than just resolution, as the play's title suggests.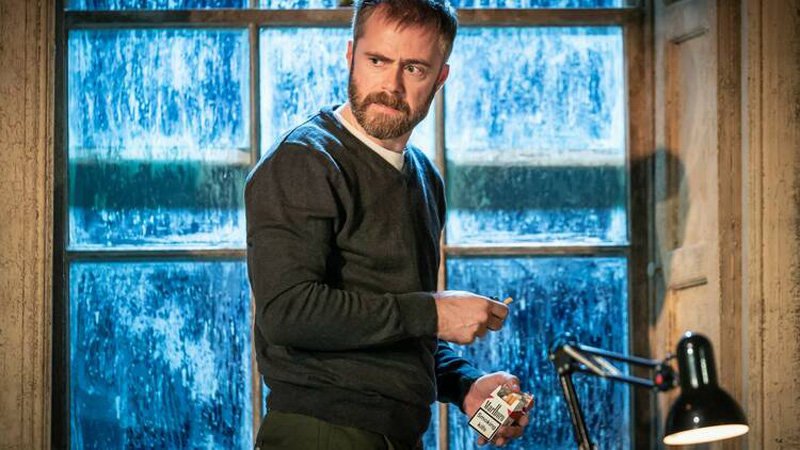 Rory Keenan as Ian. Photo credit: Marc Brenner.
On one level, Shining City is a poignant and unsettling exploration of guilt and loneliness, grief and bereavement, about how men struggle to deal with their deeper emotions. But it also shows how male frustration and anger leads to self-justification and evasion of responsibility in their relationships with women.
Although anxiously tearful, Brendan Coyle's John comes across as a self-obsessed bar-room raconteur who needs women to massage his ego. It's an impressive performance though the continual hesitations and repetitions are a bit overdone. Rory Keenan gives a nicely ambivalent portrayal of the conflicted Ian who not only has doubts about his religious beliefs but also his sexuality, as he struggles to commit himself to a long-term relationship. Michelle Fox conveys both Neasa's anger and desperation as she is left in the lurch, while Curtis-Lee Ashqar shows an unexpected sensitivity as the male prostitute Laurence who as a family man is leading a double life.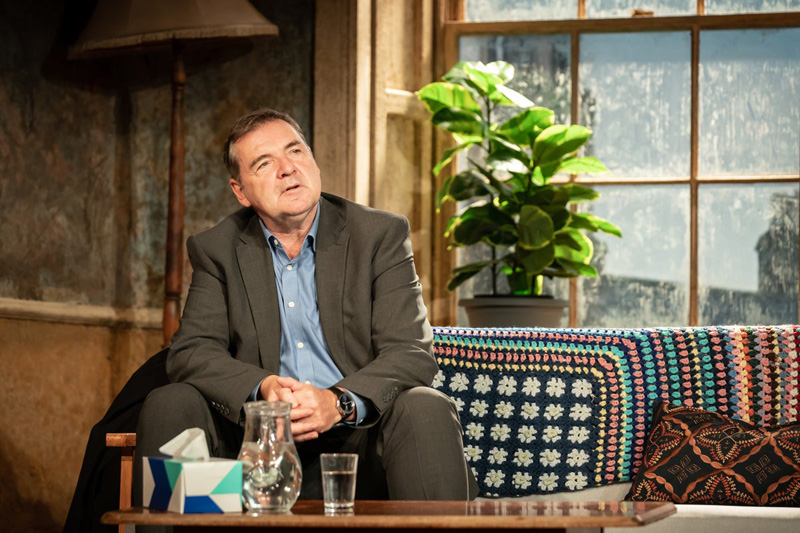 Brendan Coyle as John. Photo credit: Marc Brenner.
Theatre Royal Stratford's artistic director Nadia Fall captures well the awkward pauses and jerky rhythms in McPherson's dialogue, but the production needs a bit more pace to prevent the 110 minutes with no interval becoming ponderous. Peter McKintosh's design of a dilapidated consulting room, with bare floorboards and peeling plaster only half-filled with basic furniture, is enhanced as the play progresses with books, CDs, and pot plants to suggest a more personal ambience – but the cumbersome prop changes between scenes (behind a curtain showing a map of Dublin city) do slow the action down.
Just when the play seems about to end on a note of moderate optimism, McPherson inserts a clever twist that questions whether John and Ian really are moving on after coming to terms with the crises in their lives. Their future may still be haunted by unresolved issues from the past.