"Downstate", National Theatre
Jo Briggs on the South Bank
1 June 2019
Ten minutes before this play begins, we have the opportunity to investigate a set, designed by Todd Rosenthal, that is not quite as it first appears. It is a cross-section of what seems to be an ordinary single-storey house, with the roof and a satellite dish visible. It has an easily accessible kitchen with a fridge-freezer and a coffee machine, as well as a living room that doubles up as a dining room. But something isn't quite right. There are notices up everywhere: "Fire Extinguisher", "No Smoking", "Mandatory Curfew from 10 p.m. to 6 a.m." There are an awful lot of things pinned to the noticeboard. An alcove off the living space has been made into an extra bedroom with a concertina door. The rooms are sparse and functional, institutional even, and the only objects that appear to be in any way personal are an electronic piano, a weight-lifting bench, and piles and piles of CDs and DVDs. And the window is broken.
The new play Downstate by American playwright Bruce Norris approaches the issue of child abuse through the perspective of its perpetrators, as did also Mark Ravenhill's The Cane which I have reviewed elsewhere on an earlier page of this website. Both are set in a domestic interior under siege from the moral outrage of the wider world, and each has a hastily repaired broken window to show that probably nowhere is safe for those who live inside. Both are funny and disturbing plays about people trying to live ordinary lives in the face of public vilification and whose insight is never quite equal to the enormity of what they have done.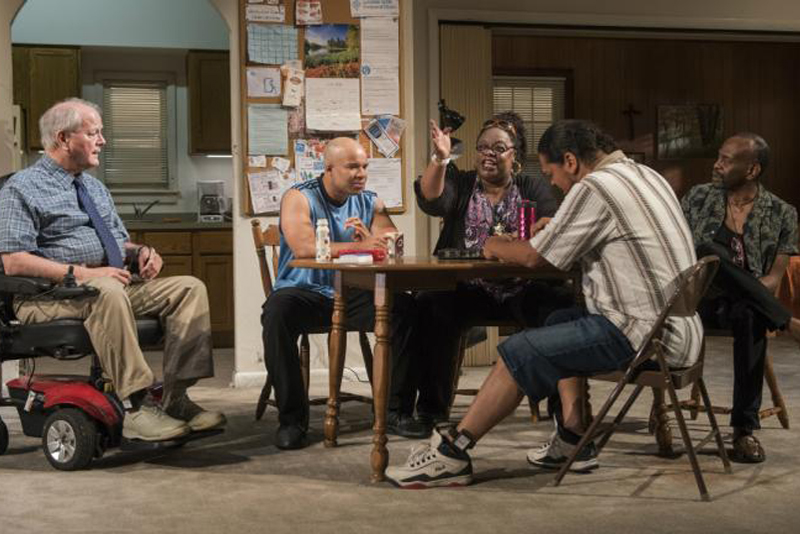 Francis Guinan, Glenn Davis, Cecilia Noble, Eddie Torres and K. Todd Freeman in Downstate. Photo credit: Michael Brosilow.
But where the subject matter of Ravenhill's play is corporal punishment in schools, Downstate is an uncompromising study of the aftermath of sexual abuse for abusers and – to some extent – for their victims. Its context is explained in the play and in the programme for British audiences unfamiliar with the management of sex offenders in the USA. ln many states, such offenders are subject to lifelong tagging, large exclusion zones, and public identification on Megan's Law registers. One of the many strengths of this co-production with the Chicago Steppenwolf Theatre Company, directed by Pam MacKinnon, is that it reflects this very particular American setting.
The set depicts a group home for sex offenders in downstate Illinois. Whether or not this place was ever really intended to be a stepping-stone towards freedom, it becomes increasingly clear that there is no route back to 'normal' life. The only possibility of change is going back to jail. At its centre are the ruined lives of four men living with the personal and practical aftermath of their crimes. K. Todd Freeman plays Dee, a former dancer who continues to believe that he had a consensual relationship with the child actor whom he repeatedly abused. Glenn Davis's Gio thinks that the victim and the court system are to blame for his conviction for statutory rape of a minor. Eddie Torres plays Felix, a man broken by his incestuous abuse of his daughter, who cannot accept that he will never see her again. And Francis Guinan gives a powerful performance as the quiet intellectual Fred, a former piano teacher who molested a child pupil. Fred's back was broken by a savage beating in prison leaving him in a wheelchair, but he still enjoys pretending to play along to CDs of Chopin and takes childish pleasure in his Nutter Butter cookies.
The men share the house as a condition of parole under the watchful eye of armed police officer Ivy, portrayed by Cecilia Noble with a plausibly superficial and breezy bonhomie. She monitors their movements through ankle tags, no-go zones around shops, and nightly curfews under escalating restrictions imposed on them by local politicians, keen to be seen to be tough on child abusers.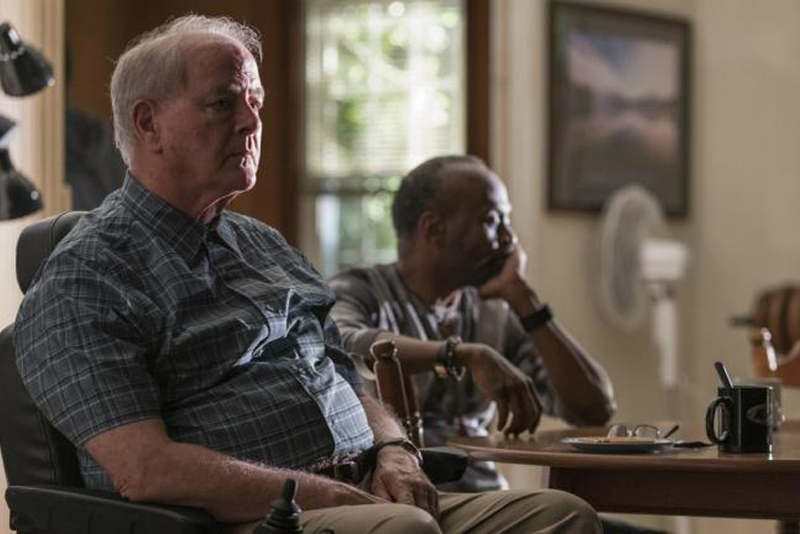 Francis Guinan and K. Todd Freeman in Downstate. Photo credit: Michael Brosilow.
The spotlight is thrown onto Fred's past because his victim Andy and Andy's over-involved wife Em (played by Tim Hopper and Matilda Ziegler) make unsolicited visits to the house. The presence of a victim provokes different reactions from the men. Gio sees the possibility for unauthorized contact with the outside world — even a chance to escape from what he sees as unjustified restrictions and advancement. Dee sees a hypocrite and an opportunist. And Fred, in the face of Andy's rage and incredulity, is pleased to see his old pupil again after all these years.
Downstate is in many ways an extreme version of a drawing-room play, stretching the limits of the comedy of manners. The play reflects the offenders' own dissociation from the terrible reality of their crimes by using farcical distractions and interruptions, as well as Dee's frequent riffs on the paradoxical circumstances in which the men find themselves. Andy's attempts to impress his victimhood on Fred are repeatedly deflated and undermined by phones ringing and polite offers of hospitality, or openly challenged as misplaced and self-righteous. In Act Two, the crisis that has been building around Felix's imminent recall to prison has a well-executed and cathartic climax, if not an entirely unpredictable one.
Downstate is not comfortable viewing, particularly because it is so entertaining and its central characters are likable and familiar despite what they have done. Even though two of the house's residents profess strong religious faith, none is troubled by remorse, and there is no redemption to be had anywhere. Downstate poses important questions in a new way about sex offenders in society, but when all is said and done, it is a drama and not a social treatise. Norris's approach to the subject does not allow the victim's voice to be heard equally and in a balanced way, but that is not the point of the piece. The play is successful in presenting offenders of this kind with individuality, pathos, humanity, and warmth, and the challenging message of Downstate is that in many ways they are just like us.