"Extinct", Theatre Royal Stratford East
Neil Dowden in the London Borough of Newham
5 July 2021
Theatre Royal Stratford East reopened in the early summer with April De Angelis's hotly topical polemic Extinct – out of the frying pan of a global pandemic into the fire of a climate emergency, you might say. This 75-minute monodrama – the Covid genre – is all about confronting the horrifying prospect of the destruction of our planet's ecology. The pithy title gets right to the point while the play's blunt message is that we need to take more action now if we are going to avert disaster. Or, in Greta Thunberg's famous words, which are quoted, "I want you to act as you would in a crisis. I want you to act as if our house is on fire. Because it is."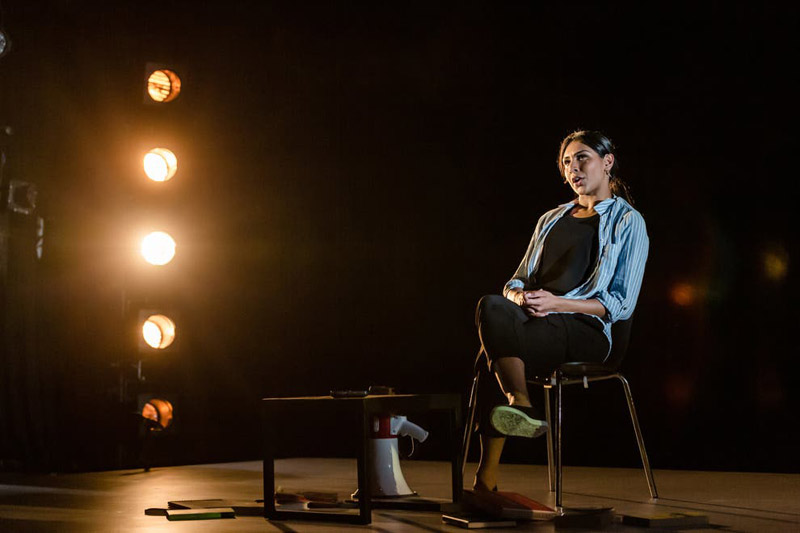 Kiran Landa in Extinct. Photo credit: The Other Richard.
We have certainly seen plenty of evidence this summer of extreme weather patterns thought by many scientists to be symptoms of global warming: storms, flooding, heatwaves, wildfires, and drought around the world, now in the northern as well as the southern hemisphere which has suffered so much over the years. Unprecedentedly high temperatures in the Pacific Northwest caused thousands of deaths, while in Europe heavy rainfall led to riverbanks bursting and mudslides with consequent loss of lives and homes. Far less seriously, but equally abnormally, even the usually temperate UK has experienced flash floods with water gushing into London Underground stations. You would have to be in a serious state of denial not to recognize that there is something disturbingly weird going on with our climate.
Extinct does not beat about the bush. At the outset, performer Kiran Landa tells the audience, "I have an hour to convert you to the cause of climate change." Well, it turns out to be more like 80 minutes, and arguably De Angelis is largely preaching to the converted who have chosen to attend this deadly serious show rather than seeking escapist entertainment elsewhere. But the sense of urgency is palpable. As a whole, the play resembles an educational documentary based on much scientific information. But it dips its toes into science fiction at the start and end in the way that it imagines a dystopian future – in the not-at-all-distant 2030 – where there are food shortages and civil strife breaks out as human beings struggle to survive. Some of this seems a bit forced, but De Angelis is evidently keen to show dramatically the potential dire consequences of letting thing go on as they are now in terms of ruining the environment.
Kiran Landa in Extinct. Photo credit: The Other Richard.
The play originally developed from a number of interviews De Angelis conducted with environmental activists – a sort of verbatim drama – but it expanded from this to paint a much broader picture of the climate crisis. Probably the most moving passage is the testimony of a British Bengali woman who returns to her grandmother's in Bangladesh to narrate how flooding is destroying the centuries-old rural way of life there. With the aid of much audio-visual technology, there are also accessible accounts of the significance of such issues as greenhouse gases, deforestation, soil erosion, and polar ice melting. Sometimes it comes across as a rather earnest illustrated lecture, or glorified Ted Talk, rather than a fully-fledged play, but there is a real passion behind the statistical and graphical content.
This commitment is a reflection of the fact that De Angelis is a climate change activist herself with Extinction Rebellion (XR) who "occupied" London for a couple of weeks in the late summer with "Impossible Rebellion", their fifth mass demonstration. A series of disruptive protests were aimed at raising awareness of the urgent need to do more about global warming and in particular demanding the government stops new investment in fossil fuels. You can feel the temperature is rising in every sense. And here De Angelis is trying to use theatre as another kind of way of activating people.
Landa – representing the writer – holds the stage throughout as an engaging presence directly addressing the audience but never in a hectoring tone. She takes us on a journey in a physical performance which includes watering a garden and covering herself with oil. This is a hi-tech staging from director and dramaturg Kirsty Housley, with a "meta" dimension to the show as cameras, green screens, and audio recordings are visibly turned on and off within Peter McKintosh's slick design. There is atmospheric lighting and sound effects from, respectively, Joshua Pharo and Melanie Wilson, while Nina Dunn's video – using a screen on the back wall as well as on the stage itself – provides visceral, even apocalyptic, images of the plight we find ourselves in today on Planet Earth.