"Women, Beware the Devil", Almeida Theatre
Jeremy Malies in North London
26 February 2023
Lulu Raczka's first play Nothing, a set of interconnected monologues about sexual violence and popular culture which premiered in Edinburgh nine years ago, won The Sunday Times Playwriting Award. Her latest play Women, Beware the Devil is now staged at the Almeida Theatre.
Alison Oliver and Lydia Leonard. Photo credit: Marc Brenner.
This odd treatment of early English Civil War (say 1642) landed gentry often hits the mark but also misfires like the musket wielded by a terrifying mute Roundhead who enters the manor house at the close of an arduous evening. But in some of the most candid dismantling of the fourth wall that I can remember, Nathan Armarkwei-Laryea as the Devil (sporting a wonderful pair of miniature horns and reading the Evening Standard) has told us in a framing device that the piece will be a long haul. He adds that we can at least look forward to sex scenes and an execution.
There are some outstanding gags here as well as a potted history of the period which I don't recall being treated in a play except for Howard Brenton's 55 Days and Caryl Churchill's Light Shining in Buckinghamshire though the latter has a specific focus on the Putney Debates. Raczka succeeds in convincing us as to the religious intensity of the backdrop and we are left in no doubt that only a few miles away people are doing each other physical harm in disputes over exactly what should be included in the Prayer Book.
Lydia Leonard is Elizabeth, mistress of a provincial country house. Primogeniture means that the estate will go to a cousin if her elder brother Edward (Leo Bill) cannot produce an heir. Edward is just about sane but eccentric and like Marlow in She Stoops to Conquer (I gave up on noting Raczka's influences) he has no social or sexual interest in women of his own class but is libidinous with the maid servants and successful in impregnating them.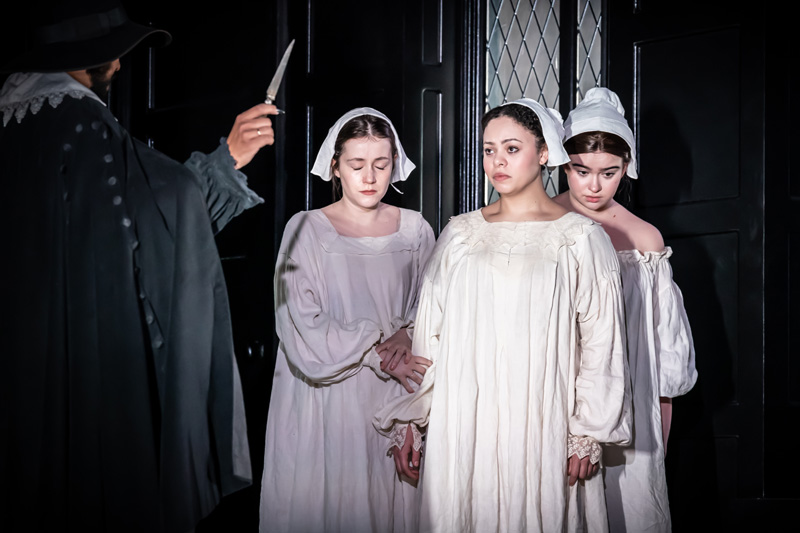 Nathan Armarkwei-Laryea, Carly-Sophia Davies, Aurora Dawson-Hunte
and Lola Shalam. Photo credit: Marc Brenner.
The launchpad here (if there is one) is witchcraft, and Elizabeth makes a pact with the principal character, Agnes (Alison Oliver), who is the daughter of a witch. With the estate's livestock dying and crops withering, Agnes will use white magic to act as an exorcist. She will also persuade Edward to marry an eligible woman (even though the bride is from 'trade') and hopefully have a son. Elizabeth tells Agnes that if she fails in her missions she will be hanged.
The multi-roling Armarkwei-Laryea returns as a witchfinder who checks on menstruation among the female servants with his task being illustrated graphically. I wonder if this was a mistake. At other times there is a different kind of fumbling under the women's clothing, and we enter innocent French farce or Carry On territory.
I cannot put this into a genre and came out with my viewpoint warped by designer Miriam Buether's chequerboard floor which recedes endlessly giving a false depth to the Almeida's shallow stage. This and the elongated panel walling suggested the skewed perspective in an Escher drawing. There are repeated references to unseen Dutch Golden Age paintings (which would have been contemporary) and banqueting tables with memento mori skulls are brought on. The skulls smack of Jacobean drama and Raczka's title surely includes (ponderous?) references to Middleton's Women Beware Women and Webster's The White Devil. We are reminded that though this is the reign of Charles I, society contains vestiges of James I and the revenge tragedies of his time.
A four-poster bed (it sees some strenuous action) ascends and descends many times. Occasionally there is the illusion that Tim Lutkin (twice an Olivier-winning lighting designer) is illuminating the stage only with candles. This is hardly new, but the approach works well. Elsewhere, Lutkin gives us hints of the estate through leaded windows.
Director Rupert Goold really does create a world for us and then punctures it with too many present-day asides from the characters. Agnes closes the first act with a comic "Boo!" at punters in the first row of the stalls. Pedant that I am, I started to hear what I thought were anachronisms in vocabulary until I realized that even in the main dialogue, Raczka is mischievously using pastiche period speech mixed in with modern-day idiom. Saying this, her writing often takes wing and is truly poetic. Goold, who applies a seductive filmic gloss to proceedings, could surely have trimmed the over-long first act.
Nathan Armarkwei-Laryea and Lola Shalam.
Photo credit: Marc Brenner.
By the penultimate scene, Agnes appears to be on a similar social standing to the owners of the house and is running the whole shebang. And her silk evening dress (costumes by Evie Gurney) is as resplendent as Elizabeth's velvet and taffeta outfits. Oliver is luminous and compelling as Agnes, having enjoyed a rapid transformation. Catapulted from a course in acting at Trinity College Dublin to the BBC Three series Conversations with Friends, she has now made an impressive professional stage debut.
If Arthur Miller (often irked when the humour in his plays was overlooked) had decided to use witchcraft merely as the basis for a comedy with elements of magical realism, he might have written something like this beguiling new play. But Miller would have injected more rigour and discipline.
It's still an intriguing piece of work that is packed with humour. I'm not alone among my peers in worrying that I've failed to understand it. A sequence between Edward and his new wife (Ioanna Kimbook playing Katherine) in which there are some embraces but acceptance by both parties that their coupling simply isn't going to work reminded me of Kenneth Tynan's erotic review Oh! Calcutta! – though even Tynan didn't portray incest which (sadly) is my most vivid memory from another scene here.
And you would need to be Tynan to grasp all this, categorize it ("period drama" comes nowhere near) or find an overarching metaphor. That may be a good thing but is Raczka really breaking new ground? As Rupert Goold stood near the press desk while reviewers filed through the foyer, his smile alternated between beatific and Mephistophelian. I have interviewed Goold (he is surely Cavalier rather than Roundhead) and would trust him. And yet perhaps it is we who are the butt of the joke?