Rupert Goold of the Almeida Theatre
Rupert Goold has been the artistic director of the Almeida Theatre in north London since 2013. As someone who developed his talent through the Regional Theatre Young Director Scheme, which he said changed his life, he built an impressive body of work at the Salisbury Playhouse (1996-1997) and then at the Royal & Derngate Theatres in Northampton (2000 to 2005) and Oxford Stage Company/Headlong (2005-2013). An approach that combines flair with textual rigour has seen him praised by traditionalists and avant-garde enthusiasts alike, and his career was catapulted by major Shakespeare productions including Macbeth (2007) at Chichester (with subsequent transfers to London and New York). Enron (2009), King Charles III (2014), Ink (2017) and Albion (2017 and 2020) have been other notable successes.
There have been awards aplenty including a best director Olivier for Macbeth; the trophy cabinet is fuller than that of his beloved Arsenal Football Club. But Goold's theatre is of course dark at present. He speaks to Jeremy Malies about his career to date, drama in the time of Covid-19, and directing in different art forms. He also discusses Brexit and the US under Trump.
Rupert Goold, Artistic Director of the Almeida Theatre
Interviewed by Jeremy Malies
1 June 2020
Rupert Goold's stated rationale for being in charge of the Almeida in Islington is disarming: as a resident of London N4 for the last twenty-three years it's his local theatre and he can ride his bike to work. But his path to the Almeida stretches even further back in time to a meta-theatrical life history. Having read English at Cambridge University, he took a performance studies course at New York University on a Fulbright Scholarship, married the actress Kate Fleetwood and has adapted Luigi Pirandello's Six Characters in Search of an Author. He confessed to me that just prior to my call to arrange an interview, Kate had been recording an audition tape with their son reading one of the other characters. But when I ask if he sometimes thinks he has just stepped out of a play and better jump right back into it, he stresses that things are far more grounded and prosaic than I might guess – particularly since having started a family. I ask what Kate is auditioning for but he doesn't want to put a kibosh on things and will not be drawn. She can be seen on Sky One later this year in an adaptation of Aldous Huxley's Brave New World. Family life sounds wonderful and certainly not dystopian.
There was no performing arts background in Goold's family; his father was a management consultant and his mother wrote children's books. He confesses that his time as a postgraduate student might have been a little Pirandellian with a blurring between fiction and life as he and Ben Power (co-adaptor of Six Characters) sought a playful post-modern quality that could dovetail with any part of the political world we inhabit.
"Our version was part of a broader discussion of who has the right to tell which stories, a championing of people who might not have been part of artistic discussion before, and the chestnut that drama is about universal themes. The debate has become more fractured in the last five years, and a lot of it has been constructed on this new thing called social media which is a series of masques and performances played out on the computer keyboard. Avatars have become big voices with which we present ourselves online and they can be more real than the people themselves when you meet them as flesh and blood. We live in an age of groups but the more groups there are, the less chance we have to talk about the universal group which is the human condition."
Ian McDiarmid and Denise Gough in Six Characters in Search of an Author.
Photo credit: Tristram Kent.
I review most of the Almeida productions for Plays International & Europe. Normally I would have just been to see Daddy written by Jeremy O. Harris while he was still a student at Yale. I'd be looking forward to The House of Shades by Beth Steel which chronicles five decades in the lives of a working- class family and would have starred Anne-Marie Duff. Goold took in an Off- Broadway production of Daddy which he describes as "one of the most breath-taking stagings of anything I've ever seen".
I ask how Goold and his team are occupying themselves during virus lockdown and what they are working on. He is understandably a little hamstrung; nobody knows how long theatres will be closed for and it would be madness to commit to a future itinerary. "Personally, my time is going on meetings with as many people as possible on Skype and Zoom – particularly directors and writers. I'm talking to many of them in my capacity as a producer at the Almeida. It's good to be able to focus on that as I balance producing other people's work with the day-to-day fundraising and administration of the theatre. In recent years I've had less time to read plays and think about my own way of working. I'm trying to go back to that."
Prior to the Almeida, Goold led the Oxford Stage Company from 2005 which he rebranded Headlong in 2007.  He was there until 2013. An early signature piece was Tony Kushner's Angels in America. In 2012, the company collaborated with the National Theatre on Lucy Prebble's The Effect. The play is about drug testing, and while the context is less weighty, I mention it in terms of the numerous trials being made on Covid-19 treatments and vaccines.
Goold believes that there is an innate insecurity or anxiety within theatre that draws it towards using harder-edged subject matters such as medical practice and the financial world for source material. "We had people come in and talk to us about drug trials and psychology while we were developing The Effect. We were working with one doctor who told us he had spent ten years as a clinician. I asked him how he had got into the profession, and he said that as a teenager he had watched Casualty (a BBC TV medical drama that has been running since 1986), and it had made him want to become a doctor. It was only after his training and a lot of experience that he finally realized that what he really wanted to be was an actor playing a doctor!
"Because theatre occurs in a world of make-believe we worry, certainly in this country, that there's an element of superficiality or even immaturity. That's why we're always looking for a means of systemizing things through Stanislavsky or other 'methods'. But the desire to have a system is slightly wrong-headed, and too much anxiety of this kind can lose the elements of playfulness in trying to be over-objective while deciding what makes a good play and what distinguishes good acting from bad."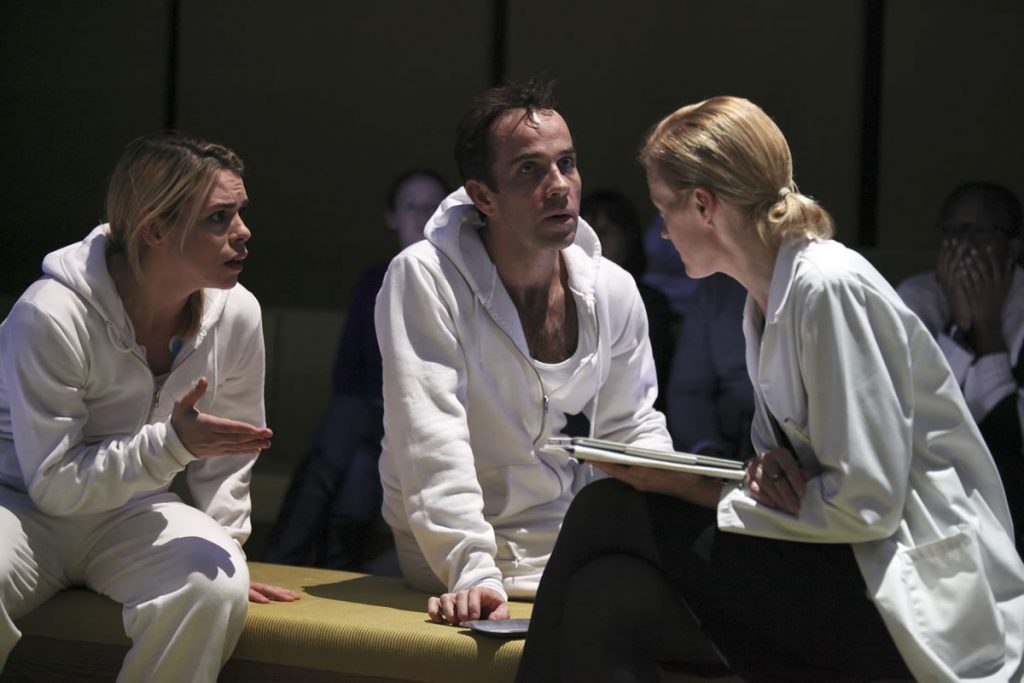 Billie Piper, Jonjo O'Neill and Anastasia Hille in The Effect by Lucy Prebble directed by Rupert Goold.
Photo credit: Ellie Kurltz.
Goold continues the theme of how we judge quality when he discusses opera. He's engaging at all times, but as he compares opera rehearsals with theatre rehearsals the conversation really takes flight. His opera work to date has included Rossini's Le Comte Ory at the 2005 Garsington summer festival and Puccini's Turandot for the English National Opera in 2009.
"I miss it, haven't done it for quite a few years, and am having conversations about doing it again but don't want to discuss the possibilities of what and where. The big difference between theatre and opera is that in theatre nobody can say empirically why Ian McKellen is better than a spear-carrier at your local amateur drama society. And that lack of empirical evidence creates a vulnerability in straight acting. I find I get a lot of actors faffing around asking questions about trivial things such as, 'Is this the way I should come through that door?' Everybody is relying on intuition, and it creates a room that is quite supportive and non-judgemental.
"By contrast, in opera if you can't sing that high note it's obvious. Opera singers have a strength and they waste less time on fussy detail. Singing a difficult bar that requires great breath control makes them more like athletes. The advantage is that there is a muscularity and confidence about singers. On a first run, the whole room will lean in, willing their colleagues to succeed but also asking. 'Has that mezzo-soprano got it?' If the aria is delivered well the whole room goes wild. It's more exhilarating, more judgemental. An actor who has forgotten a few lines can usually improvise their way round it but if you can't hit a note or you get outside of the conductor then everybody knows."
Covering myself by saying that for all I know he might be a Brexiteer, I ask if he is pessimistic in terms of how a post-Brexit UK might miss out on arts funding being granted for broad projects across several EU member states.
"I am of course sad, but we don't know how things will run out yet because we haven't had the real experience. The EU is under threat from a domino effect. In terms of actual funds for theatre, the EU hasn't been a significant source but I would regret any distancing from European practitioners who I adore and take inspiration from. When you federalize or centralize, you're creating a big estate that might be able to support major projects – it's like going from a domestic football competition to the Champions League."
Goold has just finished directing a short revival run at the Almeida of Albion in which Mike Bartlett pokes fun at entrenched viewpoints on Brexit while casting a more acerbic eye on class distinctions. I was struck by how one Europhile character believes that Brexiteers may have been simply too stupid to digest the information and options presented to them. Albion is to be broadcast by the BBC in early summer. I ask if there are other recordings in the can that could be broadcast or streamed but Goold reminds me that gaining approvals from all participants and unions involves complex negotiations. He always looks for a possible future life in his work and is on record as saying that ideally at least half of theatre projects should be resurrected in a film or broadcast form.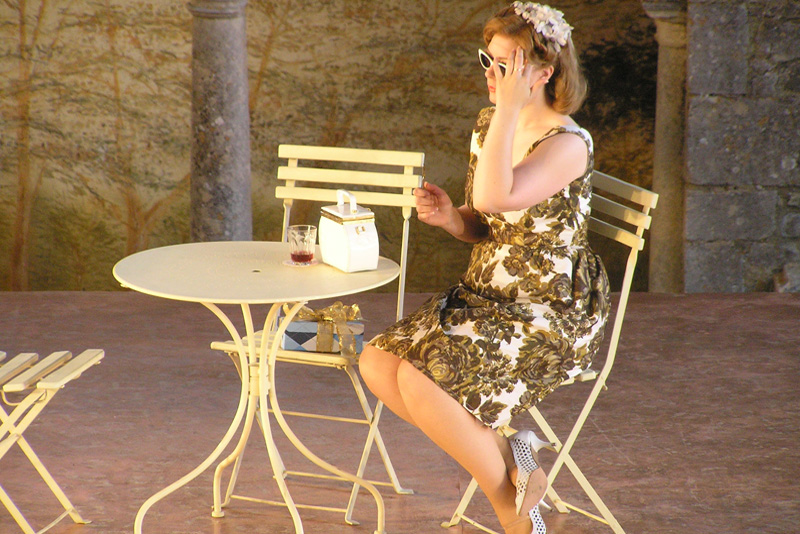 Le comte Ory. Photo courtesy Garsington Opera. 
In 2018 the Almeida produced Tennessee Williams' unjustly neglected Summer and Smoke. I reviewed it in the summer 2018 issue of this magazine and could barely get the excellence of lead actor Patsy Ferran down on paper. I'm convinced that she is a once-in-a-generation talent. I ask Goold to talk about her and try to identify the precise nature of her gifts.
"A starting point is that she's really bright academically. She also has actorly intelligence and she is in total control of what she's doing both vocally and physically. It's incredible technique combined with a distinctive physicality. At rehearsal, she's like an athlete 'in the zone' who is totally immersed in what they're doing but still aware of where their teammates are and from where the crucial pass might come. You could give her a note at rehearsal after she's been ripping her heart out and ask why she did something in a certain way. And despite the level of absorption she would say: 'Ah! But I noticed that the waiter had come out with only two glasses on the tray.'"
We stick with Tennessee Williams for a while. Often, good judges regard The Glass Menagerie as being among the small group of truly perfect plays. Goold's production starring Jessica Lange at the Apollo on Shaftesbury Avenue thirteen years ago struck many as being transcendent. I ask Goold how Williams managed to turn out so many outstanding plays and re-invent himself several times when Eugene O'Neill and Arthur Miller never came anywhere near that level of first-rate work.
I should stress that Goold comes to the defence of O'Neill and Miller immediately, but he then dissects Williams's gifts with great insight. "Perhaps Williams had a better ear for dialogue and you hear character in people's speeches as much as in what they do? He was always storing away ideas about character like a magpie. A Williams play will start from character whereas most writers start from an idea and broad social factors. Humans are infinitely variable so there is more scope generally with the character-based approach. Also, I don't think Williams was ever particularly happy, and as a gay man in the mid-twentieth century he may have had to push himself as he negotiated his own identity in a way that the other two writers you mention didn't."
Of all Goold's memorable work, the piece that will stay with me is a Royal Shakespeare Company production of The Merchant of Venice, initially in Stratford and then by arrangement with the RSC on a London run at the Almeida in 2014. Shylock's Rialto becomes the Las Vegas Strip, the action begins in a casino, and the casket scene is presented as a gameshow. Jessica and Lorenzo escape to Belmont disguised as superheroes from comics. Superficially glitzy, it had been deeply thought through and was a triumph of logic and daring that benefited from the affinity between idiomatic American speech patterns and the meter of the verse. I ask Goold about the elasticity of Shakespeare's verse and how he managed to explore it in new ways in this production.
"I'm always hesitant about people 'doing a Shakespeare voice'. There are of course beautiful Shakespearian voices like John Gielgud's but you hear the text more limitedly if you feel the actor is trying to decorate it. You must of course have muscle and confident intonation as you speak the lines but your voice needn't necessarily ring out."
Jessica Lange in The Glass Menagerie. Photo credit: Tristram Kenton.
You can see Goold's admiration for the New York City-based Wooster Group and how their initial approach to a piece may be aural with much use of recorded sound and headphones during the conceptual phase as they grasp the timbre of the spoken word before launching into rehearsals. "American actors naturally tend to emphasize lines more than their British counterparts. They are more emphatic in terms of their commitment to the text, so a twice-stressed line – double rising inflections – can sit better with them than with Received Pronunciation or conventional British sounds and can achieve a quicker connection with the play."
Staying with Shakespeare, Goold is flexible in where he sets plays as well as his handling of the verse. Placing an RSC production of The Tempest on an island in the Arctic Ocean with mariners wearing oilskins and even some nods to Beckett (Ariel in a dustbin reminiscent of Endgame) seemed unusually risky even by Goold's standards. The result? A coherent textually rigorous treatment whose structure adhered fully to the architecture of the play as written. Tongue-in-cheek, Goold has dismissed some of his novel experiments as 'conceptual buggering around'. The Tempest was of course the result of careful planning, and I ask what he remembers of the initial decision-making process on where it should be set.
"I'd never particularly liked The Tempest. It hadn't clicked with me and I considered it dramatically inert. But whole groups of ideas began jumping into my head. The starting place was that I wanted to find a world where magic was credible at some level rather than just theoretical. I saw the film Miss Smilla's Feeling for Snow which is about an Inuit boy with sequences shot in Western Greenland. I also found woodcuts and etchings of Elizabethan responses to tales of icebergs in the Baltic. There are numerous references to melting and thawing of all kinds in the play text as well as a theme of who deserves to be on the island. A few of the prolix static scenes have men standing around talking about government. If searching for Ferdinand is their aim, I thought it would be interesting if the very terrain itself were an obstacle."
I ask Goold if he is generally optimistic about British theatre and give him the option of answering either within the context of Covid-19 or as he might have done prior to the pandemic. "To have it all stop makes you realize how incredibly noisy, creative, competitive and dynamic theatre is. And it's also interesting to reflect on the ferocious intelligence and aesthetic nous in our sector. When people from other fields like business or politics have interaction with us, they always comment on it. Globalization has widened the range of people coming into British theatre and enriched it. The lockdown has reminded me how much I miss being in a room with stimulating colleagues."
Patrick Stewart, Mariah Gale and Julian Bleach in The Tempest.
Photo credit: Suzanne Worthington.
Prior to the interview I have watched a video on the Almeida website which tells me that even when operating at maximum occupancy, the theatre only raises forty per cent of its required income through the box office. So how do Goold and his colleagues raise the other £2million and what kind of relationship do they have with Arts Council England?
He tells me that the Arts Council relationship is consistently good. Naturally, he envisages austere times ahead and the theatre is coming to the end of a ten-year relationship with a major corporate sponsor who has proved extremely generous. Goold regards theatre as an essential way of making the country buoyant again and reasserting who and what we are after the pandemic. He is hopeful that a government with a strong mandate from the electorate and a commitment to regeneration of all kinds will not overlook culture.
In his twenties Goold was an associate at the Salisbury Playhouse where he directed Brian Friel's Dancing at Lughnasa. Much of Friel's work was being performed in theatres across the UK, Republic of Ireland, and United States prior to lockdown. I ask about his legacy, why he is so revered and beloved, and why so many dub him 'the Irish Chekhov'.
"I remember a night during the run of Pinter's No Man's Land in Dublin. I was in a backroom at the Gate with Friel, Harold Pinter, his wife Lady Antonia Fraser, producer Sonia Friedman and a solitary barman. As Friel reminisced, I realized how much I loved not just his own work but his adaptations such as Fathers and Sons based on the Turgenev novel. Like Tennessee Williams, with the best writers the one thing others can't replicate is their mastery of character and the facility with dialogue that seems to be in their DNA. It's less a thing in Europe where context is more important."
I ask Goold to talk about Harold Pinter. There are strong Pinter connections throughout his life, and as a teenager at University College School in north London, Goold and a set of high-achievers in his year staged Pinter's play The Hothouse. In 2002, in his first artistic director role at the Royal & Derngate Theatre complex in Northampton, he mounted a production of Pinter's Betrayal which, among other things, is about the unwinding of time.
Run the timeline forward to 2008 and Goold began working on the aforementioned production of No Man's Land. By no means the first person to experience this, he found Pinter imposing to the point of being disconcerted at the initial meeting. A conceptual stage model was shown to Pinter who was visibly ill and in pain. Goold's childhood hero Michael Gambon (who played the pivotal character Hirst), Michael Colgan (at the time in charge of the Gate), and Pinter himself met over a boozy lunch. Goold recalls: "I observed matters, didn't say too much and laughed at Harold's jokes. Subsequently, Harold said, 'I like Rupert very much. He listens.'"
Goold tells me that a visibly irritable Pinter arrived on first night and began glowering in the stalls. But there was soon a transformation; as the audience began to laugh in all the right places Pinter lightened up and started to revel in the evening. He died during the subsequent London run at the Duke of York's Theatre but had seen the rave reviews.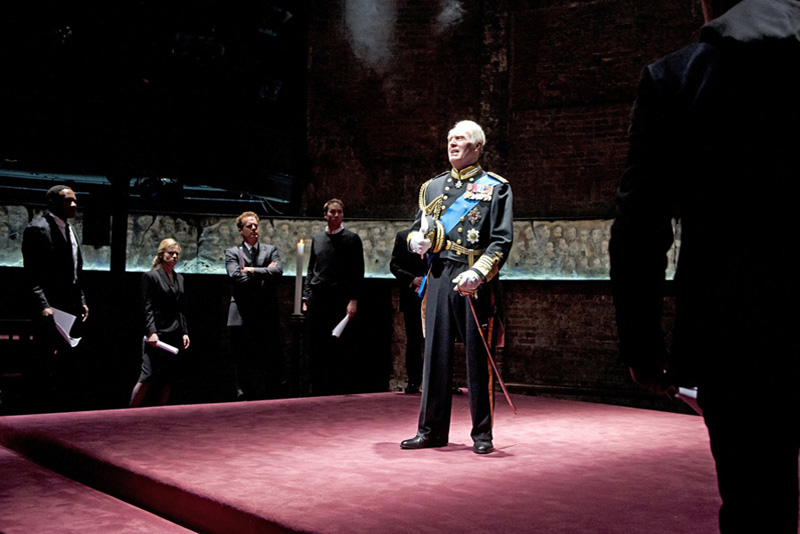 Tim Pigott-Smith as title character in King Charles III by Mike Bartlett.
Photo credit: Tristram Kenton.
Prescience seems to be a theme in plays that Goold has directed. His production of Mike Bartlett's King Charles III at the Almeida in 2014 deals in a fictionalized whimsical manner with the accession of the Prince of Wales and, using verse, focuses on Charles' support for complete press freedom which brings him into conflict with the government of the day after the News International phone-hacking scandal. In the plot, Prince Harry falls for a commoner (in this case an artist not an actress) and begins to think about stepping back from royal duties. Sound familiar? Similarly uncanny is a character from Earthquakes in London, another Bartlett play directed by Goold which premiered at the National's Cottesloe Theatre (now the Dorfman) in 2010. The youngest of three daughters of a climate scientist, the character of Freya is a rebellious climate-change-obsessed teenager who is obsessed with ecology. Her character suggests that Bartlett was eerily prescient about the rise of Greta Thunberg.
Goold has also directed two films: Judy and True Story. The former, (a biopic of Judy Garland based on the play End of the Rainbow by Peter Quilter), released last year, has grossed $42.1 million and is outstanding but hardly needs discussion here. True Story came out in 2015 and is based on an actual crime as the title suggests. It explores the relationship between Christian Longo and Michael Finkel. A Michigan resident, Longo murdered his wife and three children in 2001. While on the run, he began to cover his tracks by appropriating somebody else's identity, making the extraordinary choice of pretending to be Finkel who had just been sacked by The New York Times for, in part, fabricating source material used in a feature on the African slave trade. Finkel was sufficiently intrigued to seek out Longo and visit him regularly in prison. Goold not only directed but wrote the screenplay in conjunction with David Kajganich. The murders are represented impressionistically, and there is little blood and gore.
Avoiding blood and gore is hardly a charge you could bring against Goold's landmark production of Macbeth which frequently resembled an abattoir. The project was his springboard to the big league. It began life at Chichester in 2007 before transferring to the Gielgud Theatre on Shaftesbury Avenue followed by runs at two venues in New York. Projected video of a Stalinesque political rally and Patrick Stewart as the title character confronted by multiple daggers in his hellish kitchen still live with me. Particularly eerie was the witches' extra role as ward sisters in a military hospital suggesting that they were omniscient and all the more threatening. An Olivier for Best Director followed and there were Evening Standard Theatre, Critics' Circle, and South Bank Show Awards. Goold was directing his wife Kate Fleetwood as Lady Macbeth and is on record as saying he worries that he may be overly critical of her in rehearsals. The couple met in 1998 when he first directed her. Which play? If pushed, Goold will admit, while wincing, that it was Romeo and Juliet.
We close with contemporary politics and Goold's 2019 production of Anne Washburn's play Shipwreck. It shows wealthy left-leaning American professionals dissecting Trump's presidency often in a frenzied manner shortly after his counsellor Kellyanne Conway has talked about "alternative facts" and former FBI director James Comey has been dismissed. One of the characters says that Trump "makes himself up out of thin air and nobody cares".
Goold hardly needs reminding about it but I mention that on the evening prior to our interview, Trump had risibly lied in his nightly press briefing about Covid-19 lockdown dates. I ask him if he is appalled by what is going on. "Society is being hollowed out with an abhorrent narcissism, arrogance, and a stupidity which is exhausting. It disturbs me that on a daily basis my children are seeing this kind of self-absorbed polarization and the unilateral pouring of scorn during disagreements that the US government simply doesn't understand."
So what of the future? The Almeida's Twitter feed tells me that their Genesis Almeida New Playwrights, Big Plays Programme for emerging and mid-career playwrights continues to meet if only over Zoom and they have just had a masterclass from Beth Steel whose The House of Shades should now be playing at the theatre. Technology continues to partially fill the breach, and Steel's play Wonderland was recently streamed by the Almeida's north London neighbours the Hampstead Theatre. Digital fare is to some extent filling the breach, and I will tweet the broadcast date of Albion when it is announced. Any optimism otherwise needs to be cautious.