"Hamlet", Guildford Shakespeare Company
Jeremy Malies in Surrey
11 February 2022
A boozy Elsinore this – any critic (and we're not noted for sobriety) playing drink-along-a-Hamlet would be slumped over their notebook by the second act. Freddie Fox as the prince switches from whisky in the palace to cognac on the castle ramparts, Claudius and Gertrude are rarely far from a glass of champagne, and it becomes logical that the queen won't be able to watch the sword fight without swigging from a goblet which happens to contain poison.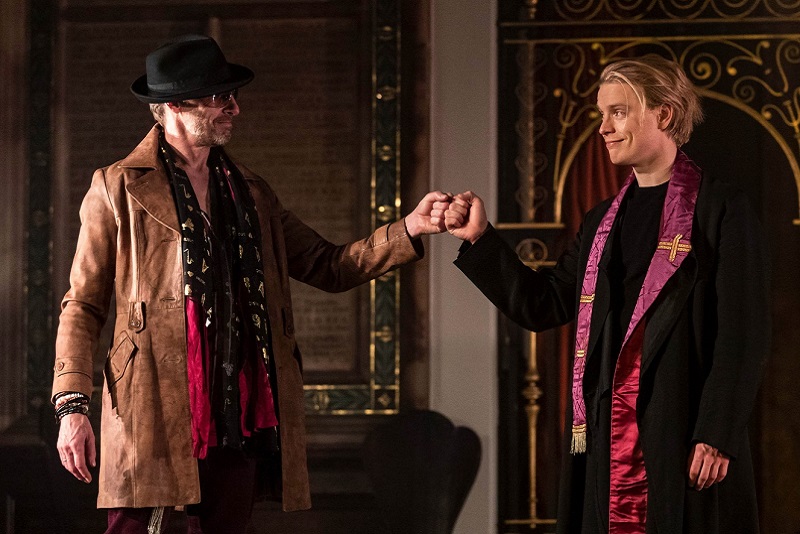 Stefan Bednarczyk and Freddie Fox. Photo credit: Matt Pereira.
Logic runs throughout Tom Littler's direction of this site-specific project at the company's principal venue of Holy Trinity Church in Guildford. Claudius (Noel White) makes his state-of-the-nation speech from the pulpit and every element that is relevant to a church setting is emphasized without being overdone. For once we can believe that Claudius is truly at prayer when Hamlet considers murdering him, the gravedigger scene flows into the action seamlessly, and discussion of whether Ophelia should be buried within sanctified ground acquires new resonance.
There is much versatile doubling with White also excelling as a spaced-out hippified Player King who wows the prince with a bohemian lifestyle, commitment to his art, and ability to inhabit characters from the Trojan wars with just a few words. But even White can't appear in "The Mousetrap" and be Claudius at the same time so we're asked to imagine the characters watching a film. The ruse just about works but it's one of the weaker elements.
The wonderful Freddie Fox clearly opts to portray Hamlet as being unhinged from the off. When he says later that he intends to begin to fake madness, I take this as a cover for his rapidly advancing mental illness. This means there is less of an arc to his experiences but it's a valid interpretation particularly in the light of Claudius's question early on: "How is it that the clouds still hang on you?" And the anguish does not come entirely from within. Fox often carries his limbs like a puppet, perhaps to stress that his strings are being pulled by ruthless courtiers and a dysfunctional family.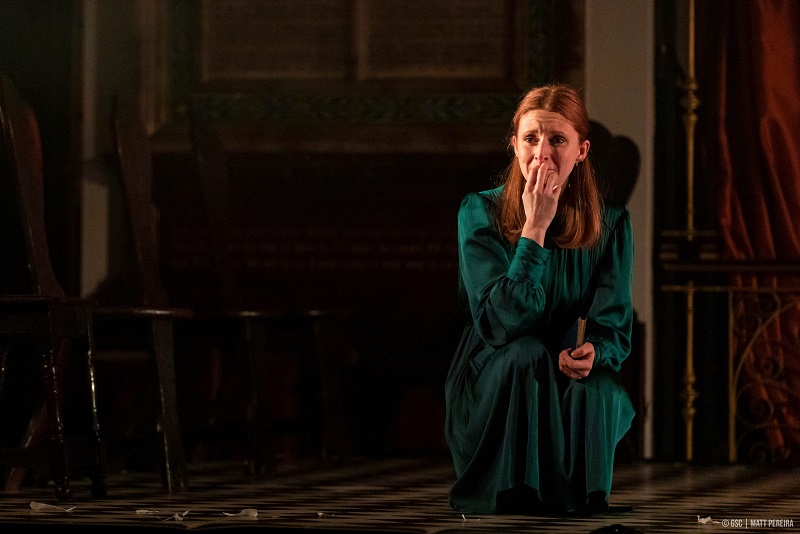 Rosalind Ford as Ophelia. Photo credit: Matt Pereira.
He seems to be deliberating not just with himself but the audience, and being able to use the nave and transepts helps with immediacy. "To be, or not to be?" has intriguing pace with the main note being intellectual enquiry. 'O, what a rogue and peasant slave am I!' is similarly intimate and modulated despite the need to project to the back of the church which has an unforgiving acoustic.
I had issues with sound design by Matt Eaton. For a while I was distracted when trying to decide if simple synthesized sounds were just that or speaker feedback. Still unresolved in my mind, it's not the right debate for me to be having. And while it's a cute flourish to have the disembodied voice of Freddie Fox's father (Edward) as the ghost, the recording had far too much reverb and the overall technical effect was mannered.
At last a Polonius who doesn't squander the many laugh-out-loud lines! Stefan Bednarczyk is cast as a self-satisfied clergyman (again eminently logical) and plays the role as if he has just leapt out of a Trollope novel; ostensibly affable but conspiring with Hamlet's parents from the beginning. Bednarczyk draws on his prodigious technical armoury as a character actor to portray an odious self-seeking egotist who is so thrilled to be in the corridors of power that he can barely consider his own daughter's welfare.
Daniel Burke, Freddie Fox and Sarah Gobran. Photo credit: Matt Pereira.
Littler gives Rosalind Ford as Ophelia few sustaining ideas to propel her through the role. She plays cello both as incidental music and in her character to great effect but the mad scene falls flat with no sense that it has been brought on by feeling cheap and unwanted or trauma and confusion after being torn between Hamlet and Polonius.
Holy Trinity continues as a functioning church during the runs of the company's productions so scenery is always sparse. But Neil Irish's design works around this with evocative props and what looked like a real coffin supposedly bearing the body of Old Hamlet to the altar. He remains a palpable presence for the duration.
There is outstanding support from Pepter Lunkuse as Horatio who is portrayed in a gender-blind manner with no attempt by the performer to be androgynous. Lunkuse conveys abject terror when, having just seen the ghost, she and Hamlet are at cross-purposes about what Hamlet is seeing in his mind's eye.
I'm proud to say that I've been making 200-mile round trips to see the Guildford Shakespeare Company since their inception 15 years ago. They have never disappointed me. The only downside is that travel means I must see matinees and never experience the full power of Mark Dymock's lighting designs in the church. This Hamlet project is resourceful, intelligent, self-aware, self-deprecating when appropriate, and scrupulous in examining the important themes. Another wonderful production by an impressive company.