"Black Superhero", Royal Court Theatre
Neil Dowden in west London
28 March 2023
Actor and activist Danny Lee Wynter's first work as a playwright – in which he also plays the leading role – is an acutely funny account of black gay men's relationships mixed in with a gradually revealed traumatic family history. Black Superhero is an impressive if slightly unfocused writing debut with its incisive observations on black masculinity and queerness within the overheated acting world, as fantasy and reality collide. The play also explores mental health issues triggered by abuse.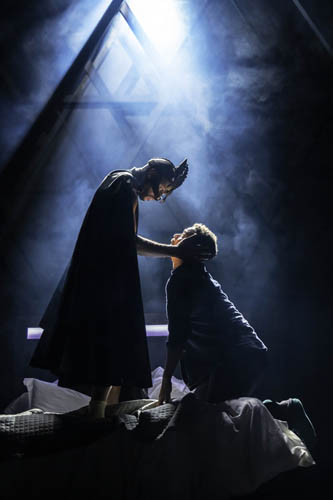 Dyllón Burnside and Danny Lee Wynter.
Photo credit: Johan Persson.
David (Wynter) is a struggling, mixed-race actor pushing 40 who is in therapy. He has to bolster his earnings by working as a children's party entertainer for the small company run by his younger sister Syd, while living in the flat she shares with her boyfriend in London. David is in love with his American friend King, who has become a film star by playing a Marvel Comics/Black Panther-style superhero called Craw. But after King surprisingly announces that he and his white, travel-writing husband Steven are in an "open marriage", they start an affair that threatens to wreck David's fragile self-esteem in a vortex of drink, drugs, and casual sex during a publicity tour of Australia.
The play contains many pithy satirical swipes, such as David bemoaning "I had a dream once of playin Hamlet. Next week I'm auditionin for Horatio" or Syd commenting "King's jus havin what us heteros call a midlife crisis". But most of the barbed wit is not so much about racist and homophobic attitudes as the compromises and conflicts black gay men are forced into in their private/public lives as they juggle multiple identities.
While David argues for the importance of equality and representation, Raheem – a more commercially successful actor – claims, "I ain't defined by my blackness, or my gayness." When David becomes sexually entangled with Black American film producer Kweku (who has had a wife for 18 years), the latter even says: "I'm not gay … I'm a straight man who does gay things."
Dyllón Burnside and Danny Lee Wynter.
Photo credit: Johan Persson.
The scenes between characters are occasionally interrupted by increasingly dark sexual fantasy sequences involving David prostrating himself before the dominating Craw. But in reality so-called superheroes have feet of clay with David's damaged psyche having its roots in an estranged macho father. Although ambitiously multi-dimensional, the play has a little too much packed into it so that the second half especially becomes rather incohesive – though it ends poignantly with David confronting his demons.
Director Daniel Evans (just about to step down as artistic director of Chichester Festival Theatre before taking over the RSC with Tamara Harvey in June) ensures the show is sharply entertaining, backed by Joanna Scotcher's expressionist pyramidal design and Ryan Day's off-kilter neon lighting. The superhero fantasy interludes – including masked and caped actors descending from the flies – are well staged.
Wynter gives an engaging, detailed performance as the confused, argumentative David conveying both his humour and vulnerability. Rochenda Sandall is amusing as the sympathetic but straight-talking Syd who will not let David get away with anything, in a totally believable brother/sister relationship. Dyllón Burnside also impresses as the conflicted King who lives a double life in more ways than one, with Ben Allen as the bitchy, controlling Steven, Eloka Ivo getting big laughs as the opportunistic, buff Raheem, and Ako Mitchell as the coke-snorting Kweko whose business is pleasure.