"Endgame", Irish Repertory Theatre
Glenda Frank in New York
28 March 2023
Like Shakespeare, Chekhov and Miller, Nobel Prize winner Samuel Beckett wrote plays that are continually produced, and with each new opening, you many wonder, why another? For me the lure of the current production of Endgame at the off-Broadway Irish Repertory Theatre on West 22nd Street was Bill Irwin, the brilliant New Vaudevillian who enriches even his dramatic roles with an off-beat comic edge. "Nothing is funnier than unhappiness," the character Nell observes. Now extended through April 16, this Endgame is bizarre, droll – and remarkably poignant. Director Ciarán O'Reilly, co-founder and Producing Director of Irish Rep, imbues a dark tale with lucidity and comedic balance.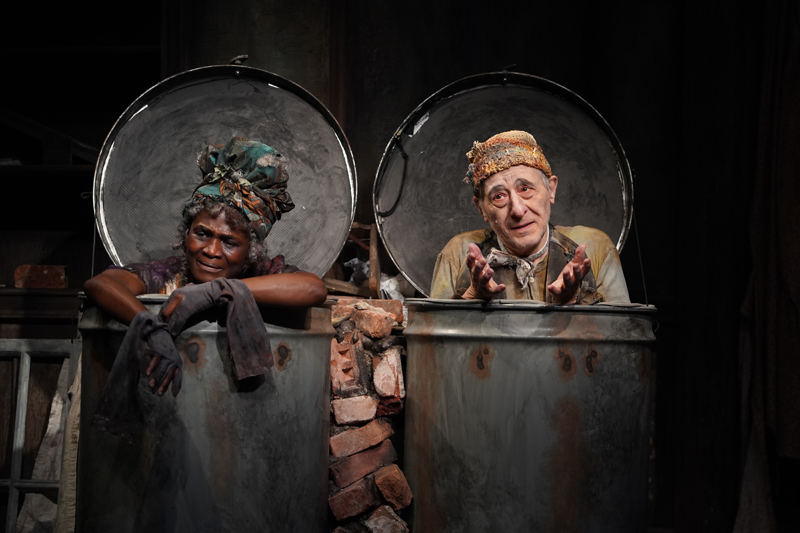 Patrice Johnson Chevannes and Joe Grifasi.
Photo credit: Carol Rosegg.
The world has come to an end. What may be the last ragtag survivors (Orla Long, costumes) share one room (set design by Charlie Corcoran). Outside one of the two small windows – so high Clov has to fetch a ladder to peer out – is a view of the ocean. Outside the other is land, a desert. Inside the room, centre stage is Hamm (John Douglas Thompson), a charismatic blind, wheelchair-bound lord of all he surveys, a miser and a bully. Clov (Irwin) waits on him hand and foot. Clov's refuge is the kitchen downstairs (offstage) where he can quietly stare at the walls. Hamm's parents live in rubbish bins.
This does not sound like a comedy. It doesn't even sound like fun, but it is. Irwin infuses the roles with his genial, off-beat wryness and impeccable timing. As he lugs that heavy ladder from the stairway to the kitchen to the window and back again, lugs it once more, and again, we admire him – actor and character. His hip hurts. He's a little hunched, probably arthritic, but he goes on. And in Endgame, as in other Beckett plays, going on makes him a kind of hero.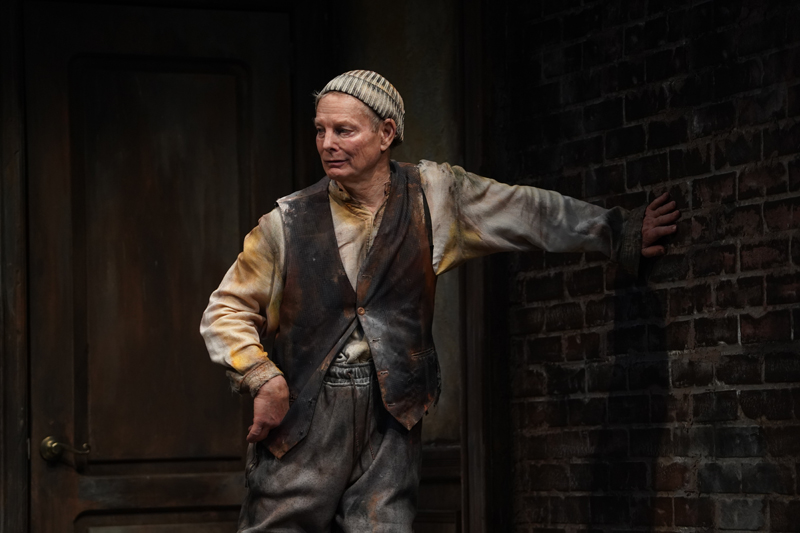 Bill Irwin as Clov. Photo credit: Carol Rosegg.
For many people the comic highlight is Hamm's pet, a black toy dog with three legs that Clov created. Hamm asks if it's white.
"Nearly," lies Clov.
"What do you mean, nearly? Is he white or isn't he?"
"He isn't."
The dog cannot stand, but Clov holds him upright as Hamm reaches down to pet him. And we wonder, how will this end, this intimate exchange between two men?
Hamm slips into a fantasy. "Is he gazing at me?"
"Yes," Clov says.
"As if he were asking me to take him for a walk?"
"If you like."
"Or as if he were begging me for a bone? Leave him like that, standing there imploring me."
"I'll leave you," Clov says.
The dramatic tension is masked in the comic absurdity of a non sequitur.  Nothing Clov does elicits affection. Hamm, who summons his surrogate son with a dog whistle, is stuck in tyrant mode. Theatre of the Absurd plays on metaphor, with double and triple meaning. Hamm says he regrets rejecting the widow when she came to beg for oil for her lamp. "You know what she died of, Mother Pegg?" Clov asks. "Of darkness!"
This is the finest production of the play I've seen. Under O'Reilly's direction, each character brings us a new perspective and longing. The casting (and miscasting) is brilliant. With his magnificent voice and Shakespearean delivery, John Douglas Thompson – his eyes covered by rags, immobilized in his wheelchair – is magnetic. Like Clov, we are drawn to his Hamm and recognize him – sometimes at once – as tragic hero and as villain. Patrice Johnson Chevannes seems too young, too vital to play Nell, Hamm's mother. But it works. We understand why Nagg's (Joe Grifasi) deepest wish is to kiss her. They try, but their rubbish bins are too far apart. When she dies, we experience the absence. But Grifasi, a seasoned character actor, keeps it going. The redundant lovers signal the deepest loss.
Clov's final choice expresses his need for affection. The boy he sees through the window may be a delusion. "Have you had your visions?" Hamm asks. The boy is hope for a different future. Still Irwin's Clov lingers, determined to leave but not able to pull himself away.
Beckett was born in Ireland, lived in Paris and wrote much of his work in French. Endgame, the author's favourite play, premiered in French as Fin de Partie at the Royal Court Theatre, London, in 1957.  The Cherry Lane Theater in New York produced the first English language production in 1958. Irish Repertory Theatre's acclaimed production was directed by co-founder Charlotte Moore in 2005. Like Henry David Thoreau, Beckett wanted to strip life clean of all the amenities, all the frills, even of many necessities to see if he could learn what it had to teach. What keeps us going on in the face of personal and/or global annihilation?  In Waiting for Godot, Beckett's answer is friendship, the bromance between two aging tramps. In Endgame, the sustaining values are more complicated. Family. Affection. Generosity.
The play will be live streamed on April 14, 8 PM; 15, 2 PM; 15, 7 PM; 16, 3 PM EDT. See https://stream.lolst.org/endgame