"The Tempest" – Globe Theatre
Neil Dowden on the South Bank
4 August 2022
Shakespeare's last solo play The Tempest – with Prospero's renunciation of magic at the end once seen as the Bard's farewell to the stage – has always been popular and its protean nature invites a cornucopia of approaches. Contrasting productions by the Guildford Shakespeare Company and Theatre Royal Bath have recently opened, and now the Globe stages another very different version. Associate Artistic Director Sean Holmes has provided a consistent, innovative, and entertaining interpretation, but he has reduced the crowning glory of Shakespeare's late tragicomic romances to a one-dimensional, lightweight romp.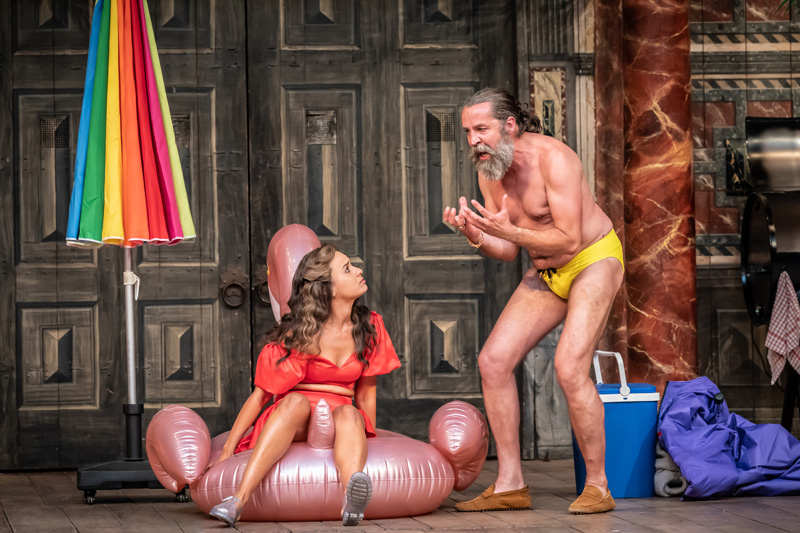 Ferdy Roberts and Nadi Kemp-Sayfi. Photo credit: Marc Brenner.
Dramaturg Zoë Svendsen has cut quite a bit from Shakespeare's text, including shortening the opening storm scene – not necessarily a bad thing, but more egregious is that the tempest that gives the play its name makes no impact at all.  The besuited toffs aboard the ship that is about to be wrecked are wheeled by in a Perspex box while quaffing champagne and bopping to dance music – more like a party boat on the Thames outside the Globe than an incipient maritime disaster. But this is in keeping with the spirit of the production that unfolds from which the tempestuous, potentially tragic impulses of the play are entirely absent.
There is no chance of this Prospero taking revenge on his enemies who deposed him as Duke of Milan and cast him and his three-year-old daughter Miranda out to sea in a small boat. There is no real sense of anger, or indeed of his magical powers. Early on, he takes off his robe and spends most of the time wandering around in bright yellow budgie smugglers. His book of spells is a messy folder of notes and his wand a twig. In fact, when he is about to be attacked by would-be usurpers Caliban, Stefano, and Trinculo near the end his potency evaporates and he is forced to ask Ariel to stop them in their tracks.
The supernatural and lyrical qualities of the story are also downgraded in favour of larky humour. The rhinestone cowboy-costumed Ariel is far from being an airy spirit, while Caliban is not so much a monstrous slave as an overworked employee who sports a 'STAFF' tag on his gaudy T-shirt. The spirits' illusory banquet is presented as a fast-food feast, and in the wedding masque the classical goddesses are salacious flower-power dancers.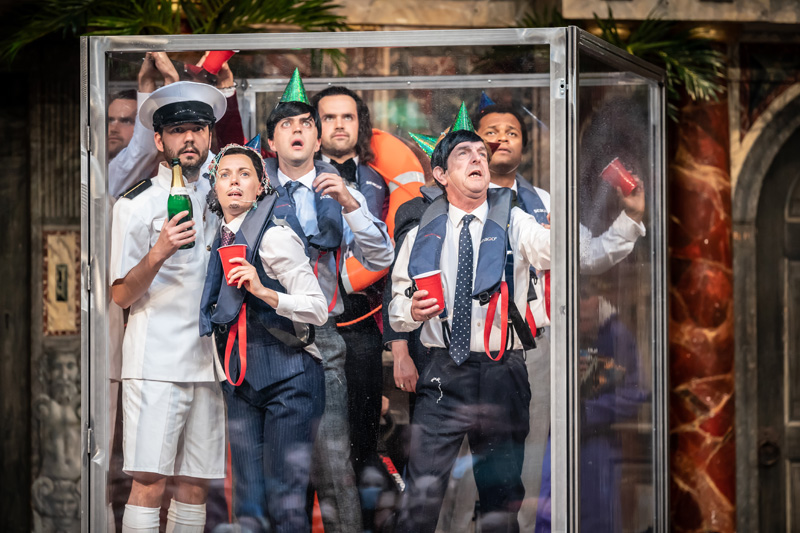 The ensemble. Photo credit: Marc Brenner.
The strongest part of the show is the subplot involving the drunken butler Stefano, miserable jester Trinculo, and an alcohol-tamed Caliban, who persuades them to try to topple Prospero in a parody of the Milan palace revolution. For once it is genuinely funny, beginning with clever use of a lobster inflatable and including a timely "It's coming home" sing-along chorus from "Three Lions", though the courtly pair being distracted by Harry Potter accessories seems a gimmick too far. There are also some nice comic moments between a paternally concerned Prospero and frustrated teenager Miranda who wants to be with her new-found lover Ferdinand.
Paul Wills's design has gone all-out, if not Love Island, then kitsch Mediterranean beach holiday. Palm branches entwine with the Globe's pillars, there are inflatables, beach umbrella and beach ball, ice box and barbeque … oh, and more plastic yellow ducks than you will ever have seen on stage before. The exotically dressed band that plays on the balcony (composer Cassie Kinoshi), backed by shimmering blue strip curtains, suggests a small hotel orchestra.
Ferdy Roberts has the makings of a fine Prospero, speaking the verse superbly, with hints rumbling underneath of a darker character, but he is undermined by this production which cuts him down to size. Rachel Hannah Clarke makes an engaging, sassy Ariel who can't wait to gain her freedom, while Ciaràn O'Brien's unthreatening Caliban is tetchy rather than brutalized by colonialism. Nadi Kemp-Sayfi's skimpy red party dress-clad Miranda is hardly an innocent, taking the lead with Olivier Huband's Ferdinand whose brow is constantly knit in puzzlement. And there is amusing interplay between George Fouracres' sunglass-wearing, bare-chested Stefano pushed around in a plastic yellow crate like a pound-shop prince and Ralph Davis's whinging Trinculo who sometimes ad-libs to the audience's delight in a show that certainly offers escapist summer fun – but not much more.