"The Kite Runner", Hayes Theater
Glenda Frank on Broadway
14 August 2022
The Kite Runner, Khaled Hosseini's first novel (2003) was on The New York Times best sellers list for two years. In 2008, the popular film adaptation was nominated for a Golden Globe award. The 2009 stage version by Matthew Spangler as produced by the Nottingham Playhouse and Liverpool Everyman theatres (it in no way draws on the film but returns to the novel) has made its Broadway premiere at the Hayes Theater.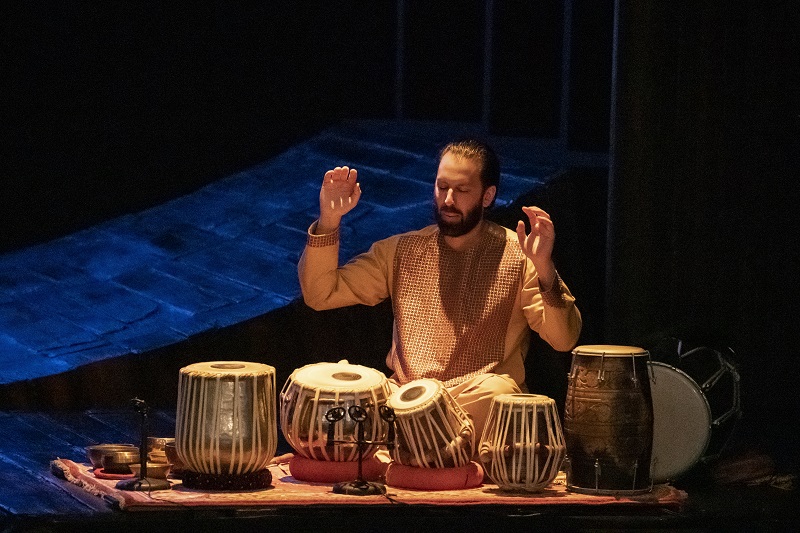 Salar Nader. Photo credit: Joan Marcus.
Hosseini categorized the novel as an exploration of father-son relationships. The plot is fiction, not autobiography as early readers interpreted it. The conflict and resolution are predictable. More interesting is the tale of friendship and betrayal set in the exotic landscape of pre- and post-Taliban Afghanistan (1973-2001). Afghani culture and language permeate the scenes, lending them the power of headline events and tapping a newly energized global perspective.
The friendship is between two boys who grew up under one roof, Hassan (Eric Sirakian), a Hazara servant devoted to Amir (Amir Arison), his self-deprecating best friend, who belongs to the Pashtun tribe. Both boys are motherless and passionate about kite-flying, a celebrated sport in Afghanistan before the Soviet and Taliban take overs.
But their futures seem as separate as those of Dalits ("Untouchables") and Brahmin. Their friendship infuriates Assef (Amir Malaklou), a Pashtun bully who rapes the younger boy while the terrified Amir hides and watches.
Later, Amir, afraid to face his friend, accuses Hassan of theft and Hassan confesses in order to protect Amir. Amir's father (Faran Tahir, a powerful performer) inexplicably refuses to banish the boy from the compound, but Hassan and his father (Evan Zes) leave of their own volition. Soon after, the Communist take-over forces the outspoken father to flee, first to Pakistan, then to California, where he takes menial jobs and puts Amir through college.
Eric Sirakian and Amir Arison. Photo credit: Joan Marcus.
This is the first act. As you can see, it's chock-full. It's no wonder that the actors struggle with the roles. Director Giles Croft (former artistic director of the Nottingham Playhouse) seems to focus more on clarifying plot details than exploring the characters.
The second act is even busier. There are 13 cast members, seven of them playing multiple roles. Many critics found the cramming-in somewhat numbing and complained that several of the narrated scenes could have been dramatized and that Amir's wife, Soraya (Azita Ghanizada, one of two women in the cast), should have been developed as a character. I found the script increasingly unbelievable.
In 1997 playwright Paula Vogel's How I Learned to Drive taught us all a lesson in dramaturgy. She scrambled chronology, limited her cast and named single actors playing multiple roles the "chorus" so paying homage to ancient Greek playwrights. She chose thematic scenes for their emotional and narrative power. The final scenes in the play were at once gut-wrenching and poignant.
Spangler specializes in dramatizing novels, especially those set in Afghanistan. His adaptation brings us the full story in chronological order. The French scoffed at this epic approach – even in Shakespeare, but story-telling has been a staple of American drama. Vogel was able to create a masterpiece out of a nasty tale of incest and pedophilia because she committed every scene in the play to a specific irony. The current sprawling, uneven production of the Kite Runner forces audiences to choose their emotional path.
But still I recommend this production. Why? It is a rare study in internalized prejudice, both of race and class. Other works that struggle with discrimination bring home a moral or create a black-and-white world. Amir is a Brechtian anti-hero, despicable and cowardly. He feels a strong emotional connection to Hassan, but he believes in the difference between them. His love is not enough to combat the Pashtun world, which reinforces both prejudices. And the disparity in rank between the boys is useful to him; it builds his flagging confidence. The tension between friendship and self-love is delicately developed on stage without excess explanation or excuses.
Some critics found Amir as antihero alienating. We don't see his redeeming traits until the end of Act II. Croft allowed the problematic script to dictate his choices. Brecht's plays encourage us to get close to the characters before introducing the Verfremdung devices, repeating the pattern of involvement and distancing throughout.
Amir's narrative about his life in California and the love scenes blur the subplot, but once the play returns to Amir as he confronts his cowardice, tensions rise and the drama finds its niche. But then the script goes into overkill as the details about Sohrab, Hassan's son, moved from horrifying to superfluous. I felt manipulated, but my friend, an accomplished woman of the theatre, wept when Amir rescued Sohrab from the Taliban and his abusive keeper.
I want to give a shout-out to Amir Arison, a stage actor best known for his role on the long-running television series "The Blacklist." He plays both our narrator and Amir. He must age from a boy of about 10 years old to a man in his thirties and is on stage throughout. The Kite Runner marks his Broadway debut.