"Mandela – A New Musical", Young Vic
Jeremy Malies on the South Bank
13th December 2022
I could tell from seeing three-quarters of the capacity audience take to their feet during the curtain-call that Mandela at the Young Vic had entertained. Whether it will truly educate or shed any light on history is debatable.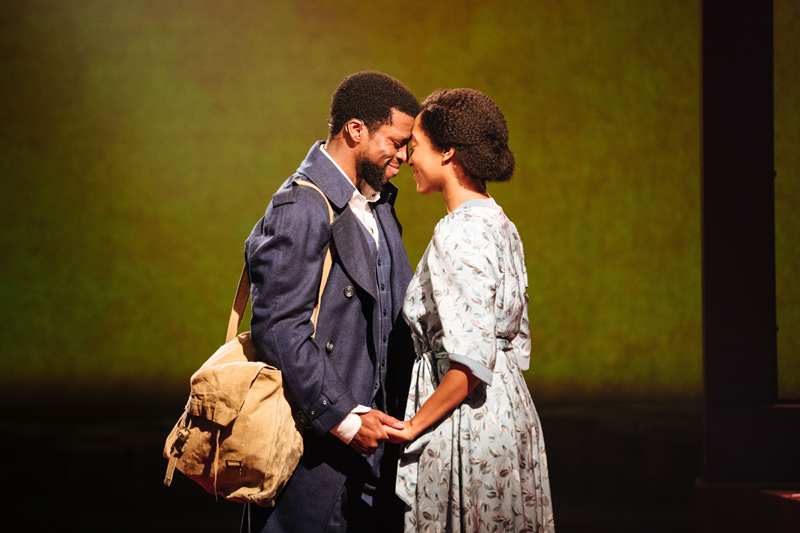 Michael Luwoye and Danielle Fiamanya. Photo credit: Helen Murray.
Even Mandela, a lawyer who relished the cut and thrust of debate, might appreciate a more rounded portrait than this saccharine piece of hagiography which not only avoids major issues but is untrustworthy with agreed facts of recent mainstream history.
The action begins with Mandela (played by Michael Luwoye) hitting his stride as a reformer in 1960. He is 42 and has been married to Winnie (Danielle Fiamanya) for a couple of years. Director Schele Williams immediately conveys the excitement and group identity of the socially and racially diverse activists across many parties who are intent on dismantling apartheid. She takes us through 30 years of crowded history with not a second wasted and the cast teems with historically significant characters.
Music and lyrics are by Greg Dean Borowsky and Shaun Borowsky. The music is exceptionally pure; there is no American gospel or spiritual content and no Western influences of any kind, not even hymns. The harmonic structures are all Xhosa and Zulu. The chorus songs owe much to the Xhosa ihlombe tradition in which musicians are so animated they go into a trancelike state.
But despite the energy, I would defy anybody to leave the Young Vic humming anything they had heard, and the lyrics are underwhelming. "If you listen to your heart / You will feel me beating with you." Hmm! Songs and action are not integrated; the musical numbers seldom seem a continuation of a character's thoughts. With Mandela imprisoned, people often sing together while in different locations which can move the plot along but is hardly revolutionary.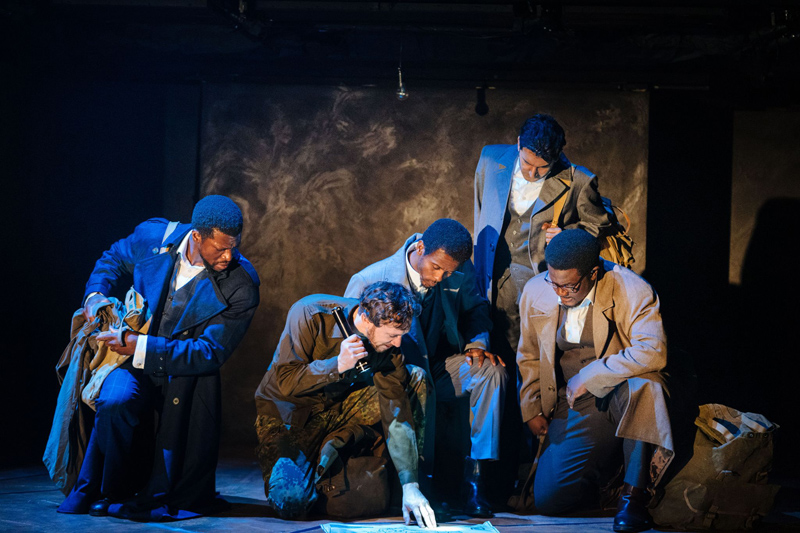 Cast members depict paramilitary training. Photo credit: Helen Murray.
Normally to be seen scurrying around the upper tier of a split-level set by Hannah Beachler, Ntsikelelo Nicholas Vani plays Oliver Tambo who was a crucial ally of Mandela in the African National Congress (ANC) and who, after been banned from political activities, became an ambassador for the movement spending much time in London. The actor captures the dynamism, charisma, and communication skills of his character, and you sense that he is a source of succour to Mandela during the difficult times in prison. It's an assured debut by Vani in a major production.
Beachler's sets are innovative throughout. She usually works on film sets and won an Oscar in 2019 for Black Panther. Her designs here are subtle (in a project that usually opts for the sledgehammer approach) and range from a deft suggestion of the Mandelas' first home in a Soweto suburb to a back wall that implies the concrete of an isolation cell and the dressed limestone of Robben Island. There are thickets of barbed wire across the top of the stage and later, as hope for a release and general reconciliation mounts, Beachler has what I took to be flower tendrils envelop the stage.
Schele Williams, according to her own website, is "a director committed to cultivating new musicals and devised work with authentic representation". I don't think she and book writer Laiona Michelle do any useful groundwork. I should like to have been told a little about Mandela's law practice and his noble lineage within the Thembu royal family. When I learn from Winnie that the couple are wealthy enough to send their children to boarding school in Swaziland (now Eswatini) I am surprised, even shocked.
There are many formulaic lurches, and we are given no idea how a diverse organization such as the ANC, encompassing all shades of radical socialist and democratic thought, has come together and is beginning to be a potent force. Williams, working with choreographer Gregory Maqoma, pulls off the high-impact group scenes impressively, particularly a depiction of the 1960 Sharpeville Massacre in which 69 (probably peaceful) protestors were gunned down by police. The ensemble work here is outstanding with the cast conveying the shock of realizing that they were being attacked by live rounds when the most experienced press observers were expecting rubber bullets at worse. Later, Maqoma ensures that the brutality of the guards towards the prisoners is excruciating.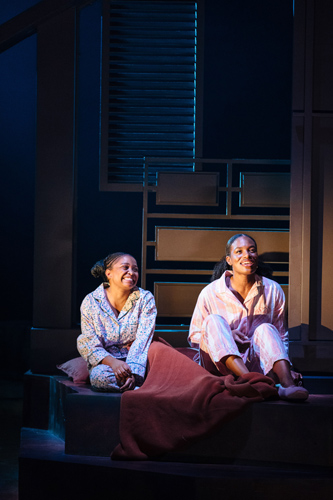 Nomfusi Ngonyama and Leanne Robinson.
Photo credit: Helen Murray.
As the years pass – Mandela is show in prison from 1964 to 1990 – the same actor (Earl Carpenter) plays the same South African leader who is described in the programme as "the president". I finally realized that the writing team had decided to blend P.W. Botha with F.W. de Klerk. Successively the last prime minister of South Africa (1978–1984) and the first executive state president (1984–1989), Botha was an implementer of apartheid and actively campaigned for it in a referendum. By contrast, de Klerk (who admittedly held cabinet positions under Botha) dismantled it.
I understand that a musical must use a broad brush and it makes sense to blend Mandela's three places of confinement into the one prison we all know, Robben Island. But Michelle and Williams have made a considered decision to present Botha and de Klerk as one and the same person. De Klerk reversed course on apartheid in 1989, skilfully defused tension between the Xhosa and the Zulus, allowed marches by groups protesting against racial segregation, reinstated several outlawed anti-apartheid political parties, and moved Mandela from custody to house arrest before freeing him and then working with him as deputy president in a coalition with the ANC. De Klerk and Mandela were jointly awarded the Nobel Peace Prize for ending apartheid. And de Klerk's reward from the creative team at the Young Vic? He is melded with Botha into a single character, which is a travesty of the truth.
As Mandela, Luwoye is first-rate. The voice might be richly imitable, but he nails all its subtleties. Luwoye hints at the fertile intelligence and convinces with the rhetoric and flashes of the formidable legal brain. Even after been ground down on Robben Island, he is sufficiently sprightly to remind us that he excelled in training to be a guerrilla fighter. And despite Michelle's generally leaden dialogue, he achieves a few moments of gravitas including a plea to be allowed out to bury his son. When the daughters arrive for a rare visit and prove tongue-tied, he soothes them with: "We don't have to talk. We can just be here for a moment." This was a rare instant when I felt truly engaged.
One of my many problems with the book by Michelle is that it is full of woeful English, most notably tautologies coming from characters who we know are highly educated. "The stench of death begins to reek." My word-processing software is alerting me to them even as I type now. There are also many anachronistic phrases. "You've got this!" In 1960. Really!
Michelle's polemic text is also bereft of humour and even with a highly supportive audience there was barely a laugh all evening. Not once does the writing test its own assumptions and rarely does it give Mandela the kind of verbal fleetness of foot that allowed him to keep a court spellbound for three hours in the 1964 "I Am Prepared to Die" speech.
Historians of all stripes have, quite rightly, judged Mandela positively and he will continue to be seen as one of the most extraordinary forces for good in the twentieth century and the first two decades of this one. He deserves better than this.