"Crazy for You" at Gillian Lynne Theatre
Mark Shenton in the West End
4 July 2023
When Crazy for You originally premiered on Broadway in 1992, Frank Rich – the-then theatre critic of the New York Times, declared: "When future historians try to find the exact moment at which Broadway finally rose up to grab the musical back from the British, they just may conclude that the revolution began last night. The shot was fired at the Shubert Theatre, where a riotously entertaining show called Crazy for You uncorked the American musical's classic blend of music, laughter, dancing, sentiment and showmanship with a freshness and confidence rarely seen during the Cats decade."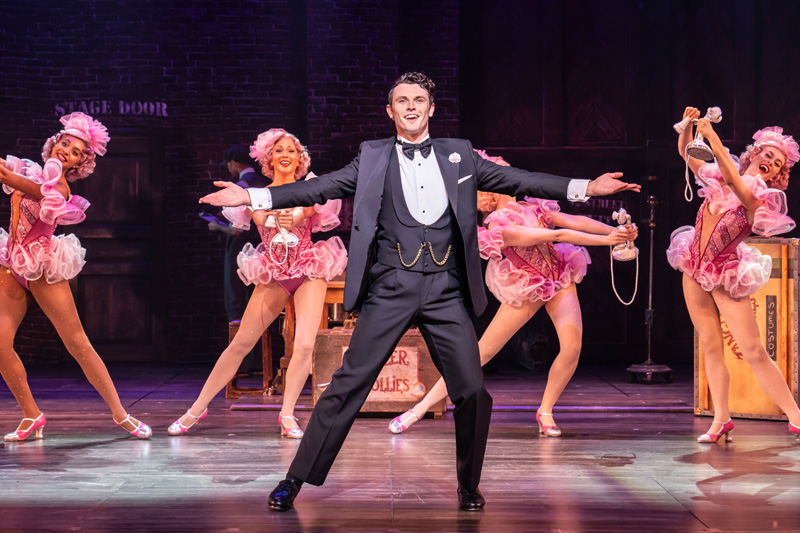 Charlie Stemp as Bobby (foreground).
Photo credit: Johan Persson.
Cats had originated at the West End's New London Theatre (now the Gillian Lynne) in 1981, before taking Broadway by storm the following year; now, 42 years later, the musical world has come full circle with an absolutely joyous revival of Crazy for You transferring to the former home of Cats from Chichester Festival Theatre after a run last summer. The show fizzes and spreads contagious gales of laughter and waves of pleasure around an exhilarated audience like nothing else in London right now.
This is a gloriously re-purposed combination of revisal – a completely overhauled version of the 1930 Gershwin musical Girl Crazy – and jukebox show, integrating songs from other shows in the Gershwin catalogue. It's not of course the first time that the Gershwin brothers – George (composer) and Ira (lyrics) – have had their legendary songbook used this way: both My One and Only (1983) and Nice Work If You Can Get It (2012) raided the same archive, and many of the same songs, to create new shows that felt like old ones.
But this one has the added wit, grit, and glamour of a book by master Broadway comedy writer Ken Ludwig to launch it on an endlessly funny (if frequently silly) odyssey of backstage life. A long-disused vaudeville theatre in a mostly abandoned town called Deadrock in Nevada (which has been turned into a post office) faces foreclosure by a New York bank. But it is rescued by the ambitions of Bobby Child, a scion of the banking family that holds the deeds to the venue, to become a song-and-dance man himself, as he hatches a plan to bring some dancers from New York's Zangler Follies to the town to stage a benefit performance to erase the theatre's debt. It's your classic "let's put on a show in a barn" saga, made over with higher stakes.
Tom Edden as Zengler (foreground).
Photo credit: Johan Persson.
To be honest, the chorus line of glamorous Follies girls is a little under-nourished here with just eight dancers on display, but Susan Stroman – reprising the choreographic duties she originally had on the original 1992 production, but also now taking over the directorial duties from her late husband Mike Ockrent who had originally led it to Broadway – makes them as busy as can be, inventively using props that include ropes, steel dustbin lids, and pick-axes to conjure explosions of movement and merriment.
The production, which previously also looked a little threadbare on the wide expanses of Chichester's thrust auditorium, now fits more snugly in the more close-up quarters of the Gillian Lynne. The designs by Beowulf Boritt (sets), William Ivey Long (costumes), and Ken Billington (lighting) bring it to spectacular Technicolor life.
But it is the effortless ease and ready confidence of its leading actor that truly makes the evening, alongside that absolutely ravishing score. As Bobby, Charlie Stemp – a singer/dancer with the flair and virtuosity of a Fred Astaire and the rubbery comedy features of a Lee Evans – sells the dancing and comedy with stunning ease and effortless moves, and he is sweetly partnered by Carly Anderson as the woman he falls in love with whose widowed father owns the theatre that is under threat.
There's hilarious support from a company brimming with comic good spirits, from Tom Edden's silver-coiffed impresario Bela Zangler (who joins Stemp in a superbly sustained scene in which they mirror each other's actions precisely) to Sam Harrison and Rina Fatania as the Fodors, researching one of their guidebooks in the tiny town.
With musical direction by Alan Williams, songs that include such standards as "Someone to Watch Over Me" and "Embraceable You" pulse with yearning feeling, while bigger production numbers like "I Got Rhythm" and "Nice Work If You Can Get it" positively explode with energy and exhilaration.
This is the happiest show in town right now: an evening of sheer and sustained musical and comic delight.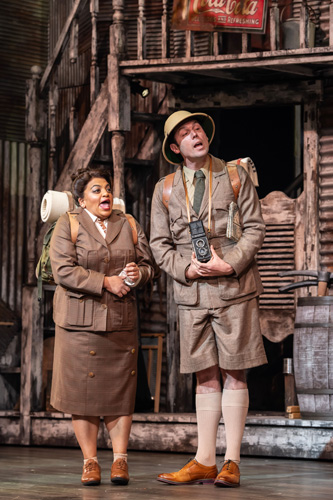 Rina Fatania and Sam Harrison.
Photo credit: Johan Persson.
.
.
~