"Crazy for You" – Chichester Festival Theatre
Jeremy Malies in West Sussex
23 July 2022
"With love to lead the way, I've found more clouds of gray / Than any Russian play – can guarantee." My last-but-one theatre outing was The Seagull which is said to have been the play Ira Gershwin had in mind when he wrote this couplet. It's from "But Not for Me", one of the many songs with which Carly Anderson as Polly wows a capacity audience in this outstanding revival of a 1992 musical by the Gershwin brothers.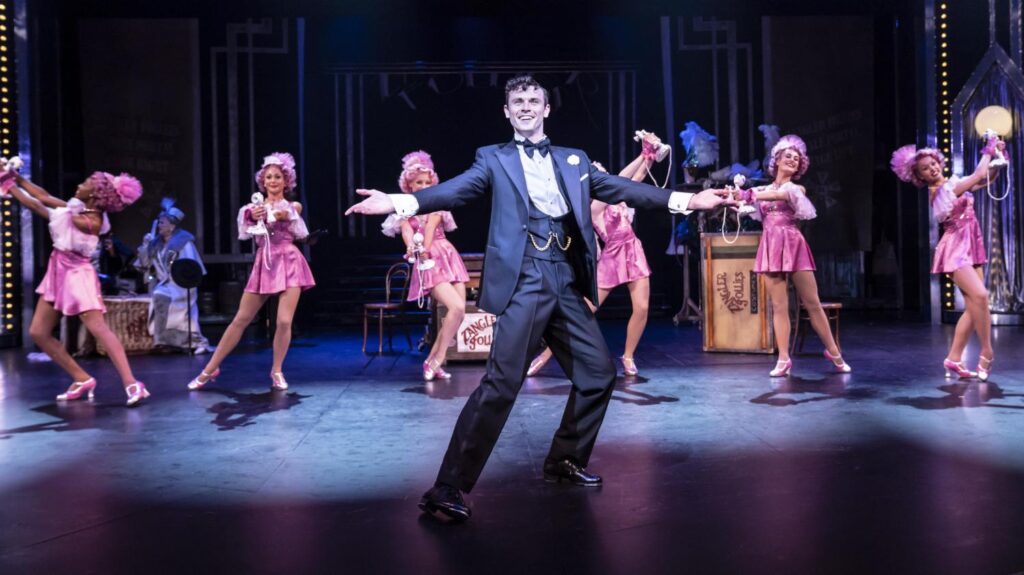 Charlie Stemp as Bobby (foreground). Photo credit: Johan Persson.
After his success with Half a Sixpence at the same venue six years ago, Charlie Stemp returns to spend his summer on the Sussex coast where (still young at 28) he has been propelled into what may be a career-defining achievement by a Broadway royalty production team headed by Susan Stroman who both directs and choreographs. Nice work if you can get it.
Stumped as to where to begin with the superlatives, I'll start with the acting. The book by Ken Ludwig is deliberately understated, and yet Anderson and Stemp find enough detail in the dialogue to use it as a logical springboard for the major songs. Stemp suggests he has gone through a lexicon of hurt after his character Bobby Child, heir to a banking fortune, has been spurned by his first true love (Anderson) in a backwater of Nevada. "They Can't Take That Away from Me" is a defeated lament and yet Anderson provides a counterpoint as she responds with non-verbal comic invention to every implied criticism.
The physical comedy is also scintillating and you sense Stemp feeding off Tom Edden who plays the lecherous and commercially astute but half-way decent theatre impresario Bela Zangler. The pair negotiate a demanding drunk scene in which, dressed identically since Bobby has been impersonating Zangler, they mirror each other's every movement and physical tic while slugging bourbon to the point of oblivion during the number "What Causes That".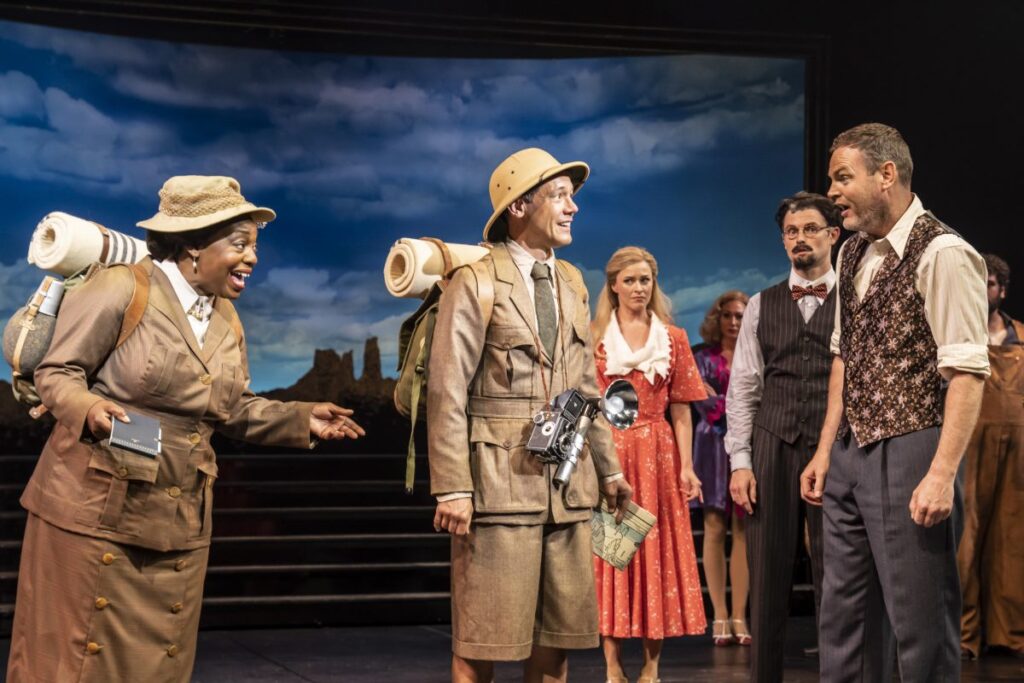 Jacqui Dubois, Adrian Grove and Matthew Craig (foreground).
Photo credit: Johan Persson.
You sense Stroman's flair as well as the good judgement that comes with 40 years of directorial experience (five Tony Awards including one for the choreography of the original 1992 run) as she calibrates the pace. Just as the early New York scenes and Bobby's dash to Nevada are threatening to make the tempo helter-skelter, musical director Alan Williams reins matters in as the cowboy townsfolk drawl their way through an ultra-leisurely "Bidin' My Time".  This is punctuated by seemingly self-propelling tumbleweed (presumably radio-controlled) which appears stage right, crosses the width of the performance area, and even negotiates an aisle before disappearing towards the box office.
I distrust the trend to push too hard in finding current parallels in every play or musical presented to us but insofar as the story here is about rescuing a theatre beset by difficulties then there is a Covid-topical theme. Chichester was a venue that showed tenacious but responsible strategy in reacting to the pandemic by combining live performances with streaming and opting for a text (Sarah Kane's Crave) which minimized interaction between performers. One of the many merits of the way Edden inhabits his character is our absolute faith that he will indeed revive the fortunes of the theatre in Deadrock.
Chichester's Guthrie-inspired stage must be a difficult venue for large-scale musicals since the thrust shape reduces the wings, and performers as well as props must primarily come on from the rear. And yet Stroman achieves a sweeping lateral sense to the choreography. Similarly, "I Got Rhythm" appears to evolve spontaneously from the profusion of everyday items that are used for percussion (some of them enormous pieces of corrugated iron) with which she and set designer Beowulf Boritt have covered the stage.
The ensemble in 'Slap That Bass'. Photo credit: Johan Persson.
I once interviewed a UK producer who bemoaned the decline of tap dancing in British dance and drama schools. As a theatre-goer, you often see a muted soft-shoe shuffle when you simply know that the original directions ask for tap. No such problem here. With Stemp of course in the lead, just about everybody in the company excels at Broadway tap. All the dance forms are a joy and for 30 seconds or so Stemp and Anderson perform what is essentially classical ballet while one of the lead chorus members even taps on points momentarily.
Williams teases exuberant swooping chords from the orchestra who are almost boisterous in the numbers when we are in Nevada as though they too might be a pick-up outfit in a saloon but one of world-class quality. It's as though (unseen in the pit) Williams is creating his own scenes that allow the instrumentalists to step into the score. There is fresh orchestration by New York resident Doug Besterman, a three-time Tony Award winner.
Boritt saves his most ambitious set design for the Zangler Follies scenes in New York and the Nevada design is sparse, perhaps because of the numerous props all of which have a role in the action. The mountainous backdrop through which several of the characters must tramp in the heat is little more than a sketch.
The principals are supported by a cast that bats down to number eleven with great work from Jacqui Dubois and Adrian Grove. They play a ghastly pair of chinless British travel guide writers (precursors of Tripadvisor?) who are on the make (possibly complete frauds) and keen to empty the saloon of anything halfway acceptable by way of food and liquor.
And 1992 for a Gershwin musical? No, I haven't gone mad; the piece was assembled in 1992 – by which time George had been dead for 50 years – with a core of songs from the show Girl Crazy (1930) together with other numbers culled from musical films. The book is by the theatrical polymath phenomenon that is Ken Ludwig whose output ranges from libretti to Shakespeare scholarship (including adapting Murder on the Orient Express for the Chichester stage earlier this season). He is known to value the comedy that derives from protective parents tyrannizing their children, and traces this from the ancient Greeks through to the Great American Songbook. It appears in his own contemporary work (Moon Over Buffalo and Lend Me a Tenor) and drives the plotline here with his trademark social observation.
With the many industry movers and shakers (real-life Zangler equivalents though hopefully more faithful to their spouses) who have attended in the opening week, I doubt if anybody will be bidin' their time before a London run is announced. And while it might seem counter-intuitive to bring a Broadway production team here and then send the project Stateside, you would be unwise to bet against a New York transfer.