Jeremy Malies at the Chichester Festival Theatre (Minerva)
4 November 2020
My trip to Chichester for Sarah Kane's Crave began with low expectations. I'd either seen one too many self-absorbed productions of her work by earnest teenagers above pubs in Edinburgh or I'm so cynical that I still believe that critical reaction to Kane's plays changed for the better only after she had committed suicide in the secure wing of a mental hospital at the age of 28 in 1999. Reviewers who had poured vitriol on her suddenly praised the work. Perhaps the eating of eyeballs in her debut Blasted wasn't to my taste however it might be represented.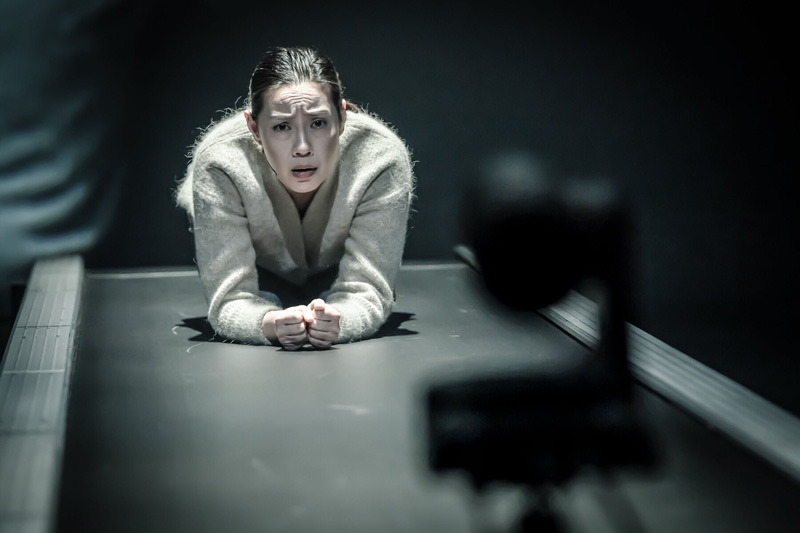 Wendy Kweh. Photo credit: Marc Brenner.
Crave is the exception to Kane's other violent and in-yer-face physical pieces, so much so that when it was first produced in 1998 by the new writing group Paines Plough, the author used a pseudonym. There is no physicality in this production and the characters (who have single letters for names – 'A', 'B', 'C' and 'M') barely interact in terms of movement or proximity which makes the piece ideal for social distancing of cast members in the time of Covid.
Director Tinuke Craig and designer Alex Lowde have the four actors jogging or walking on contraptions akin to airport travelators rolling in reverse. There is obvious symbolism in the fact that with some effort they may make a little headway or hold their position but if they cease their momentum they will be flung to the back of the set which includes projections of their figures that are often shown as photographic negative.
It's monochrome throughout with the actors wearing chic grey toweling leisurewear of the kind that many of us have donned during Covid. The line: "If I die here I was murdered by daytime television" drew one of the few laughs having grown in relevance. With the short run preceding the second lockdown in England, this might be Craig's nod to the outside world. She could have picked something more cheerful but maybe bleak noir tones are the new crowd pleaser in these austere times.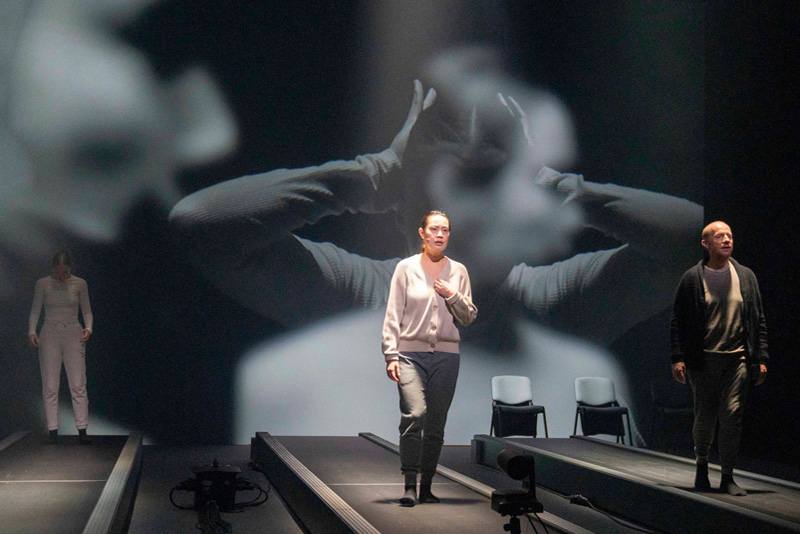 Erin Doherty, Wendy Kweh, Jonathan Slinger. Photo credit: Marc Brenner.
Certain themes emerge repeatedly – notably sexual and emotional abuse – but the relentlessly downbeat tone is lifted for a while by an exquisite set-piece in which National Theatre and Globe veteran Jonathan Slinger as 'A' lists just about every attribute of healthy functional engagement with another person amid all the broken relationships described around him.
The text is deeply allusive and is best seen as an extended poem with fragments of T.S. Eliot, Hamlet, the King James Version and Plato. All the actors engage with the lyricism, particularly Erin Doherty as 'C' who moves from staccato bursts describing childhood mistreatment to longer swooping lines about self-image which break in waves over the audience. "I wish I had music – all I have is words." She and Slinger are the standouts; by comparison Alfred Enoch as 'B' and Wendy Kweh as 'M' have less impact with their characters being less engaging though it should be said that these parts are somewhat underwritten. All the cast pull off the difficult feat of hinting at interactions and a back story while hardly acknowledging each other physically.
I would defy anybody to say what the play is about except lack of reciprocity in the human condition and tenderness being at a premium. It is of course all a bit Beckettian (Kane was candid about her debt) with Doherty reminding me of Billie Whitelaw as the disembodied mouth in Beckett's Not I. The difference is that in their stoicism, Beckett's creations are easier to identify with and there are always shafts of genuine humour. And yet occasionally Kane excels even Beckett who would surely have liked to have come up with the line: "What I sometimes mistake for ecstasy is simply the absence of grief." But Beckett knew that less is more. Kane's blitz of Zen-like tautological or non-sequitur aphorisms begins to pall. "You're never as powerful as when you know that you're powerless."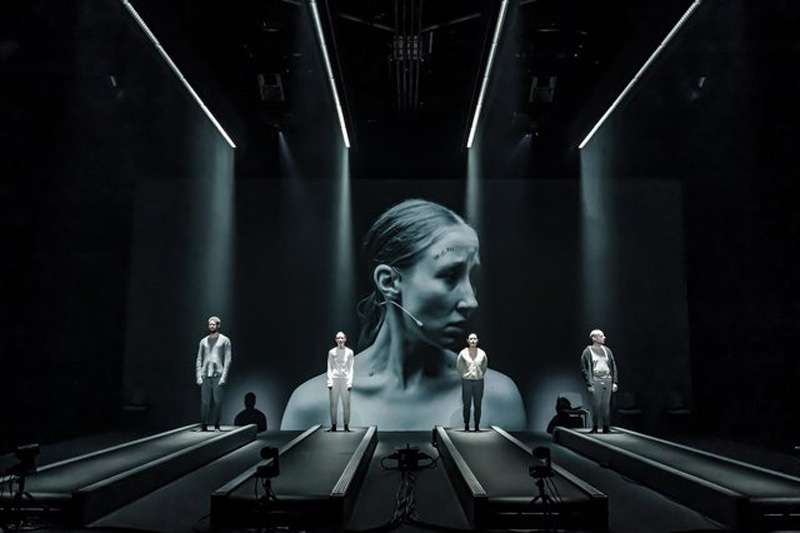 Photo credit:

Marc Brenner. 
Kane gave no stage directions and while the conveyor belt machines are a bold device in this production, elsewhere the direction is minimalist with respect for the script as written. Incidental music rarely departs from a background cello. The one other version I've seen had the characters wandering around an asylum and the textual intensity evaporated. Here, the only context is what the individual viewer brings to the piece in their imagination and I wasn't alone in thinking that the production would work as a radio play.
My tortuous journey by train across the entire breadth of Sussex to get home sometimes felt like the actors' lack of progress on the travelators. And yet I nearly came back for a second visit. At times you could tell that the performers are like jazz musicians improvising as they consider momentarily who they should throw a line to. I would bet the ranch that every evening is a different experience with the balance between optimism and gloom tweaked, and the fleeting contacts suggesting new dynamics. A play that at times is flamboyantly disjointed finally coalesces and the odd moments of emotional synergy become a triumph though the true victory is for language rather than the characters.