"The Tempest" – Theatre Royal Bath
Simon Thomas in Somerset
20 July 2022
Coming just days after the death of Peter Brook, the opening of Deborah Warner's inaugural season as artistic director of Theatre Royal Bath's Ustinov Studio is a timely reminder of the influence he still has on British theatre. I remember the London visit of a Théâtre des Bouffes du Nord production of the Ubu plays in the late 1970s where the décor and props consisted literally of a handful of house bricks and nothing else. It was sheer magic created out of nothing. The space isn't quite so empty for Warner's production of The Tempest but Brook's long-casting shadow is everywhere.
Gary Sefton and Stephen Kennedy. Photo credit: Hugo Glendenning.
Christof Hetzer's impressive minimal design gives us Prospero's workshop, with plywood boards and copper panels leaning against white walls and thin ledges for Ariel and later the trio of would-be conspirators to cling to like insects. A pillar-box window looks onto the outside world where stylish videos by Torge Møller add moody atmosphere.
Within this box, the actors summon up the magical island mostly without extraneous help. The most thrilling moments of the evening are a teaming horde of spirits who surprise and delight the washed-up court, although they're unseen by us, and a wonderfully theatrical moment when Ariel snatches away an invisible feast while spooky video images scurry across the stage. These, and the brief masque scene in which Ferdinand and Miranda (Pierro Niel-Mee and Tanvi Virmani, so much more than just a pretty couple) clap their hands over their eyes and enjoy a wondrous virtual reality moment, are true highlights.
As with so much of Brook's best work, almost everything in Warner's production is left to the imagination. We don't see Caliban's "disproportion'd shape"; rather, he's an ordinary-looking guy (Edward Hogg) in grubby vest and underpants with unsavoury manners, usually involving one orifice or another. This lack of literalness seems apt both for our age and a play that is so much about appearances and perceptions.
Trinculo and Stephano (Stephen Kennedy and Gary Sefton) are more grotesque, the one opting for pot-bellied camp and the other drunken yobbery. As with most Shakespearian clowns, their antics don't produce a great deal of belly laughs no matter how hard they work, although Stephano's spectacularly inept breakdance raises the chuckle quota.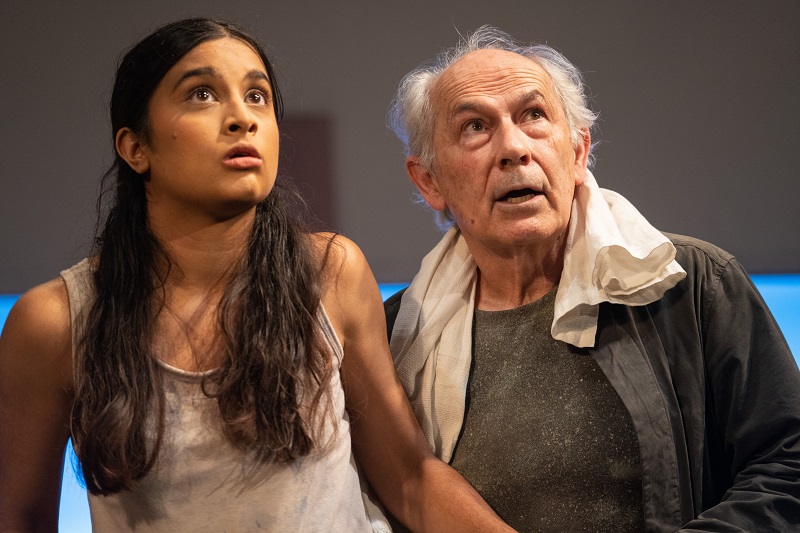 Tanvi Virmani and Nicholas Woodeson. Photo credit: Hugo Glendenning.
At the centre of the evening is Nicholas Woodeson's all-too-human Prospero, thoughtful rather than grandstanding in the big speeches and, while the arch manipulator, the biggest beneficiary of the wisdom his life-experience experiment offers.
Ariel is strikingly realized by performance artist Dickie Beau in jeans and a T-shirt emblazoned with the word "INVISIBLE". Dragged from the sea, his face bound in cling-film (something members of the audience should not attempt at home), he is an eerie and even at times malevolent presence throughout.
The treacherous court is powerfully portrayed, led by Derek Hutchinson's weeping Alonso and William Chubb's hugely sympathetic Gonzalo. He all but flirts with a wide-eyed Miranda in the great moment of discovery but in a touching rather than inappropriate way.
Warner's first show in this 126-seat theatre perhaps lacks a little of the inspiration of some of her earlier Shakespeare productions, which have starred the likes of Glenda Jackson, Fiona Shaw, Ralph Fiennes, and Simon Russell Beale. But it's nevertheless a fine beginning to her tenure, with an enterprising programme featuring opera, dance, and cabaret. The south-west of England should take full advantage of having one of the country's most prominent, and best, directors in its midst.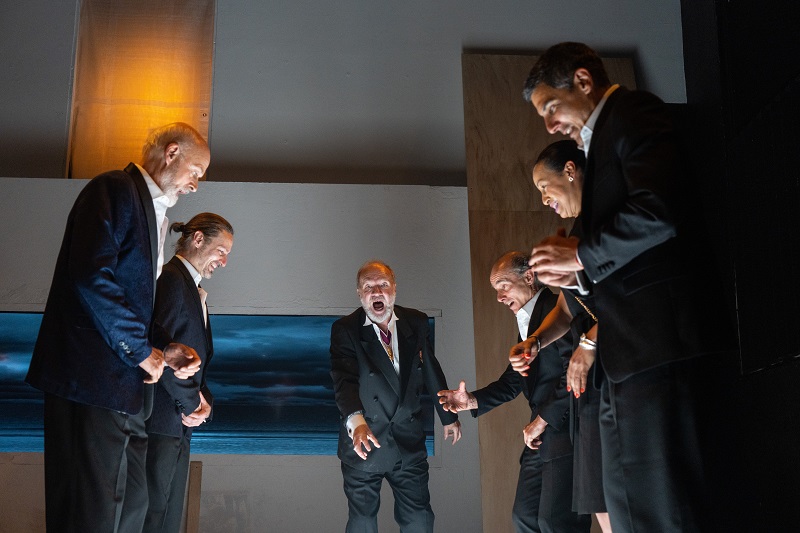 The ensemble. Photo credit: Hugo Glendenning.