"Bugsy Malone" – Theatre Royal, Bath
Crysse Morrison in Somerset
20 July 2022
Back in the 1970s, in an era of exuberance unrecognisable to most in Britain today, writer Alan Parker was inspired by the thrill and fascination that his own children showed for the glamour and dangers of New York in the Prohibition era of gangsters and showgirls.
Mia Lakha and Gabriel Payne with ensemble. Photo credit: Johan Persson.
Parker's brilliant idea was to create a child-centric story of the highs and lows of that era, brought to the screen with Paul Williams' words and music. The phenomenal success of Bugsy Malone the movie since its release in 1976 – it won five BAFTAs and was nominated for an Oscar – is a tribute to the dedication of the writer and of his partner Alan Marshall as well as the vision of David Puttnam.  A moment's thought will tell you that both funding and support were initially hard to find for a gangster movie with a cast of children using toy guns shooting whipped cream!
Splicing the thrill of a crime movie with innocent childish fun in a lavish spoof-gangster extravaganza is clearly still popular, as director Sean Holmes demonstrates in this first-ever professional touring production for the English stage. Holmes' connection with Bugsy as a stage play dates to his directorial stint at the Lyric Hammersmith which reopened in 2015 after its multimillion-pound project redevelopment with the UK's first professional stage production which was seen and appraised positively by Alan Parker himself.
This new production has an extensive regional tour after which it will head for the West End. Inspired as a child by an enthusiastic drama teacher himself, Sean Holmes clearly understands the passion and commitment children can bring to the stage.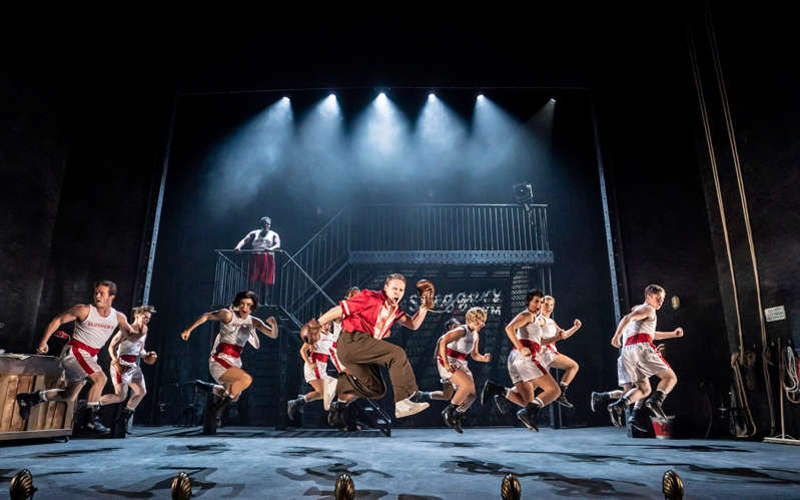 The adult ensemble. Photo credit: Johan Persson.
This production fizzes in every scene. Both glamour and desperation in each of these lives is poignantly evoked and powerfully expressed. Multi-casting child actors with young adults maximises the high-energy impact, creating an exuberant production with some notable highlights – the car chase at the end of the first act, strobe-lit for cartoon-comedy impact, is one of the strongest moments.
The seven children – Fat Sam, Blousy, Tallulah, Dandy Dan, Fizzy, Babyface and Bugsy himself – will vary in rotation as one of three actors for each role appears on a given night. Gabriel Payne was Bugsy in Bath on the night I went, and was totally adorable throughout, with Mia Lakha poignant as Blousey, while Aidan Oti as Fizzy sings 'Tomorrow' so movingly the hardest of hoodlum hearts should have melted.
All the children perform well, but it's the adult-led ensemble pieces that glitter most brightly in this feel-good show. The two underlying storylines – turf wars between rival gangs and loves and longings of wanna-be stars – are presented as cameo moments in a fast-moving string of city stories. Jon Bausor's set design works effectively for this, as props descend and retreat again upwards when required. (The entire restaurant scene arrives and leaves while the action continues.) Bausor also designed the sensationally glamorous costumes.
This stage production may have started its life at the Lyric in 2015, but the choreography and performances all feel exhilaratingly fresh, and the production is sure to pick up many plaudits on its route to the West End.
Tour dates here:
https://www.theatreroyal.org.uk/event/bugsy-malone/