"When Winston Went to War with the Wireless" at Donmar Warehouse
Neil Dowden in the West End
19 June 2023
Jack Thorne must be one of the busiest dramatists around. While his primetime BBC drama serial Best Interests is currently on TV, he has just attained that rare feat for a playwright of having three plays running simultaneously in the West End. As well the continuing blockbuster Harry Potter and the Cursed Child at the Palace Theatre, hot on the heels of his new play The Motive and the Cue at the National Theatre (about John Gielgud and Richard Burton in their 1964 Broadway production of Hamlet) comes another biographical drama, When Winston Went to War with the Wireless at Donmar Warehouse. This time the clash of egos is between then chancellor of the exchequer Winston Churchill and BBC founding General Manager John Reith during the nine-day General Strike in May 1926.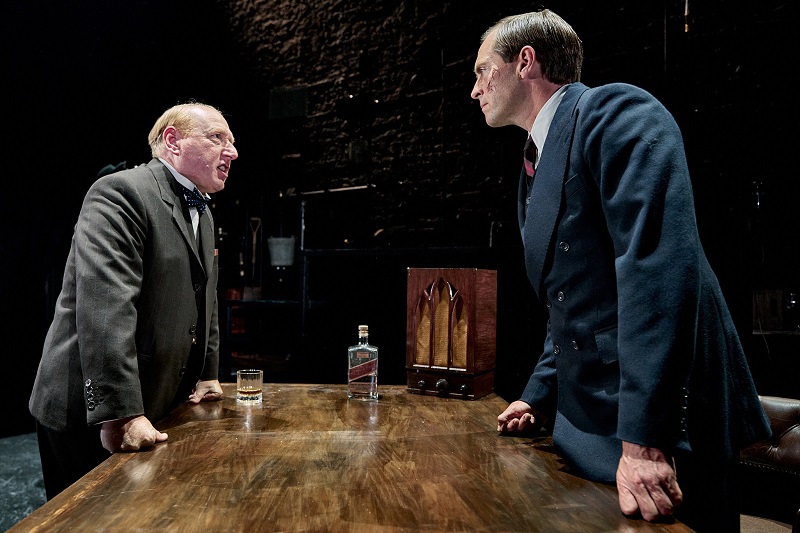 Adrian Scarborough and Stephen Campbell Moore.
Photo credit: Manuel Harlan.
It's an entertaining look at a fascinating piece of British history with some contemporary parallels that are not over-emphasized. After various unions (including the printers) come out on strike in support of the coal miners whose wages are being cut, the only newspapers being printed are the Conservative government's British Gazette (edited by Churchill) and the British Worker published by the Trades Union Congress – each promoting their own anti- and pro-strike message. Only the fledgling BBC led by Reith – caught in the middle of the crossfire between prime minister Stanley Baldwin and Churchill, and the trade unions – intends to report the news without bias via wireless to the nation.
Still called the British Broadcasting Company (it did not become Corporation until it received its royal charter guaranteeing its editorial independence in 1927), the broadcaster has a fight to retain its impartiality as Reith is aware that the government could take it over (or end its monopoly) if it doesn't follow the official line. With Churchill in particular breathing down his neck, he is caught in a dilemma. As a devout Christian with a social conscience, Reith believes in the egalitarian potential of radio to "inform, educate and entertain" all classes in the UK. But can he stand up to the political pressure bearing down on him?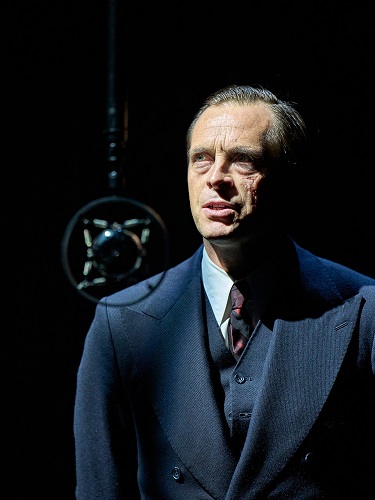 Stephen Campbell Moore as Lord Reith.
Photo credit: Manuel Harlan.
It is easy to see why Thorne has been attracted to this subject with recent events echoing the historical predicament – not just the Gary Lineker controversy but the various Tory government attacks on the BBC's current affairs programmes with the ongoing threat to get rid of the TV licence. Reith's messy compromise (reporting the news objectively but only allowing government spokesmen on air, not even – in another echo – an intervention from the Archbishop of Canterbury) ensured the BBC's future as a public service broadcaster, but the tensions between editorial impartiality and political interference rumble on. Of course, the BBC is also regularly criticized by the left and has provoked the ire of Labour governments in the past – which suggests overall it must be doing a decent job.
But Thorne doesn't just focus on the big public issues at stake – the play also reveals both Reith (in particular) and Churchill in more personal, domestic contexts. Reith's wife Muriel is unhappy with his workaholism which she sees as an effort to avoid confronting their fraught relationship (with flashbacks to Reith's youthful homoerotic friendship with Charlie Bowser whom he deceived by asking Muriel to marry him after Charlie tells him he is going to propose to her). This introduction of Reith's covert sexuality is spuriously connected to the play's main themes by implying that his adherence to truth is suspect because he is in denial about his own feelings, but it fails to convince.
Churchill, on the other hand, confides in his wife Clemmie, who has an affectionate understanding of his flaws while supporting his political ambitions as he tries to use the General Strike as a means to take over from Baldwin. This Churchill is not the usual portrait of a much-loved eccentric hero of World War II, but a threatening, even sinister figure who wants to curtail freedom of speech in what he sees as a fight against Bolshevist influences.
Mainly set in its then headquarters at Savoy Hill off the Strand, When Winston Went to War with the Wireless shows the BBC in operation, with Thorne alternating the serious drama and broadcast news bulletins with amusing snippets of variety performances featuring musicians, comedians, and actors – including revue singer Beatrice Lillie, stand-up from Sandy Powell, and Shakespearean thespians, as well as a frustrated spoons player who has to give way for a news flash – which make up much of the schedule. In a pleasing touch, some of the cast even perform to those in the audience who remain in the auditorium during the interval.
Katy Rudd's engaging production lovingly re-creates the early days of radio, accentuating the use of sound. In a superb opening scene, we glimpse through a semi-transparent curtain a begrimed miner stripped to the waist hammering at a coal seam with a pickaxe until a hooter sounds indicating the start of the strike – only gradually do we see as spotlights then the curtain go up that all the noises have been produced live on stage. This Foley-style sound design is ingeniously carried on throughout the show by Ben and Max Ringham (with consultant Tom Espiner), sometimes as part of the BBC broadcasts and sometimes as part of the show itself. Laura Hopkins' evocative set design suggests a recording studio with vintage microphones suspended from the flies and an array of wireless sets.
In the leading role as Reith, Stephen Campbell Moore is a convincingly self-conflicted man on a mission with a patrician sense of public good who pays a price for his emotional dishonesty. Despite a scar on his left cheek (from a bullet in World War I), he is nothing like the physically imposing real-life Reith who was six foot six and notoriously irascible, but this is a more sensitive, guilt-ridden dramatic characterization. Visually, Adrian Scarborough is more recognizable as the cigar-chomping, whisky-swilling showman Churchill in a thoroughly enjoyable, colourful performance, but this is a darker representation of a scheming bully than we are used to seeing.
Even further from the norm, the cross-gendered casting of Haydn Gwynne as Baldwin is a portrayal of wily pragmatism, letting his rival Churchill take the brickbats in the House of Commons while he pulls the strings. There is no character present from the Labour Party (presumably because its leader Ramsay MacDonald refused to endorse the General Strike), but leader of the Transport and General Workers' Union (and much later Labour government minister) Ernest Bevin is played with steely politeness by Kevin McMonagle.
Mariam Haque is the emotionally dissatisfied Muriel, Luke Newberry the betrayed Charlie, and Laura Rogers is the ironically perceptive Clemmie. In a droll coincidence Ravin J. Ganatra plays two differing characters with the same surname: suave government enforcer J.C.C. Davidson and the far more conciliatory Archbishop of Canterbury Randall Davidson. Shubham Saraf's chief engineer acts as a moral compass to Reith, while as his PA Isabel Shields also doubles as part-narrator putting the show in a wider socio-cultural context.
.
.
~