"Maria Stuart", Burgtheater, Vienna
Axel Hörhager in Austria
12 March 2023
The advance publicity by the Burgtheater, suggesting that their version of Friedrich Schiller's Maria Stuart was faithful to the original text, was true as far as the literal words were concerned. But when combined with director Martin Kušej's highly innovative interpretation and powerful imagery with its contemporary references to current events in Europe, there is clearly something new in the rendering of this classic.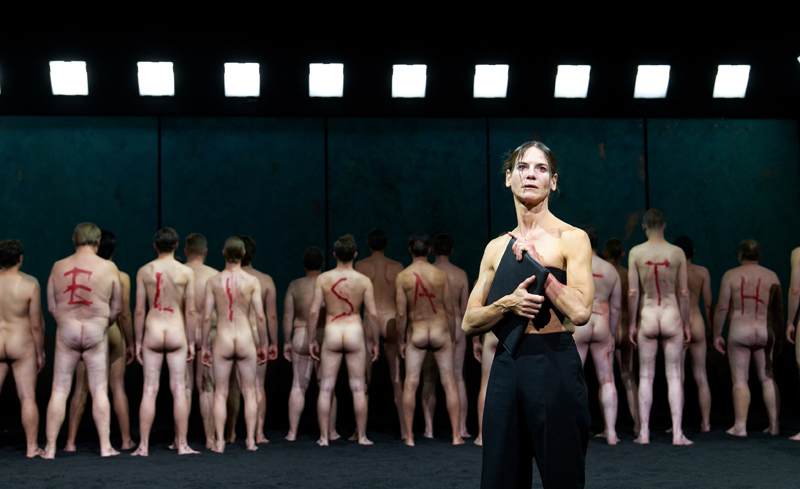 Bibiana Beglau as Elisabeth with ensemble.
Photo credit Matthias Horn.
Ukraine kept coming back to my mind as this Maria Stuart plunged us into a deeply stirring evening. For who could remain indifferent to the field of crouching bodies laid out in a grid-like pattern, enveloped in fog obscuring all but their mediaeval swords with only the crossed handles protruding to yield a stage image that reminds us of the mass graves currently being reported on? Mary Queen of Scots, played by popular Burgtheater actress Birgit Minichmayr, stood among them in a white wedding dress, ready for her execution, surrounded by symbols of the dead – the product of murderous rivalries with her first cousin once removed, Queen Elisabeth I. By then, the men's nudity is no longer shocking – we have become accustomed to the reality that all fighters in war are just that: bodies, extras, nothing more.
Queen Elisabeth's combination of weakness and resolve, urge to please and stoic solitude, are well portrayed by sinewy Bibiana Beglau. A heightened dramatic effect is achieved scenically when red becomes the dominant colour, whether as blood smeared on backstage walls or as the colour of her full-length evening dress, visibly constraining her ability to walk forward freely. Her advisors, while out-manoeuvred by their own machinations, have caused her to take decisions she never wished to take. Schiller, as much historian as playwright, wrote Maria Stuart, characteristically after painstaking research, in  1800. He was already plagued by illness (tuberculosis) resulting in his death at the age of 46, a particular loss for his dear friend Goethe.
Women clash in this drama, each driven by her own version of lust for power, playing their cards according to talents and temperament and surrounded by a coterie of men hailing from the Burgtheater's famed ensemble. While Mary Stuart is unequivocally Schiller's heroine, Minichmayr's multi-faceted portrayal in Kušej's interpretation ensures that we distance ourselves from the notion that Mary is the victim and Elisabeth is the ruthless one. Mary's emotional appeals for clemency combined with regal haughtiness cannot but end in disaster. As a consequence, we are less harsh on Queen Elisabeth as we see how in Beglau's interpretation, she too yearns for love but realizes that there is no alternative in the surroundings she is in; she must send her blood relation to the chopping block. Final words of guilt open the way to Britain's Golden Age. Schiller, in the early nineteenth century, was conscious of the world of manipulators, schemers and profiteers that attempted to usurp ideals of freedom and individual rights.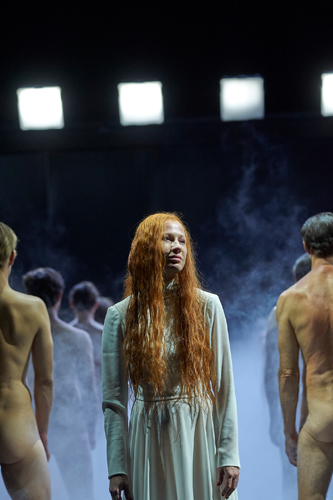 Birgit Minichmayr as Mary Stuart.
Photo credit: Matthias Horn.
The passage of time during the fateful days is marked by a Foucault pendulum swinging the width of the stage, at first adorned with a feather symbolizing the Scottish queen. It is this feather which causes the pendulum to slow down in a relentlessly perceptible manner, signalling the Scottish queen's inevitable demise. When the pendulum reappears in the presence of Queen Elisabeth, it is tipped by a cone of light; it is the queen herself who stops it and gives it a renewed strong push, telling us who is the driving force in this drama.
Queen Elisabeth's beauty is ugliness compared to Mary's, but events teach them and us that this is but one more element in the litany of perceptions and deceptions that surround the goings-on toward the denouement. Schiller clearly intended to bestow Mary with the halo of the magnanimous heroine who is transformed from haughtiness to ennoblement and forgiveness, but Kušej and Minichmayr's interpretation is much more down to earth and probably closer to reality: were she to be reprieved and bestowed with power again, Mary would be the same power-hungry woman that she always was, just a more emotional version of her rival. And her rival, while also vying with the same emotions, would still have the edge because of her ability to push emotions aside, take one step back and make the all-important strategic move. Two ways of dealing with a situation. Not so different from how men react, actually. From this perspective, Schiller's play is well ahead of even our feminist times, telling us how things might pan out when the dust of promoting a cause has settled.
Covid had certainly taken its toll on the Austrian and Viennese theatre scene. The grid of weekly listings has disappeared from the city's rotating billboards, and live theatre shows are still rare compared with pre-pandemic times. It is all the more gratifying to see a dynamic state theatre rise to the challenge and take up the slack. Maria Stuart in repertory at the Burgtheater, after its premiere at the well-known Salzburg festival in August, 2021, puts serious theatre centre stage once again.