"Bonnie & Clyde" at Garrick Theatre
Mark Shenton in the West End
13 March 2023
Broadway composer Frank Wildhorn has lost more money for theatre producers over there than just about any contemporary musical writer of the last quarter of a century – and yet he's had six shows open there across that period. His formula has almost always been the same: choosing a well-known story that's already in the public domain, and musicalizing it with a pop-based score of soaring ballads that are ripe for consumption in shows like American Idol.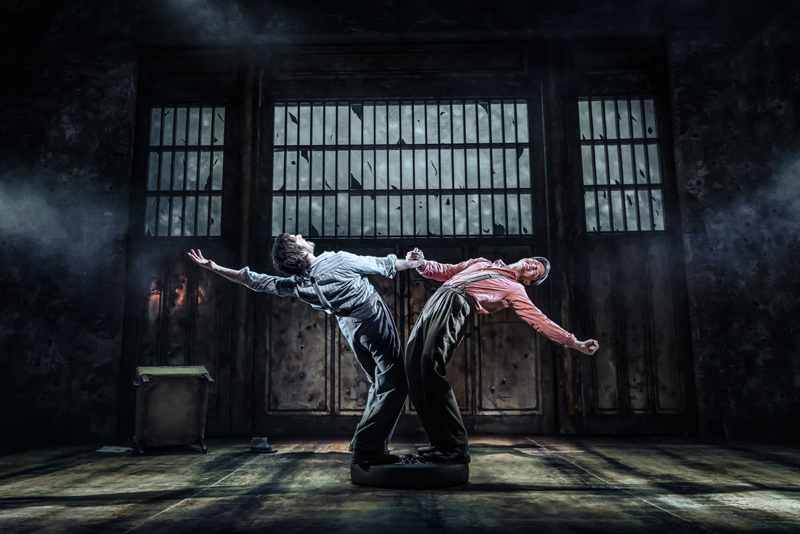 Georgie Maguire and Jordan Luke.
Photo credit: The Other Richard.
He even married one of the prime exponents of his work, the wonderful singer Linda Eder, and gave her the starring role in his first Broadway outing, Jekyll & Hyde, in 1997, but despite running for nearly three years, that show didn't recoup its initial investment until after it had closed, thanks to ancillary rights in subsequent iterations. (A revival of that show ran on Broadway for less than a month ten years ago, and remains his last Broadway outing.)
Not one of his musicals has made the crossing to the West End (though Jekyll & Hyde has had a number of regional tours) until now. However, Bonnie & Clyde – his most recent original musical to be seen on Broadway, running for less than a month in December 2011 – has finally managed to get to not just one but two commercial theatres in London in the last year.
After the success of a concert staging at Drury Lane in January 2022, for which its original Broadway star Jeremy Jordan reprised his role as Clyde Barrow and had been due to co-star with Laura Osnes, the original Bonnie Parker, but was replaced by Frances Mayli McCann following a controversy in which Osnes had refused to confirm her Covid vaccination status, it finally made it to the Arts Theatre last summer (with Jordan replaced by charismatic British performer Jordan Luke Gage).
That production proved such a success with the social media crowd that it has now been propelled to another run at the Garrick, which is twice the size of the Arts, and you can see why it is such a firm fan favourite: it's splashy, dramatic, and familiar, wearing its heart on its sleeve, even if the morality of the story is more than a little dubious.
Wrong-side-of-the-tracks Clyde and his brother Buck pursue low-level criminality in Depression-era Texas, and are imprisoned for their crimes; after they manage a break-out, Clyde meets aspiring actress Bonnie, and they fall hard for each other. As with Chicago, re-embarking on a life of criminality – now as a pair – sets them on a path to notoriety and fame; but they also kill 14 people along the way. It's hard to feel much sympathy for them or their self-inflicted plight, which sees them killed in a police shoot-out when they're respectively aged 25 (him) and 23 (her). (No spoiler alert is required here: the show begins with that shoot-out, and rewinds from there to show you how they got there.)
Somehow this musical – with a book by Ivan Menchell and lyrics by Don Black – seeks to mythologize them as some kind of renegade folk heroes. Wildhorn provides plenty of jaunty tunes, drawing on sources from country to gospel, for uplift. But the musical is essentially a downer.
As with The Great Bake Off Musical, which also opened in the same week in the West End, a terrific cast and production rise above the plodding, often reprised, material (the second act is 50 per cent reprises).
But McCann and Gage sing it with charisma and enthusiasm in the title roles, and there's also strong support in underwritten roles by George Maguire and Jodie Steele as Clyde's brother and sister-in-law; also notable are Cleve September, Dom Hartley-Harris, and Pippa Winslow amongst a strong ensemble as other characters who cross their paths.
Nick Winston, who directs as well as choreographs, oversees a swift dynamic production that feels less crowded and more at home on the larger stage of the Garrick than it did at the Arts, with effective projections by Nina Dunn that do a lot of the heavy scenic lifting behind Philip Witcomb's atmospheric sets and costumes.
The ensemble. Photo credit: The Other Richard.