"7 Deaths of Maria Callas", Gran Teatre del Liceu
Jeremy Malies in Barcelona
16 March 2023
"An opera project" is how the official blurb describes this, so I don't have to agonize over categorizing a piece by the Serbian performance artist Marina Abramović. Seven soprano singers, all dressed identically as maidservants, come on in turn and perform the signature arias from operas in which Greek diva Maria Callas appeared as the heroine.
Photo credit: Charles Duprat.
(2021 Opera National de Paris production).
The sopranos are dwarfed by video covering the entire backcloth of the theatre. The videos are pre-recorded vignettes in which Abramović and American actor Willem Dafoe play out narratives that reflect, sometimes obliquely, the fate of the heroine who is singing. The films verge on the tongue-in-cheek and have been directed by Nabil Elderkin whose diverse list of collaborative partners includes Kanye West. Each film begins with some blank verse by Abramović of varying quality. Stage left under a spotlight (and this is where we are in archetypal performance art territory) Abramović herself lies motionless in a four-poster bed for an hour until the denouement.
The overall effect is far more cohesive than my written description suggests. I was disarmed and for the most part seduced. It's quite a batting line-up with the early and middle order featuring Violetta Valéry from La Traviata, Floria Tosca from Tosca and Desdemona from Otello.
The aria and video sequence that become seared on my memory feature Kiandra Howarth as Cio-Cio-san singing "Un bel di, vedremo" from Madama Butterfly. The video shows Abramović and Dafoe in yellow space suits on a moonscape in which they plant the Stars and Stripes and discover a child. For somebody who has used the Great Wall of China as the site of her performance art, the moon is not a giant leap but a small step. And if you look at the libretto by Illica and Giacosa in a forensic manner as Abramović will have done, the moon setting begins to make sense.
Photo credit: Charles Duprat.
(2021 Opera National de Paris production).
The structure of the whole project is something of a swizz because not all the arias are those during which the heroine played by Callas actually dies. Indeed, the Carmen extract ("Habanera") takes extreme poetic license since it is the character's entrance song! But the Israeli-born mezzo-soprano Rinat Shaham keeps it fresh and underlines the truism that just because something is well known it need not necessarily be hackneyed. The film for this sees Dafoe as a toreador encircling Abramović with rope. She too is dressed as a bullfighter. There is much strangulation though when (presumably playing a loose approximation of Otello), Dafoe should literally go for the jugular with his hands, he unleashes a set of snakes on his partner.
Sadly, in her Tosca filmette, Abramović overstretches herself in every sense. We see her topple from a skyscraper having tried to balance on a buttress, and my abiding impression is that of Kate Winslet stretched across the prow of the Titanic. The vocalist here, Vanessa Goikoetxea, is soon overpowered by the ludicrous nature of the film backdrop.
Some brave gender-swapping in the Norma film has the ever game Defoe in an already familiar gold dress and pantomime dame lipstick playing the title character, with Abramović as Pollione accompanying him into the pyre. Nabil Elderkin's cinematography reaches another dimension here as the pair's flesh begins to melt and I saw several audience members check out a means of escape such was the suggestion of heat.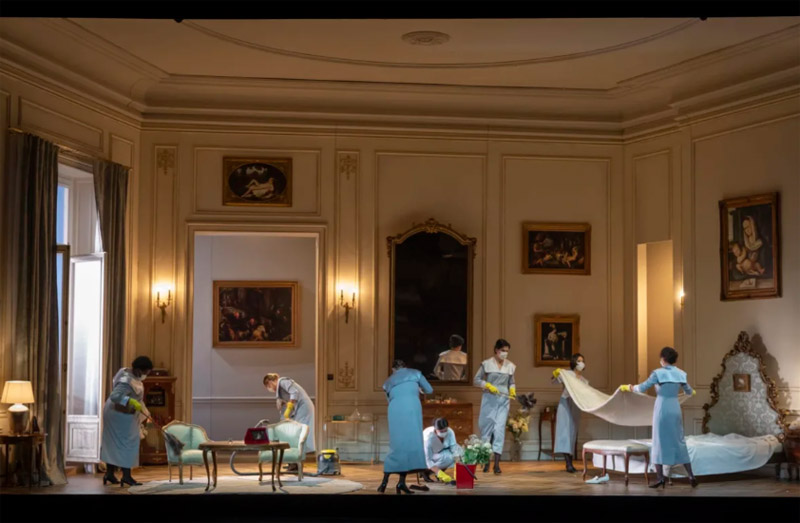 Photo credit: Charles Duprat.
(2021 Opera National de Paris production).
I am here with my interest piqued by a longer review of a Paris production at the Palais Garnier by an outstanding critic for this magazine, the late Natalia Isaeva, who was taken from us by Covid.  My journey to Barcelona has been in part a tribute to her.
I leave the opera house feeling that Callas's shade will have been invoked and flattered. It's Abramović's life that is the creative act, and she has chosen the transient medium of performance art. Callas's vivacity resulted in a similar narrowing of boundaries between private life, public persona and the characters she depicted on stage. But her work is thankfully not transient and we have many recordings. We do ultimately hear Callas's voice revelling in a cascade of coloratura during a final framing device. It's a neat pay-off mechanism that deserves to be kept under wraps.