"Guys & Dolls", Bridge Theatre
Mark Shenton on the South Bank
17 March 2023
In Nicholas Hytner's fully immersive production of Frank Loesser's Guys & Dolls, the classic Broadway musical set on Broadway's own mythical streets, you can walk along those very streets. Locations like Mindy's restaurant (where the apple strudel is a more popular item on the menu than cheesecake), the Save-a-Soul mission at 409 West 49th Street, and a neighbourhood barber shop rise up on platforms from below the floor, and you can even join in the wedding dance party at the end when Nathan Detroit and Miss Adelaide finally – spoiler alert! – tie the knot after a 14-year engagement.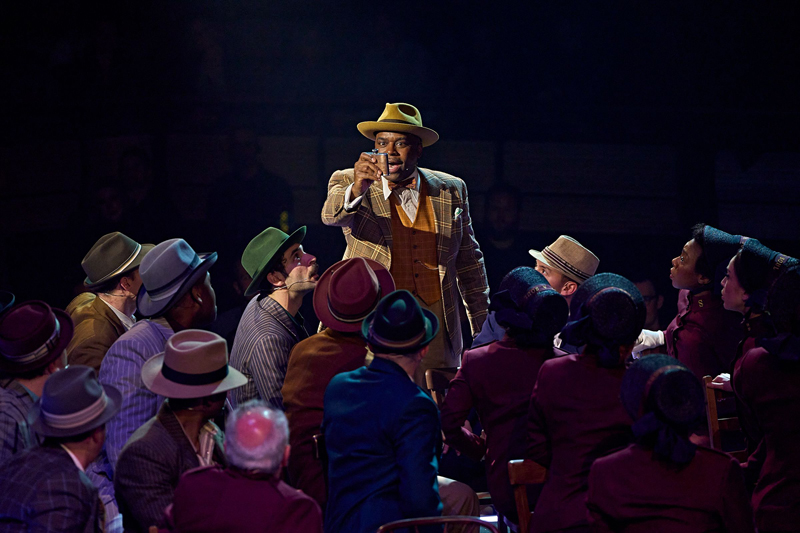 Cedric Neal as Nicely-Nicely Johnson. Photo credit: Manuel Harlan.
Designer Bunny Christie's playground of a set at the Bridge Theatre turns this into unquestionably the best theatrical party in town. We've recently seen revivals of two other Broadway classics, Cabaret (1966) and Oklahoma! (1943), that have also created environmental productions with settings and an atmosphere that bring you closer to the worlds of those shows. But this production takes immersive theatre up to a new level in which the audience are like pedestrian witnesses to the human traffic in Times Square. (You can also watch, as I did, from banks of seating in three circles that completely surround the central playing area; you may not be able to interact directly with the characters as those on the floor level can, but you still feel involved.)
It's a massive and intricate feat of choreography, not so much of the actors/dancers (though Arlene Phillips and James Cousins do a slick job of orchestrating the dances in the constricted spaces available), but of that throbbing mass of promenading audience members, whom a team of audience managers (dressed as New York cops) shunt from space to space to clear room for the risers to emerge from the floor. The overall effect, with vivid streaks of neon lighting overhead to literally signpost the changing locations, is completely and utterly exhilarating.
Forty-one years ago the National Theatre staged a landmark stunning production of this show in the Olivier that exuded joy and spectacle – and thrilled my 20-year-old heart so much that I saw it at least a dozen times. It helped secure Richard Eyre the artistic directorship of the National five years later, and he ended his tenure there by reviving it in 1996. The West End has seen two other productions since then: a version produced by the Donmar Warehouse, not at their home theatre but at the Piccadilly Theatre instead, in 2005, and another that transferred from Chichester to the Savoy and then the Phoenix in 2016. Now Hytner – one of Eyre's successors at the NT – has given the musical yet another London outing, and it is the best and certainly the most innovative since the 1982 revival.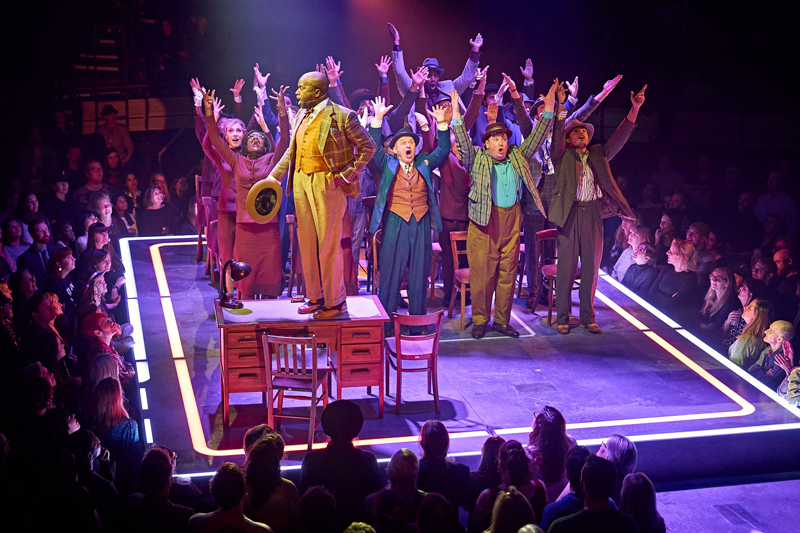 The ensemble. Photo credit: Manuel Harlan.
The stunning ensemble company assembled here is amongst the finest of any musical in town. The two lead couples are flawless, with an amazing new discovery amongst them in Andrew Richardson's tall, handsome Sky Masterson, the professional gambler and love avoidant. (The production supplies an intriguing clue as to why he might be so reluctant to commit to a "doll" when he takes one to Havana, Cuba – and merrily takes her to a gay club there where he eagerly dances with a guy.) Richardson has the smooth vocals, easy charm, and dashing profile that we could all fall for, so it's no wonder that Celinde Schoenmaker's uptight Salvation Army mission doll does (Schoenmaker makes Sister Sarah Brown quite a catch too, and sings with a shimmering soprano).
Meanwhile, the long-nurtured partnership of Nathan Detroit and his nightclub singer girlfriend Miss Adelaide is given its full comic value by Daniel Mays and Marisha Wallace respectively, with Wallace lending her physicality and huge lung power to the hilarious faux-striptease number "Take Back Your Mink" alongside her mischievous set of Hot Box Girls.
And in the rollicking showstopper "Sit Down You're Rocking the Boat" – which gets three planned reprises, and which could go on all night if they didn't stop them to complete the show – an ensemble of unreconstructed gamblers take the roof off; particularly eye-catching amongst them are Mark Oxtoby's Benny Southstreet, Cameron Johnson's imposing Big Jule (who also makes an appearance as the proprietor of the Cuban gay hangout Esmeralda's), and Jordan Castle's Harry the Horse. There's also a supremely touching Anthony O'Donnell as Sister Sarah's senior Salvation Army protector Arvide Abernathy, while representing the police is Cornelius Clarke's frustrated Lieutenant Brannigan.
Guys & Dolls remains my all-time favourite Broadway musical, dating from 1950 but essentially timeless. It is a perfectly crafted explosion of sheer heart as well as craft. And just as I still talk about the 1982 National Theatre production fondly today, anyone who is lucky enough to experience this version will likely be talking about it for the next half century too.