Stephen Sondheim's Old Friends at Gielgud Theatre
Mark Shenton in the West End
5 October 2023
Stephen Sondheim's Old Friends was a one-night gala held (appropriately) at the Sondheim Theatre in May 2022, featuring an all-star line-up who were brought together by producer Cameron Mackintosh to celebrate the work of the late Stephen Sondheim, the undisputed presiding genius of Broadway musicals of the post-war era. Now Mackintosh has turned it into a "great Big Broadway show" (as it is subtitled on the programme cover, referencing a lyric in Sondheim's Follies) for an extended West End run at the Gielgud a block away on Shaftesbury Avenue.


Lea Salonga and Jeremy Seecomb.
Photo credit: Danny Kaan.
Introducing this glamorous tribute evening, Lea Salonga remarks that the material selected comes mainly from shows with which Mackintosh had a personal involvement in the creation or producing of. While it is true that many of the songs were heard in the early Sondheim revue Side by Side with which he had an early West End and Broadway success in the mid-seventies, and he also produced a nineties sequel Putting It Together, the only Sondheim musical he has directly produced in its entirety was the 1987 West End premiere of Follies, in a version that some wags re-dubbed "Hello Follies" for its sight of a parade of veteran performers descending a staircase like Dolly Levi does in Hello, Dolly!
This concert presentation of some of the composer's greatest hits (as well as two shows for which he provides only lyrics, West Side Story and Gypsy) could be retitled "Hello, Sondheim" as its performers navigate a platform with two flights of stairs. Or maybe "Goodbye, Sondheim" for its occasional resemblance to a memorial event, not least in a rendition of "Not a Day Goes By" (from Merrily We Roll Along) when a worshipful company sing about missing him as pictures of him across the ages are projected on a large screen over the stage.
There's also a "thank you Cameron" section, in which an extract from Hey, Mr Producer is shown of Sondheim and Andrew Lloyd Webber paying joint musical tribute to him, while pictures of them together across the years are also shown. Mackintosh takes multiple credit here, not just as above-the-title producer but also as deviser of the evening.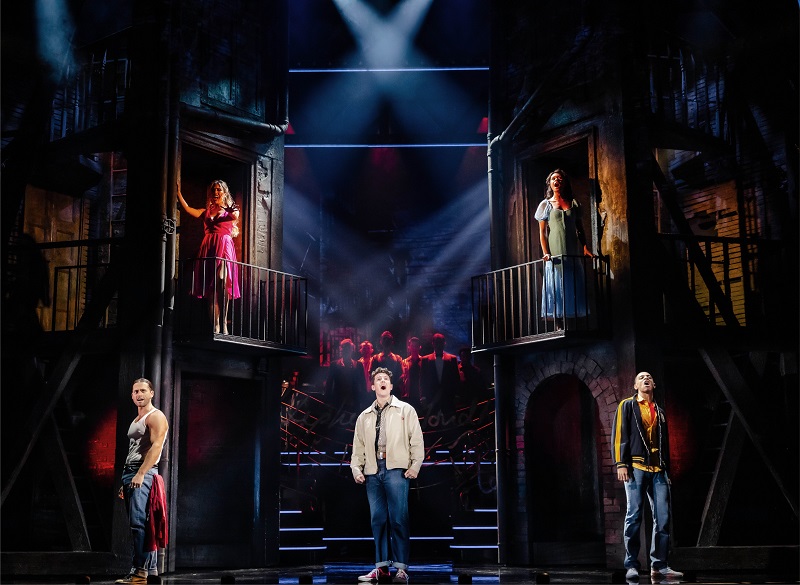 The company. Photo credit: Danny Kaan.
He also cast it, of course, drawing together an ensemble of 19 performers, many with an extensive Sondheim pedigree. These include most notably a real Broadway Baby, the beloved Bernadette Peters (astonishingly making her West End debut for an extended run at the age of 75, who originated roles in the original outings of Sondheim's Sunday in the Park with George and Into the Woods on Broadway), Janie Dee (who was a brilliant Phyllis in London's last Follies at the National in 2018 and 2019) and Bonnie Langford (the original Baby June, when she was just eight in the London premiere of Gypsy in 1973), all of whom also appeared in the 2022 one-night gala.
They are joined by such performers with a serious Sondheim pedigree of their own as Richard Dempsey (Jack in the UK premiere of Into the Woods at the Phoenix in 1990), Clare Burt (who appeared in the National Theatre's UK premiere of Sunday in the Park with George, also in 1990), Joanna Riding (Anne Egerman in the National's revival of A Little Night Music in 1995), Jeremy Secomb (who played the title role in a production of Sweeney Todd that transferred after originating in 2014 in an actual pie shop in Tooting to Shaftesbury Avenue and then off-Broadway), and Damian Humbley (Charley Kringas in Merrily We Roll Along at the Menier in 2012 which subsequently transferred to the West End, and is about to return to Broadway in the same production).
In a handsomely staged production overseen by Matthew Bourne, "side by side" with Julia McKenzie and with choreography by Stephen Mear, an unstoppable parade of Sondheim's greatest hits follows. The treats are too many to list, but there's a roaring "I'm Still Here" (from Follies), performed by Bonnie Langford who has truly paid her dues to this number about long-term show-business resilience and survival; "Could I Leave You?" (also Follies), performed by Gavin Lee, which is still fresh today; and – best of all for me – Janie Dee performing a pointed and hilarious "The Boy from …" (co-written with Mary Rodgers for a 1966 off-Broadway revue called The Mad Show).
There are several featured turns from jointly billed headliners Bernadette Peters (including "Send in the Clowns" from A Little Night Music and "Losing My Mind" from Follies, both of which she has previously performed in Broadway revivals of each) and Lea Salonga (who punches "The Worst Pies in London" from Sweeney Todd and a blazing "Everything's Coming Up Roses" from Gypsy into the musical theatre stratosphere, as well as a haunting "Loving You" from Passion).
Clare Burt – a late stand-in for Haydn Gwynne, who did the 2022 gala but was forced to withdraw during rehearsals – does stellar work throughout, and is simply sensational performing "The Ladies who Lunch" from Company; while the peerless Joanna Riding offers a stunning "Getting Married Today", also from Company.
And a brassy onstage orchestra under Alfonso Casado Trigo provide one of the musical highlights when they open the second act with the tremendous overture to Merrily We Roll Along. These performances ensure that the evening becomes more than the sum of its mostly unsurprising but always enjoyable parts.