"Peggy For You": Hampstead Theatre
Jeremy Malies in Berkshire

Harold Bloom said that Hamlet is of no genre whatsoever, so I guess nothing should faze us. Of unusual versions I've seen, Kenneth Branagh spoke "To be or not to be" addressing himself in a full-length gilt mirror. Jude Law did it in a snowstorm, and Ben Whishaw did it while sizing up a bottle of sleeping pills. George Anton addressed the speech to Polonius' slumped corpse. Benedict Cumberbatch somehow made it resonant while wearing a toy soldier's uniform, and David Tennant did it against a thicket of CCTV cameras. In Windsor, eighty-two-year-old Sir Ian McKellen does it in the presence of Horatio (Ben Allen) who is about to give him a shave with an electric razor. I wonder if this has been thought through fully. Does a weak-willed sycophantic Horatio see the speech as cathartic? Why does he not intervene or show any concern for his friend?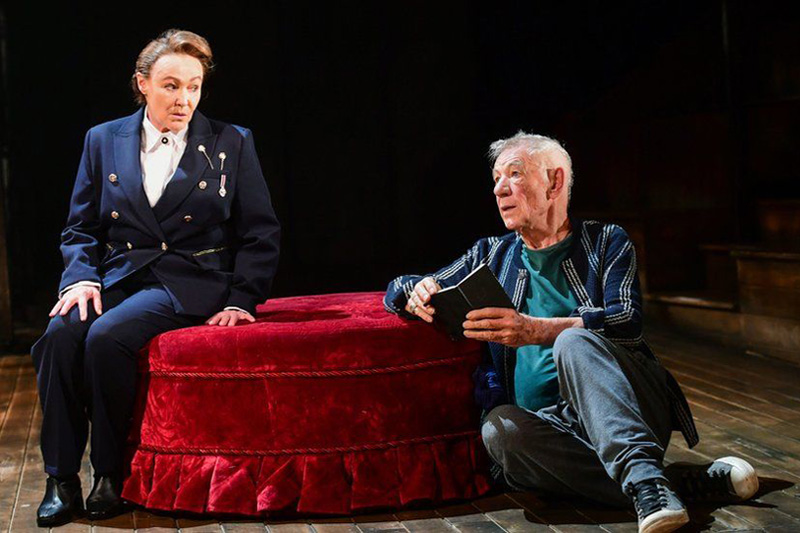 Frances Barber and Ian McKellen. Photo credit: Marc Brenner.
In the run-up to playing Hamlet at the age of 82 (in this age blind as opposed to modified version), Sir Ian claimed in pre-publicity that Hamlet is bisexual. Sure, there are hints in the text to that effect, but McKellen was quoting lines that my Folger edition has as dialogue between Hamlet and Ophelia, not Hamlet and Horatio. So, I'm worried as I slog my way to the Theatre Royal, Windsor, jostling with hordes of theatregoers to this palpable casting coup which must be the biggest event in the history of a 110-year-old theatre. It's a flamboyant choice by producer Bill Kenwright that I fear must surely teeter on being weary, stale, and flat – if certainly not unprofitable.
The start is bizarre. Sir Ian (in an impenetrable shade of round sunglasses) leads the cast in a curtain call with many of them holding umbrellas. Is he confused? Is he harking back to his last Shakespearian outing, doing the storm scene from Lear at Chichester and a subsequent transfer at the Duke of York's in London? Director Sean Mathias opts to have two banks of audience members sitting in the performance area stage left and looking across into the wings. "Ah! They're the audience for "The Mousetrap". That will work well," I think, but it doesn't prove so. People in that section can see nothing of the upper gantry in Lee Newby's two-tier set when it is used (to great effect) for the castle ramparts, the various messenger and letter-reading scenes, as well as for a walk[1]on by the most corporeal ghost of Old Hamlet that I can remember (Francesca Annis).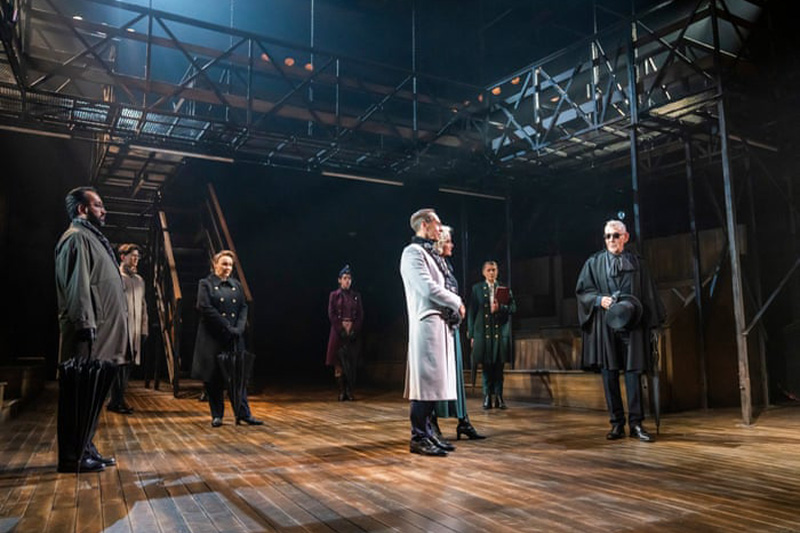 The ensemble. Photo credit: Marc Brenner.
Oh! It's gender blind as well and Frances Barber plays Polonius. She disappoints, squandering the multitude of gag lines afforded her with some of these misses being open goals. It's a gift of a role for anybody with even modest comic ability. I wonder how much time Mathias spent with her. Barber isn't exactly androgynous; why not tweak a few salutation lines and have her as Ophelia and Laertes' mother?
Barber is a late replacement for Steven Berkoff. The gender[1]switch strikes me as part of a hurried and muddled rethink for a production that has been beset by many problems. It's Claudius (Jonathan Hyde) who says, "When sorrows come, they come not single spies, but in battalions …" This project has seen a litany of disputes over artistic matters. There have even been alleged walkouts.
Jonathan Hyde, Ian McKellen and Jenny Seagrove. Photo credit: Marc Brenner.
Claudius and Gertrude (Jenny Seagrove) are both unimpressive. Hyde rarely gets out of a formulaic doing-it-by-numbers mode. He's an uncomplicated usurper without a conscience, and in his vaguely military blazer he reminds me of a golf club bore. Seagrove, who is monotone throughout, opts for elided vowels and strangled consonants in a bizarre Scandinavian accent. Yes, I know we're in Denmark but everybody else is using their natural idiom or Received Pronunciation – and Seagrove grew up in Godalming, Surrey. At times she is unintelligible to the detriment of plot exposition, and you normally expect just a hint of shame and self-loathing to be expressed effectively in the closet scene. I also realize that with the age anomalies you can't use the A. C. Bradley approach to the plays and consider the characters' lives outside the text. Seagrove is I believe portraying the queen as an alcoholic (this makes the insistence on guzzling the poisoned wine during the fencing a logical move), but it's all overdone. I'm not surprised that there is no voice coach credited in the programme.
Initially I'm seduced by Alis Wyn Davies's guitar-wielding Ophelia; her snatches of ballads with Joan Baez-style riffs are exquisite. Inevitably, however, as with so many elements in this unbalanced production, composer Adam Cork (best known for London Road at the National Theatre) lets her dip too often in the well; the mad scene devolves into a cacophony to no good purpose. I like a mad scene that has frenzied aggression, but this one shows no true volition even if the direction is towards insanity.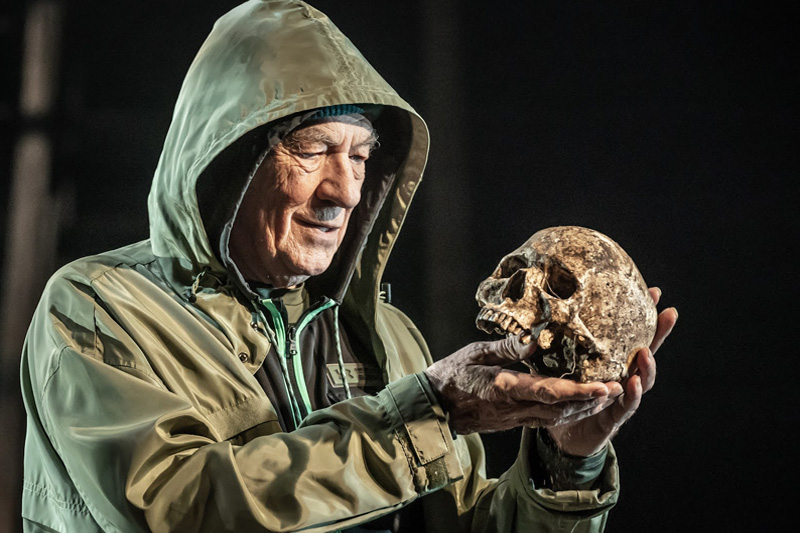 Ian McKellen. Photo credit: Marc Brenner.
Any unwanted laughter at the age discrepancy between Hamlet and Ophelia is headed off at the pass. We certainly don't have Ophelia's compliment that he is "the glass of fashion and the mould of form." And while I might have missed something, it seems Mathias sensibly trims all of Hamlet's obscene puns about what sexual knowledge he may have had of his girlfriend. Many of these lines are familiar, but they simply have to go. The only danger here is that whatever your take on Hamlet's character, Shakespeare makes it clear that he craves affection and is tactile. At times Sir Ian seems lonelier than he should be.
On the way out I hear one of the most curious audience comments I can recall. "If they're going to do it in modern dress, they might as well do it in modern English." Sir Ian's costumes have been bizarre, ranging from a Parka raincoat, a flannel dressing gown, a tracksuit, and finally a jogging outfit, but they are by no means a distraction once we have gone into truly age-blind mode.
This is a performance devoid of ostentation; the theatricality (and Hamlet is a highly theatrical character) is reined in. Sir Ian speaks the verse "trippingly" as per his advice to the players. He has complete trust in the text and lets his lines acquire their own momentum. Nothing is italicized to help us find centuries-old jokes of limited interest. Maybe it's the equivalent of an ageing soccer player having the sense to let the ball do the work. He wants us to believe he is about 30 and has the greatest play in the western canon to support him. He doesn't actually hold a mirror up to nature, but with a limpid rendition of the lines he brings us into his world where calendar years don't matter. He could even be a king in waiting. Time may be out of joint, but I never have to suspend my disbelief. I come to scoff but leave a convert.