"Best of Enemies", Young Vic
Jeremy Malies on the South Bank
Best of Enemies by James Graham was always going to be a triumph or a flop. There could hardly be a middle ground for an almost arcane choice of subject matter – debates between the intellectuals Gore Vidal and William F. Buckley, Jr. at party nominating conventions prior to the 1968 United States presidential election. The piece has been created by Headlong Theatre in conjunction with the Young Vic and draws heavily on a 2015 documentary of the same title by Robert Gordon and Morgan Neville.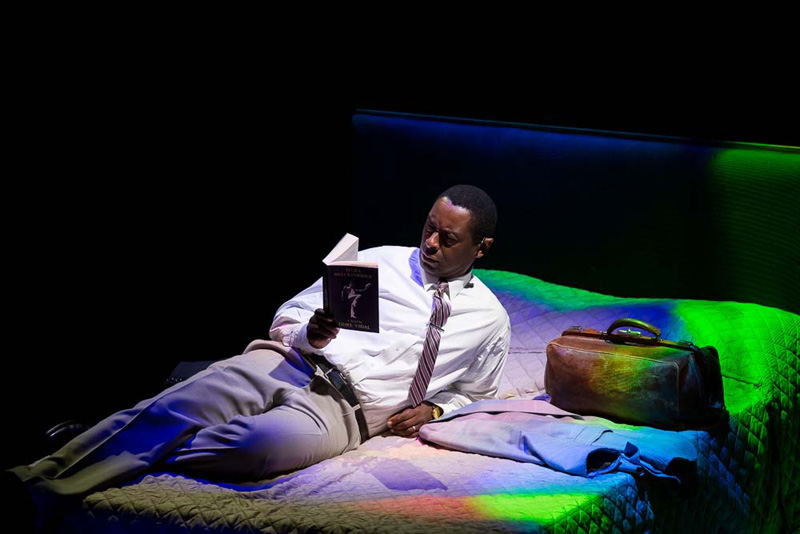 David Harewood as William F. Buckley. Photo credit: Wasi Daniju

.

Graham – who does of course write successfully in other veins – is something of a politics junkie. He has an array of gifts but if he has a unique one it's the ability to identify morsels of history that on their own are hardly seismic but which can be seen to have ignited change. In Ink, he showed Rupert Murdoch not just buying a failing newspaper (The Sun) but turning popular print journalism on its head. In This House, he showed us the hung British parliament of 1974 not through the leaders but through the all-important party whips and made a point of stressing their power which seems particularly fearsome as I type this.
Best of Enemies is set against the assassinations of Martin Luther King and Robert Kennedy within months of each other, an imploding civil rights programme masterminded by Lyndon Johnson, a country riven by opposing views on Vietnam, and inflamed foreign affairs including the general strike and student unrest in France.
Much of the 90-minute playing time is in a studio set up by ABC, an inferior rival to NBC and CBS, who have thought of a way to enliven their presentation of the conventions and increase their ratings. They will not merely point cameras at politicians; they will point a pair of outspoken diametrically opposed polemicists at each other and ask them to make sense of the speeches and campaigning while hopefully producing sparks of their own. This "unconventional convention coverage" was a brainwave that ushered in the age of the TV pundit. And ABC decide to do it live and unscripted.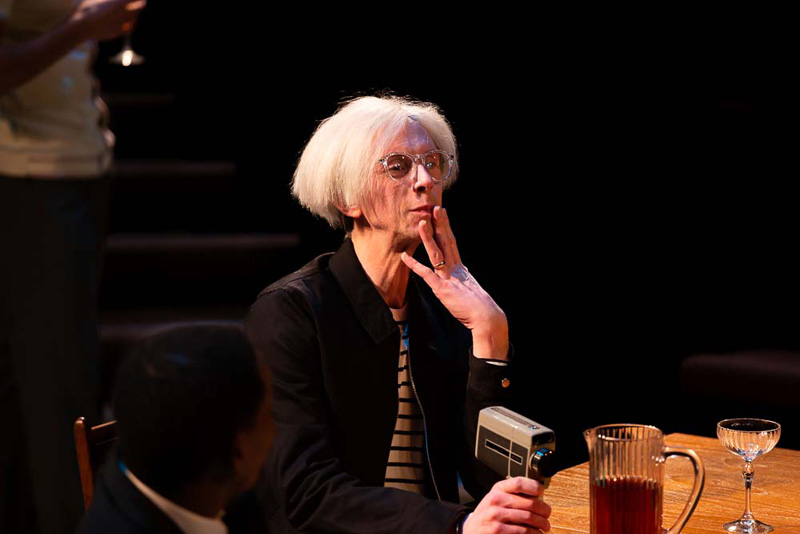 Tom Godwin as Andy Warhol. Photo credit: Wasi Daniju

.
Charles Edwards plays the liberal novelist, essayist, dramatist, and commentator Gore Vidal. Vidal is flamboyantly bisexual, urbane, and reminiscent of Oscar Wilde. In colour-blind casting, David Harewood plays the white, right-leaning (possibly a prototype Neo-Conservative) William F. Buckley. Buckley is multi-lingual, libertarian, Roman Catholic, and keen to be seen as espousing traditional family values. He claims to have coined the phrase "public intellectual" for himself.
The play is verbatim theatre insofar as it makes much use of broadcast transcripts. Very little is in real time and we cut constantly between different debates. The original dialogue that Graham has created is evocative of the era, idiomatic and convincingly intimate when we see the protagonists with their friends and love interests. It can be lyrical and uplifting when it appeals to our better natures and solidarity in wanting democracy to work.
Justina Kehinde as Aretha Franklin. Photo credit: Wasi Daniju

.
All the characters (quite an assembly including James Baldwin, Andy Warhol, Walter Cronkite, Harry Belafonte, and even Petula Clark) reflect in some way on the topic of fame which Vidal calls "the new currency". And we see fame beginning to intrude on the news cycle: journalists and cultural commentators are shown becoming the story. As one of the ABC executives says, the channel is now "breaking barriers as well as news".
While the Republican Party convention in Miami was lively, the Democratic Party convention in Chicago became potentially murderous and the city's jingoistic bruiser of a mayor, Richard Daley, decided that the amphitheatre should be surrounded by barbed wire. (Daley is played with comic invention in a stream of expletive-laden bile by John Hodgkinson.) Much of the violence at the convention is depicted in Aaron Sorkin's Netflix legal drama The Trial of the Chicago 7, which deals with a group of prominent anti-Vietnam War campaigners who sought to disrupt the nomination voting. As the play shows journalists retreating from the violence outside their studio, I believe that many in the theatre audience would be thinking of the film and juxtaposing the two viewpoints.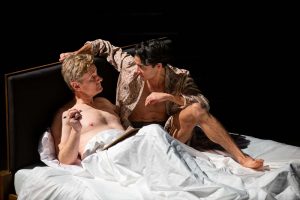 Charles Edwards as Gore Vidal and Sam Otto as Matt. Photo credit: Wasi Daniju

.
Bunny Christie, one of the country's leading set designers, excels herself in creating designs for a convincing analogue television studio with every element not simply retro but exactly of the era right down to monitors and components in an editing suite. Authentic-looking cameras do much to convince us that this is being beamed to flickering televisions across the nation. There are witty touches in the handling of broadcast company and party logos. Christie also negotiates a difficult set transition to the oak panels of Cambridge University when we flash back three years to a debate between Buckley and the writer/activist James Baldwin played by Syrus Lowe. Later, as the convention riot reaches a climax, Lowe impresses in conveying a character who knows he is being buffeted by the forces of history but can still interpret them objectively.
It's during this debate that Harewood's acting technique (in his first stage appearance for ten years) is most impressive as he proves credible with the forensic linguistic clarity that was a Buckley trademark. Lowe is equally skilful in portraying his character's eloquence, and we never question the range of cultural reference. But it's Edwards as Vidal who is the standout with the stream of Wildean epigrams, the waspish invective, and occasional hints that he would relish being a plain news reporter out in the melee of the protests. Clare Foster does fine work as Buckley's wife Patricia; she conveys the clear thinking of a woman who realizes that political debate has reached a transitional fork in the road.
The ensemble. Photo credit: 

Wasi Daniju

.

Atop the set are three projectors from which we see contemporary news footage (mainly speeches) from the Chicago convention and earlier in 1968. More interestingly, on many occasions the gifted mimics in the cast either impersonate the speaker as the footage is playing or lip-sync. Video designer Luke Hall will have done much research and slick editing to present the archive footage but the effect is never showy. It would have been a difficult brief for which he deserves credit.
Jeremy Herrin's direction only lets the pace relent in a few interior family scenes. He sustains the hoopla of the conventions and there are dizzying sequences as we alternate between the Buckley and Vidal camps while the two men are being prepped by their aides. The scenes are rarely more than fragments but Herrin always contrives to propel the narrative forward in a logical way.
The play stresses the theatricality of many aspects of life, notably politics and journalism. Towards the end we hear two ABC executives congratulate themselves on having created theatre with their unusual approach to the debates. And there are topical resonances forwards to the attack on the Capitol in January 2021 when Buckley and Vidal discuss whether the right to assemble and demonstrate even to the point of tearing down flags is absolute.
An element that I thought unnecessary and which stretched credulity was a framing device in which the action breaks from the debates but remains in the studio. Justina Kehinde plays the present-day real-life media analyst Brooke Gladstone who makes the perceptive point that in 1968 television was still a public square, while now too many of us – divided by our individual concerns (she stops short of mentioning identity politics) – retreat to channels with which we are comfortable and in doing so become less of a nation.
Aretha Franklin (also played by the multi-talented Kehinde), who has drifted in and out of the studio throughout as a heavyweight choric character, sums it up concisely: "It was a turning point. A shift, I saw it. In our culture. In how we literally 'talk' to one another."
Best of Enemies is both political and television history with the box in our living rooms widening its role as Buckley and Vidal spar in front of what the latter calls "that demonic, infantilizing little lens". Anybody with a sense of prescience becomes wary of the medium; not on account of the untelegenic Richard Nixon who would triumph in 1968 or the master of the television debate Ronald Reagan (a Republican candidate at the Miami convention and either to one's taste or relatively benign), but because of the men in the wings – an occasional host of Have I Got News for You and a host of The Apprentice. One is surely on his way out while the other may yet be resurrected.