"Summer and Smoke": Almeida Theatre
Jeremy Malies in north London
8 March 2018
Writers from Virgil through to Sylvia Plath have obsessed about the relationship between body and soul. It's a theme that dominates Tennessee Williams' 1948 play Summer and Smoke which has been revived at the Almeida Theatre in a courageous production by director Rebecca Frecknall.
Notes on the setting in my actors' edition of the text run to almost 1,000 words. Nowhere do I see Williams suggest that the company should position nine upright pianos in an arc for cast members to play intermittently with simple chords and single pinging notes. This is how designer Tom Scutt treats the piece, possibly taking his cue from the author's final instruction that companies can ignore all specific suggestions as to staging in the interest of fluidity.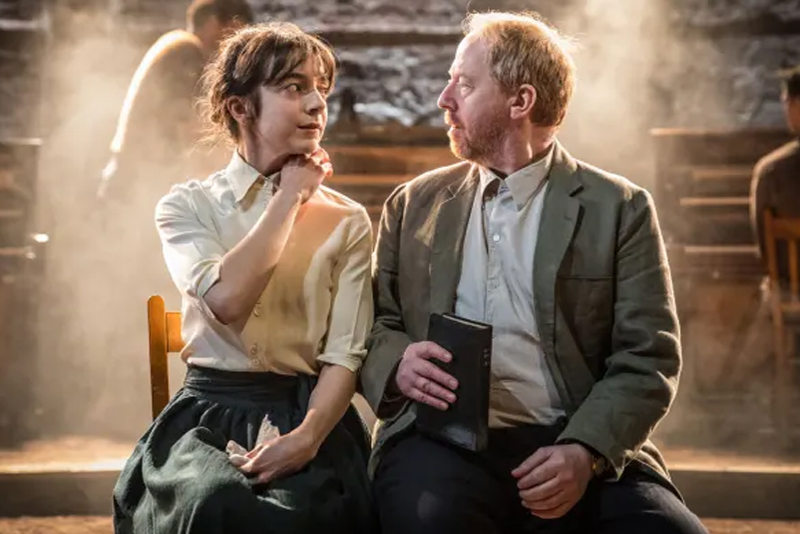 Patsy Ferran and Forbes Masson.
Credit: Marc Brenner.
And fluid it is with the story – set in small-town Mississippi during the run-up to World War One – gaining momentum immediately. Frecknall and Scutt tap into the essence of the play with their visual and musical approach which mirrors the geometrical symmetry of the plot. The main character, Alma ('soul' in Spanish as she repeatedly reminds us), is the buttoned-up daughter of a clergyman. She moves from denying her sexuality to begging for an encounter with the louche young man she has adored since childhood. He has been seducing other women throughout but finally recognizes her spirituality or pretends to do so and rejects her while citing his own new-found morality in a scene that brings the story full circle.
Patsy Ferran builds on recent Shakespearian successes (the National and the RSC) in a nuanced performance that develops beyond the allegorical content in her character as written. She reveals an inner maelstrom through an arsenal of convincing nervous gestures that finally see her descend into a Chekhovian melancholy. Ferran will surely win major awards for this.
But there is scant support elsewhere. As the male love interest, Matthew Needham squanders laugh lines, rarely inhabits his role and flounders with the notoriously difficult Mississippi Delta vowels. Even a literal unbuttoning scene with Ferran fails to ignite.
Nancy Crane as Mrs Winemiller.
Credit: Marc Brenner.
Anjana Vasan plays several minor characters who have been Needham's lovers as well as a nightclub singer belting out an anachronistic but glorious version of 'Glory Box' by the 1990s English band Portishead. Vasan makes no great distinction between the women perhaps as a deliberate ploy to emphasize the general non-naturalistic approach. Nancy Crane is impressive as a mother who when she can't control proceedings is intent on embarrassing others. (This would not be a Williams play without a crazed possibly lobotomized matriarch.) But it's Ferran, now being hailed as perhaps a once-in-a-generation talent, who propels the action on her own.
Despite much clunky symbolism this is not an 'early' work. Williams was already accomplished; he had written A Streetcar Named Desire the previous year and the two plays ran on Broadway at the same time. Summer and Smoke has had two previous outings in the UK to lukewarm reviews. The Almeida's fearless approach (and an expressionist set design of this kind could have proved a train wreck in less assured hands) is the fillip that the play has needed for future revivals. It has been unjustly neglected.