"Napoleon, Dead or Alive": Nissim Aloni
Doron Elia in Jerusalem
11 December 2017
The ruler of the underworld Samedi says, "Only here in the theatre, every evening after the curtain falls, the dead come back to life. They pull out the knife stuck in their chest, clean the blood off their bodies, and remove the makeup … only here." So concludes Nissim Aloni's Napoleon, Dead or Alive, presented at Jerusalem's Khan Theatre this winter.
The Khan Theatre's production of Nissim Aloni's play Napoleon, Dead or Alive is directed by Udi Ben-Moshe. It touches on the elusive quality of truth with its theme of fake reality or fake news. Other themes have to do with identity, ambition, desire, missed opportunities, war and corruption, life and death, and the role of the theatre as a magic consolation in the face of death. The current version is a sensitive encounter with Aloni's style and intentions. It succeeds impressively to put the many layers of meaning within the play in relief and was a pleasure to watch.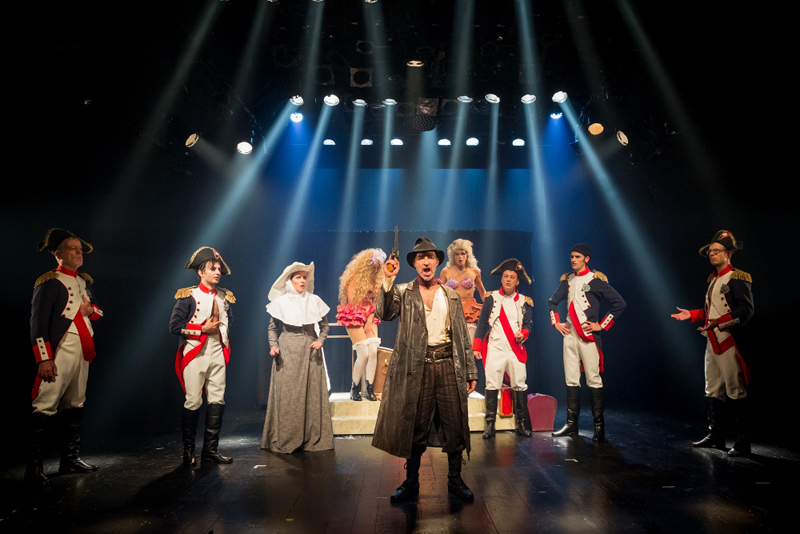 Don Brigela and the Napoleons. Photo credit: Yael Ilan.
Initially, Napoleon, Dead or Alive seems confusinq. A portable stage curtain is set up several times and two storytellers address the audience in each new scene and Iocation. There are many locations for the action, these multiple scenes are all brief, and there are more than thirty characters (the cast members play several roles). It is mixed genre, including drama, music, musical numbers, and stand-up comedy. Poetic and symbolic, it describes a surreal world that is reminiscent of our own: cruel, corrupt, and yet simultaneously humorous.
Napoleon Bonaparte, Emperor of France in the early nineteenth century, is on stage alongside Italian Commedia del'Arte clowns Pantalone and Don Brighella. Napoleon has escaped from the underworld, returning from the dead to the nineteenth century to prevent his living self from making the great mistake of invading Russia in 1812. The rulers of the underworld Samedi and Lilith follow him and plant fake Napoleons all over Europe, trying to confuse the dead man's spirit.
As a parallel plot, Emilio Pantalone who lost three sons in the Napoleonic Wars hires the Neapolitan Don Brighella to bring him Napoleon, royalty on stage to help convey his sense that theatre is something transcendent.
Baron Samedi, Lilit, and the Demons. Photo credit: Yael Ilan.
Aloni, who had been one of the leading playwrights in Israel up until his death in 1998, wrote thirteen plays and directed each one of them for their premieres. He was known for endlessly revising his plays. He additionally translated novels and around fifty plays – including works by William Shakespeare, Carlo Goldoni, Nicolai Gogol, and Eugene O'Neill – into Hebrew.
Napoleon, Dead or Alive is a difficult play because its cultural and historical references require patience and attention from the audience. This Israeli classic, written in Hebrew, was previously produced only privately at Jerusalem's Bimot Theatre in 1970 and at the Cameri Theatre of Tel Aviv in 1979. But in this contemporary production, Ben Moshe produced something unique in his brave reconstruction of this iconic play. It is as theatre should be, one of those proverbial perfect productions which is visually overpowering, with a harmony between words, actors, costumes, and props that conveys truth, vitality, and beauty. The intensity of this present interpretation of Aloni's existential play evoked in me a wonderful feeling of being alive.
As a whole, this revival of Napoleon, Dead or Alive is a masterpiece in terms of dance, songs, costumes, stage props, and excellent performances from the Khan ensemble; they have been working together for around fifteen years and are very talented actor and brilliant acrobats who can also sing, dance, and perform magic tricks. The set design by Anat Mesner is minimal. It is full of surprises, fast changing and creating atmosphere with very simple means, using lights and props.
One of my favourite scenes is when Hitler played Napoleon. He lay in a wooden bathtub, strongly recalling Marat/Sade by Peter Weiss and played with a large ball of the world, in this instance bringing to mind the similar scene in Charlie Chaplin's movie The Great Dictator. Another moving scene involved all the ensemble sawing plastic lilies into pieces, fixing hooks to their stems, and throwing them about where they attached to the wooden stage floor; lilies represent purity. The costumes by Judith Aharon were creative and modern, expressing the characters' personalities very well. The music was composed by Keren Peles, a young pop star. The original music was composed fifty years ago by Gary Bertini and was used throughout. In this production, unfortunately only one of his songs was used. However, Peles' songs contributed to the circus atmosphere of the play because of their catchy melodies. Music Director Ohad Ben-Avi was on keyboard and Noa Golandsky on percussion. Roni Cohen effectively lit the succession of different scenes which were changed very rapidly. Ariel Wolf's choreography was modern, vivid, and playful.
The Khan Theatre has been operating for over fifty years in Jerusalem and is Jerusalem's only repertory theatre. It is a leading cultural icon and has received several awards for outstanding achievement including the Rosenblum Award for the Performing Arts for the 2012 Life Achievement Project. Ben-Moshe studied at the Nissan Nativ and Yoram Loewenstein Acting Studios in Tel Aviv. At the Israel Theater Prizes in 2007 his production of Make My Heart Flutter by Hanoch Levin (at the Cameri Theatre) won Play of the Year. This connects to his skill at presenting Aloni, since Levin, the most prolific playwright in Israel who died in 1999, was influenced by Aloni.