"Faith Healer" at the Devonshire Park Theatre, Eastbourne
Jeremy Malies in East Sussex
12 November 2023
In Brian Friel's Translations the focus is on what is lost or wilfully changed in translation. His play Faith Healer is about how memories become refracted naturally or are tampered with over years and decades.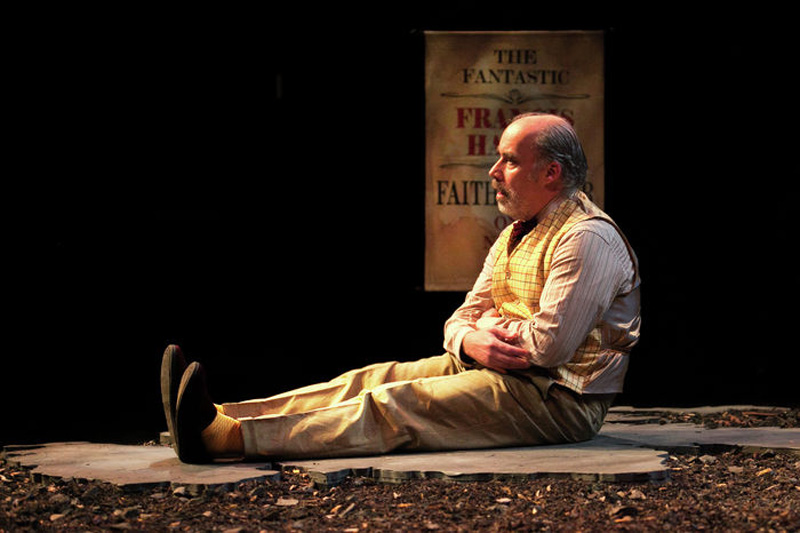 Jonathan Ashley as Teddy. Photo credit: Sheila Burnett.
As I arrived at the Devonshire Park, a single—ideally it would be slightly tatty —poster for a faith healing session sat outside the foyer. There is no clear evidence for it in the text (Friel would never be so prescriptive) but some directors opt to configure and light the stage such that we, the audience, represent the people attending the healing sessions in the crummy halls used by title character Francis Hardy (Paul Carroll) and his agent Teddy (Jonathan Ashley).
Michael Cabot, directing for London Classic Theatre, is far too subtle to do this and in a story whose ending is unclear (what exact threat do the wedding guests hold for Francis?) he ensures that the evening asks more questions than it answers. But I found the production elusive and lacklustre.
There are four monologues here, one from Francis, another from his girlfriend Grace (Gina Costigan), one from Teddy (often seen to be the strongest speech) and a concluding one from Francis. The two actors not involved sit at the sides of the stage more or less unseeing and unhearing but occasionally they nod when the speaker mentions them.
One of the many strengths of Carroll, as Francis, is how the actor puts the character in a state of delicate balance between projecting confidence in his so-called gift and suggestions that this may be a complete charlatan, a conscious fraud who even tells us that he is plying "a craft without an apprenticeship". He also tries to be straight with us, even to the point of pulling himself up short if he has resorted to rhetoric. But we are unsure as to basic family history. Which of his parents does he bury in the middle of a tour? Was his father sergeant of the guards at Limerick or a humble factory worker? As with Friel's play Aristocrats, there is a gap between the way people see themselves and the more mundane reality of how they live.
Bek Palmer's set (which must travel on this extensive tour) is outstanding. It centres on a huge burnished mirror which distorts the figures in the same way that flawed memory and fibs will twist a narrative. Our whole sense of perspective is toyed with cleverly. The set also features a cut-out of the countries being toured on a bed of wood chippings. Addiction features throughout: Francis runs on a diet of whisky and adulation, Teddy seemingly on beer, and Grace is reliant on sleeping tablets that eventually kill her.
Grace, the daughter of a judge (something I think we can take on trust) tells us that she had qualified as a solicitor just before she eloped with Francis. Costigan projects the aching sense of under achievement so common in Chekhov's characters and indeed in Friel's own Afterplay, his imagined conclusion to Uncle Vanya and Three Sisters. We also see it in the Chekhovian stoicism of the oldest and youngest sisters in Dancing at Lughnasa. There is no distance whatsoever between actor and her lines in Costigan's wonderful performance. My heart leapt out to Grace as Costigan skilfully dismantled the character's natural reticence and allowed us to share restricted memories such as walking in the Grampian Mountains.
Ashley has the most precise, painterly speech as written. He should be interesting as the cockney sparrow whose acts also include a languid whippet called Rob Roy who finds energy to play the bagpipes with his hindlegs but is unwilling to earn his owner stud fees when lady whippets are presented to him. Even this failed to amuse me and I should have liked to have seen Ashley take Teddy up and down the gearbox of optimism and despair that Friel puts in the script. You have to think that Woody Allen had Teddy in mind when, five years after Faith Healer premiered on Broadway (1979) with James Mason in the title role, Allen created and played Danny in Broadway Danny Rose, a similarly attentive and caring agent looking after a set of no-hope human and animal acts. But Allen's performance is consistently funny.
With the characters pretty much static in their squalid lodgings, lighting by Matthew Green hints occasionally at what the speakers are seeing in their mind's eye. Francis recreates the wedding party in which he may well meet his end noting that the guests "look diminished in that dawn light".
There needs to be magic (alchemy perhaps) in the repeated lists of place names given in Francis's Hiberno dialect and Teddy's cockney. It should be as though the places are being blessed. Since Friel wrote the play, one of the place names (Dunblane) has taken on extra resonance but the listings remain prosaic and even irritating. They ought to be a keystone of the speeches.
Whatever we think of Francis, the script asks for a sense of upliftment and mesmerism as the invalids, rightly or wrongly, feel they have become whole in his presence. I get it that the play is enigmatic, that it hovers between the absurd and the momentous. And I acknowledge that this production has integrity. But it somehow didn't push my buttons despite my being well disposed. I had expected, to quote Francis, "something of unusual proportions" and "a night of exultation". I left deflated.