"The Glass Menagerie" – Duke of York's Theatre
Neil Dowden in the West End
7 June 2022
Tennessee Williams famously described The Glass Menagerie – which made his name when first produced in 1944 – as a "memory play". This is because the narrator/protagonist Tom is remembering/reliving significant events in his past that happened many years ago, while other characters are also haunted by their memories. But as the work is semi-autobiographical it also applies to Williams' own melancholic and guilty reflections on his unhappy family history, which includes portraits of his domineering mother, vulnerable older sister (who spent most of her life in mental asylums), and himself – who transmuted his various anxieties into art.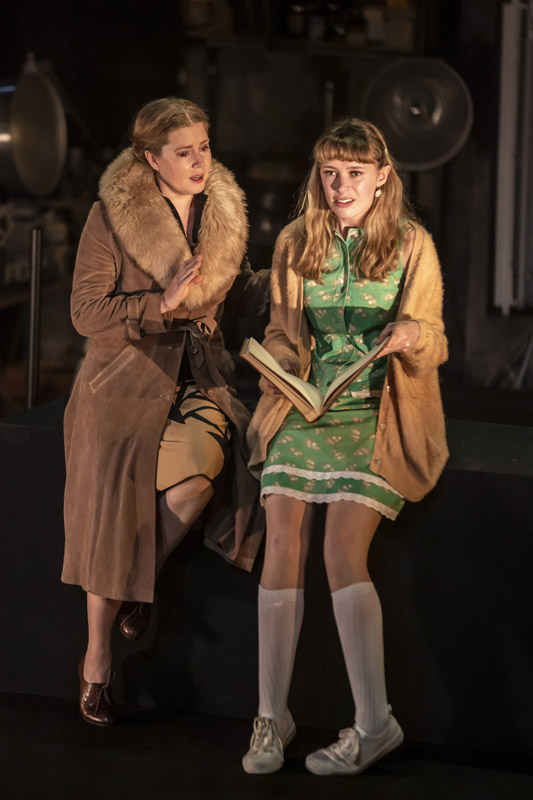 Amy Adams and Lizzie Annis. Photo credit: Johan Persson.
Speaking directly to the audience, Tom recalls when he lived at home with his single mother Amanda and his sister Laura in St Louis, Missouri in the 1930s. Amanda scrapes a living and micromanages her children, while reminiscing about when she was a much-admired young Southern belle. She is particularly harsh on Laura, who is painfully shy on account of her walking disability, and has dropped out of high school and secretarial training, devoting herself to her collection of glass animals. Tom works in a shoe warehouse but wants to be a poet and yearns to travel. He is finally persuaded by his mother to bring home to dinner a "gentleman caller" for Laura, a shipping clerk colleague called Jim, but with disastrous consequences.
It's a rich, multi-layered play that was given a splendid production by John Tiffany only five years ago in the same West End theatre, with American stage veteran Cherry Jones impressing as Amanda. Unfortunately, the latest revival by Jeremy Herrin – featuring an underpowered performance from film star Amy Adams – falls well short of that. The Glass Menagerie is not a naturalistic play, with Williams experimenting with form as well as his trademark lyrical language to create an almost dreamlike, elegiac drama. But this production – while emphasizing the play's meta-theatrical qualities – fails to deliver the full emotional impact that it needs.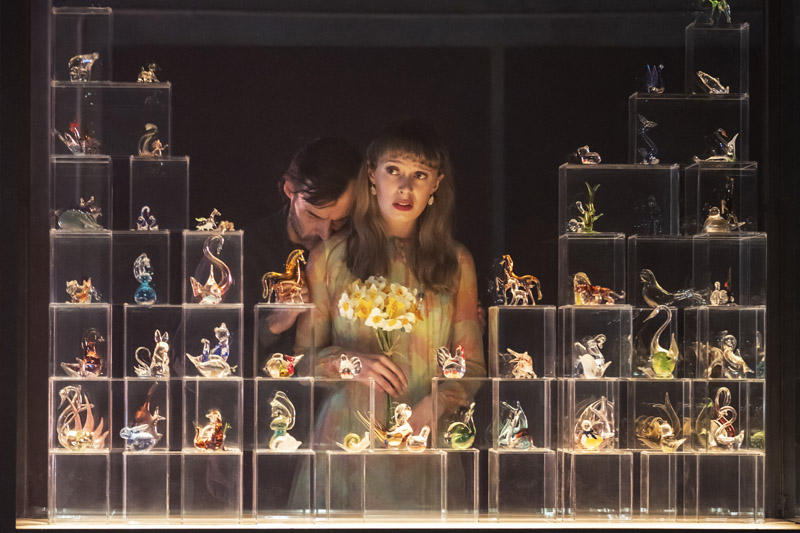 Paul Hilton and Lizzie Annis. Photo credit: Johan Persson.
When not in a scene, the actors sit at the side of the stage, filled with general bric-a-brac, while all the action takes place on a raised platform which bears a huge vitrine containing the glass menagerie as if it is in a museum rather than a modest home, in Vicki Mortimer's design. Paule Constable's effectively subdued lighting (which is completely switched off at one point during the play's power cut, replaced by candlelight) conjures the murkiness of former times, while Nick Powell's piano score evokes some nostalgia for a different era.
A large screen at the back displays Ash J. Woodward's video that sometimes suggests the refracted colours of the glass animals, as well as a photo of the important off-stage character Mr Wingfield, who worked for a telephone company and "fell in love with long-distance", abandoning his family 16 years earlier. His absence hangs over the drama.
Though a fine film actor, Amy Adams's lack of dramatic stage experience seems to have affected her performance in one of the great twentieth-century female roles, in which she struggles to project vocally and gives a rather mannered, blandly bustling portrayal of a woman who is usually a dominating force.
Herrin's decision to split the part of Tom in two is interesting but it tends to distance the poignant happenings of the past. As the narrator, Paul Hilton conveys the older Tom's regret at having fled the family home when he was needed, and we see him voicelessly prowling around the re-created domestic scenes, but because he does not directly interact with his sister or mother the tenderness is lacking. Similarly, Tom Glynn-Carney does well in communicating the younger Tom's frustrations and eagerness to escape, but his reduced role lacks complexity.
Lizzie Annis – who has cerebral palsy and makes her professional stage debut – expresses well Laura's mental fragility and retreat from reality. Victor Alli gets more laughs than usual as the self-developing, or self-deluded, Jim – who is studying public speaking and radio engineering in night school – though his vanity is mixed with a genuine effort to boost Laura's positivity. Their intimate, extended scene together in the second half – usually the beating heart of the play – is quite touching without capturing the full pathos of the situation, in a show that overall is disappointingly muted.
Lizzie Annis and Victor Alli. Photo credit: Johan Persson.