"Marjorie Prime", Menier Chocolate Factory
Neil Dowden in South London
19 March 2023
The Menier Chocolate Factory deserve much credit for staging the UK premiere of Jordan Harrison's Pulitzer Prize-nominated 2014 play Marjorie Prime. It's a fascinating look at how issues of ageing, dementia, and even mortality may be eased with the help of technology, specifically artificial intelligence. Of course, our populations are getting ever older, while technological progress is accelerating, making the play even more relevant now. But though Marjorie Prime is set in 2062 and beyond, the sci-fi elements are less important than its depiction of how the vagaries of memory, guilt, and grief impact human relationships.
Richard Fleeshman and Anne Reid.
Photo credit: Manuel Harlan.
It's not immediately obvious, but an unspecified amount of time elapses between each of the five scenes of the play. At the outset we see the Alzheimer's-afflicted 85-year-old Marjorie (who says she was born in 1977) talking to a young man who seems to be a companion, and perhaps a carer, who knows her life history. We soon realize that he is actually some kind of hologram or android version – a "Prime" – of her late husband Walter when he was younger.
We find out that she was a concert violinist who turned down the advances of a professional tennis player – number eight in the world! – in favour of marrying Walter. They share some sentimental reminiscences – with the virtual Walter sometimes prompting her – but because her memory is so unreliable and his is restricted by what has been programmed into him, we only get a partial story of the past.
It is later that we find out the tragic family background from Marjorie's daughter Tess, with whom she has a strained relationship – and who is estranged from her own (unseen) daughter. Marjorie gets on better with Tess's conciliatory husband Jon (though apparently she once thought him too common for her daughter), who takes notes on her fragmented recollections to input into Walter Prime so acting as editor of the narrative.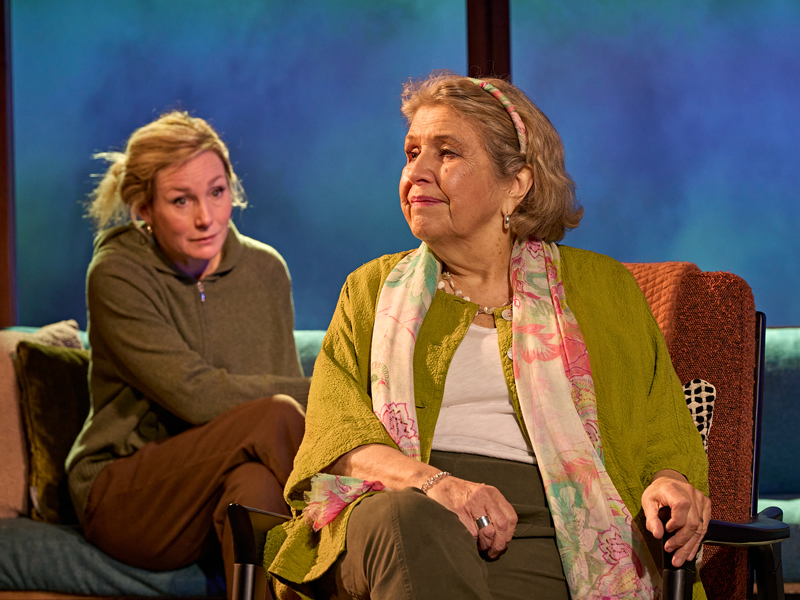 Nancy Carroll and Anne Reid. Photo credit: Manuel Harlan.
There are further iterations of a Prime subtly introduced into the evolving drama as they replace loved ones who have died, helping survivors to cope with bereavement. But however sophisticated their computer programming they cannot re-create the same emotional rapport between humans – which comes with complex, messy, sometimes negative feelings that the bland avatars cannot replicate. However, there is some pathos in the way that the Primes are cast off when no longer needed and form an ersatz family of their own.
Marjorie Prime raises all sorts of interesting questions in its compact 75 minutes – though Harrison could have delved more deeply into some of them to make it a more substantial work. The play is on-message with the way that artificial intelligence now pervades our everyday lives, including virtual assistants such as Amazon's Alexa or Apple's Siri and chatbots like ChatGPT. This future does not seem so far off, though a Prime's polite admission "I'm afraid I don't have that information" is not the same as forgetting. There are also some amusing cultural references such as to the archaic iPhone and vintage Beyoncé song "Single Ladies".
Though a bit static, the play is sensitively directed by Dominic Dromgoole, in his first involvement in theatre since helming the Classic Spring Oscar Wilde season at the Vaudeville Theatre in 2017–18 (since then he has set up a film production company). It's a nice touch to have the Primes lurking in the shadows on the fringes of the stage when not engaged in a scene. The sleek design of Jonathan Fensom (a former collaborator of Dromgoole at the Globe) features a modernist kitchen/living space with a window view of the sea and sky (and later stars), looking out towards an uncertain, distant horizon.
Marjorie is superbly played by Anne Reid (who is coming up to 88 but still busy working on TV and last seen on stage in Dromgoole's revival of Wilde's A Woman of No Importance), suggesting both the confusion of a woman with dementia but also perhaps a selective memory. Sometimes she evidently recognizes that Walter Prime is not her living husband, while at other times she seems immersed in the illusion, as past and present merge.
Nancy Carroll also gives a convincing performance as the anxious Tess, at once concerned for her mother's welfare but resentful at the way she has neglected her in the past. Tony Jayawardena's amiable Jon is a pragmatist who is more at ease with the Primes, but later becomes acutely aware of their limitations. And the brilliant Richard Fleeshman gives a slightly unnerving portrayal of the helpful Walter, with his fixed smiled and smooth movements, who calmly tells Marjorie, "I have all the time in the world."
As a footnote, the play was filmed in 2017 (with the award-winning Lois Smith in the lead role) and is available on – where else? – Amazon Prime.