"The Changeling" at Southwark Playhouse Borough
Tom Bolton in South London
5 October 2023
There is something about Beyoncé and Thomas Middleton. Within a few minutes, the cast of Lazarus Theatre's production of The Changeling are strutting around on a table performing a thoroughly disturbing version of "Crazy in Love". Perhaps it is a conscious tribute to Joe Hill-Gibbins's ground-breaking Young Vic production a decade ago, which made telling use of "Single Ladies". Either way, Lazarus and director Ricky Dukes conjure a similarly claustrophobic atmosphere of spiralling madness.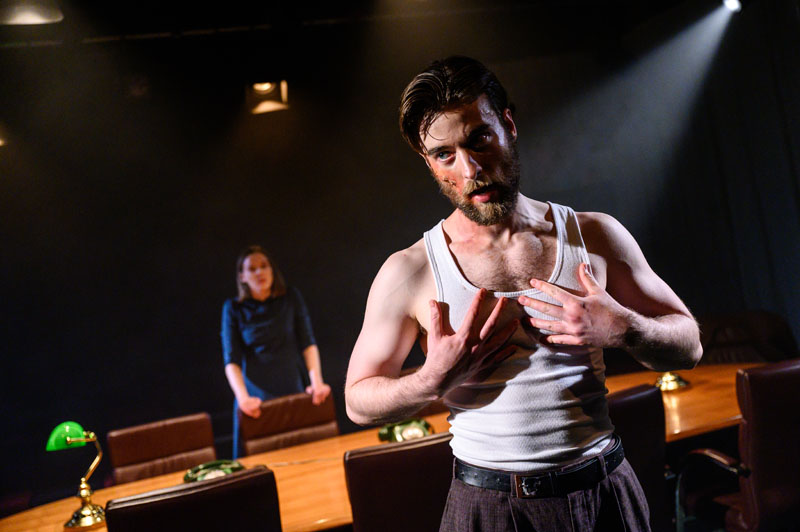 Jamie O'Neill and Colette O'Rourke.
Photo credit: Charles Flint.
The characters start to lose their grip on reality from the opening lines of the play, when Alsemiro spots Beatrice Joanna at prayer. Soon, she has seen him too and the pair are besotted – but she is about to marry someone else. When Beatrice conceives a plan for her servant De Flores to kill her new husband, Alonzo de Piraquo, there is no coming back. A descent into plotting, sexual subjugation, murder, and a blood-soaked denouement – all the things we ask of a Jacobean tragedy – are guaranteed.
Contemporary songs are a very effective way to make strange and alienating behaviour more familiar, and Dukes uses them throughout the play at key points. He cuts the text unceremoniously to create a version with focus and a shorter running time, dropping a comic subplot set in an asylum. With it goes most of the work attributed to William Rowley, leaving us with Middleton's brutal tale that delights in the detail of evil deeds while, naturally, providing dire warnings about the consequences of any such behaviour. Dukes's production is a wild ride, and the changes dial the intensity up to delightfully frantic levels.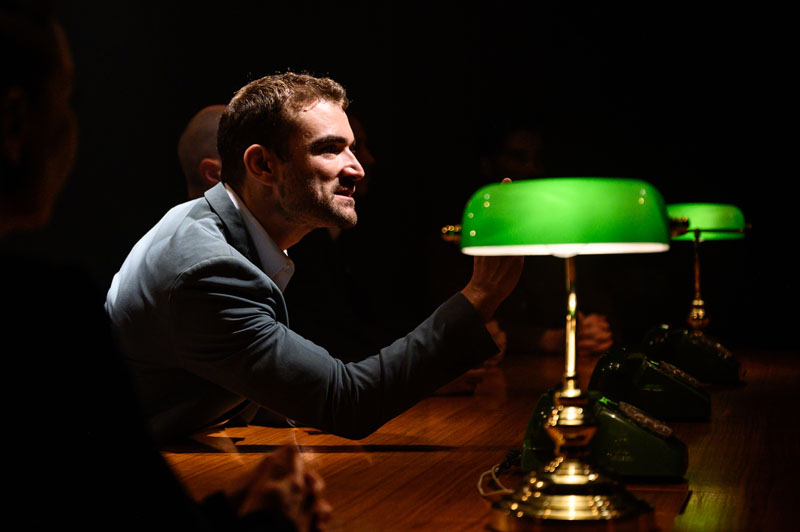 Mylo McDonald.
Photo credit: Charles Flint.
Sorcha Corcoran's set, which consists mostly of a vast Succession-style boardroom table, seems perverse at first, constraining the action to the edges and requiring actors to twist in their seats to address the audience behind them. However, awkwardness is inherent to a play where every character is forced out of their comfort zone to confront dark desires and consequences. As dead characters sit around the table holding black balloons and smoke fills Southwark Playhouse's smaller auditorium, this 17th-century fantasy feels as though it is happening to us right now.
A cast of 11 features strong performances in the lead roles. Colette O'Rourke's Yorkshire Beatrice can go from nought to 60 in a second, her calm surface vanishing in all-encompassing passion – terror, hate, fury, love. Locked into an oppressive society where she has no control we almost become convinced that, despite the disasters she triggers, she had few better options. O'Rourke is a natural, highly distinctive actor and, surely, someone on her way to bigger things. She has two powerful foils: Jamie O'Neill makes it clear that De Flores has nothing to lose and, terrifyingly, will do whatever he pleases, while Mylo Mcdonald's Alsemiro is a trusting chump, but his fury when he eventually cottons on is a wild eruption.
Lazarus Theatre is an impressive outfit, consistently delivering energetic, engaging productions of the classics and it is a privilege to see their young performers working close-up, in small venues. The Changeling is the latest in a line of shows that are accessible but not compromised – urgent, no-holds-barred, clever, and compelling theatre.