"Julius Caesar" – Globe Theatre
16 May 2022
Jeremy Malies on the South Bank
"O, that a man might know / The end of this day's business ere it come!" muses Brutus on the plains of Philippi. I have an intuition that things may be going south when Charlotte Bate as Cassius misses the thrill and pathos of the play's first big speech as she describes rescuing an enfeebled Caesar from the raging Tiber and reflects on the irony that she must now bow to his every whim.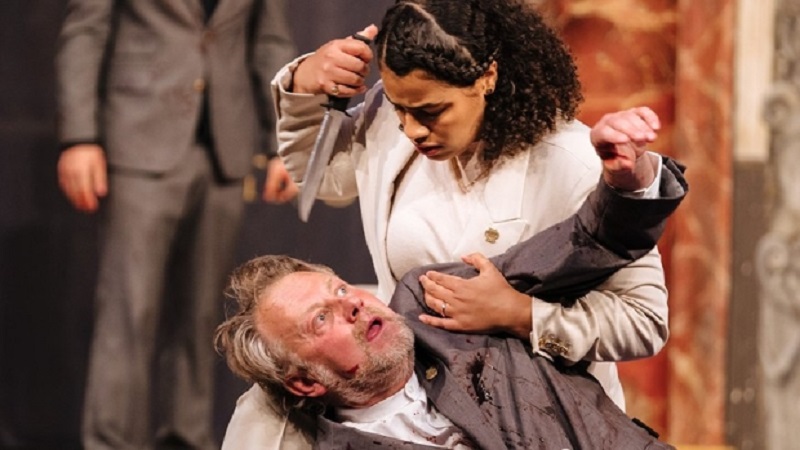 Anna Crichlow and Dickon Tyrrell. Photo credit: Helen Murray.
Director Diane Page recently won the 2021 JMK (James Menzies-Kitchin) Award which is designed to ensure that promising young directors fulfil their potential. Page has an impressive body of work to her name including acclaimed projects at the Lyric Hammersmith. And yet her Julius Caesar which jointly opens the Globe Theatre's new season is disappointing and a self-regarding illogical project.
I took the setting (from the costumes) to be pre-war British fascism and you can just about imagine some of the male actors as Mosley-ish thugs during the 1936 Battle of Cable Street. This might have been a versatile and credible enough concept to propel us through the play, but the production soon begins to resemble fourth-wave feminist agitprop.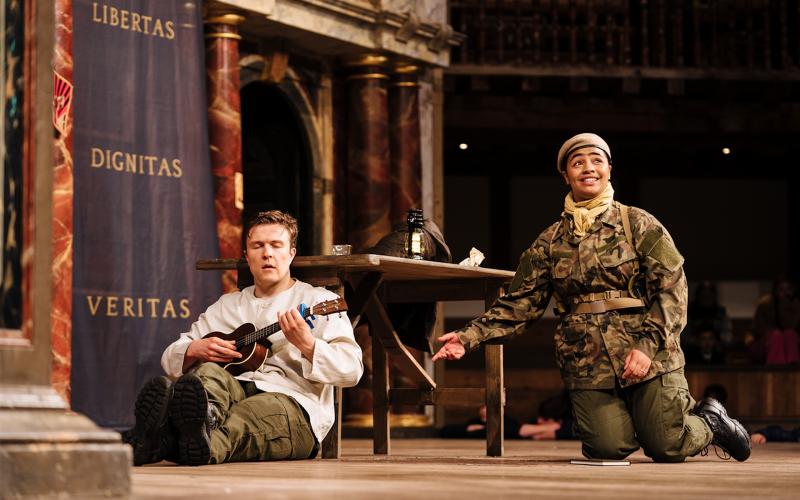 Jack Myers and Anna Crichlow. Photo credit: Helen Murray.
Like Cassius, Brutus is played by a woman (Anna Crichlow) and, crucially, the roles are rewritten as women meaning that Brutus and her wife Portia (Cash Holland) are in a lesbian relationship amid a martial violent society on a war footing surrounded by heterosexual male soldiers who simply accept them. I'm not a traditionalist; I should delight in a Julius Caesar set on the moon if the concept could be sustained, but I can't have been the only person in the theatre to find Page's vision a stretch. I'm also staggered that this version will tour across the country, be presented to curriculum audiences, and form many a young person's first exposure to Shakespeare.
It would be interesting to know how head of voice Tess Dignan worked with the cast on the verse speaking. Most of the actors were guilty of such drawn-out pauses at what they thought were meaningful junctures in sets of end-stopped lines that proceedings often resembled one of those dreams where you're wading through sand or treacle. Basic textual meaning apparent to anybody (and I know this is a vast space) was often telegraphed unnecessarily with over-emphatic hand gestures of the kind Hamlet outlaws in his advice to the players.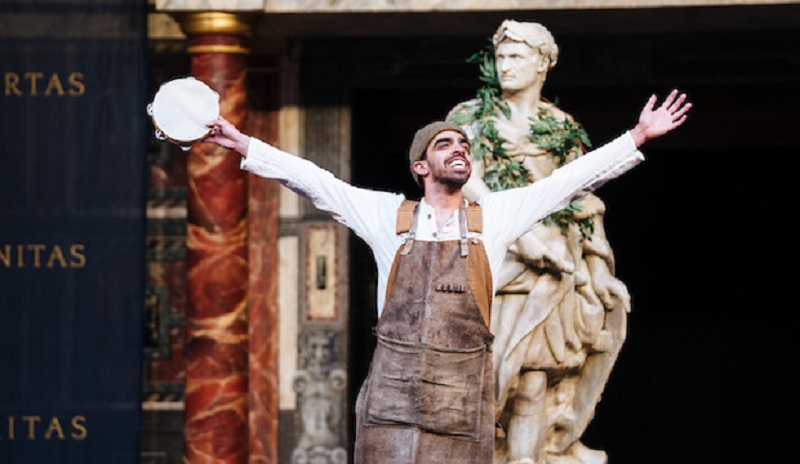 Omar Bynon as Cobbler. Photo credit: Helen Murray.
By contrast, projection was often underpowered. I didn't even hear "Et tu, Brute?" and had to check with a colleague whether it had been removed. I no longer have the hearing of a bat but my hearing is adequate and the press team had kindly given me one of the best seats in the house. Part of my problem with the Globe is that I'm not a fan of shared light; it always hinders my concentration and I found myself people-watching the groundlings (three instances of marital bickering) and one tourist ejected mid-way for drunkenness with an exquisite combination of firmness and tact by a personable steward.
Of course, there are many positives. Samuel Oatley is the stand-out performer as a lisping, physically intimidating Mark Antony who conveys the political intelligence and adaptability that makes him an effective replacement for and improvement on Caesar. He succeeds with the fulcrum speech of the play, in which he employs rhetorical questions to convince the citizens that Brutus has demonized Caesar. And the parting words exchanged by Cassius and Brutus are genuinely affecting. Just for a moment you can believe that Crichlow's character really is a lover of language and adept in its use.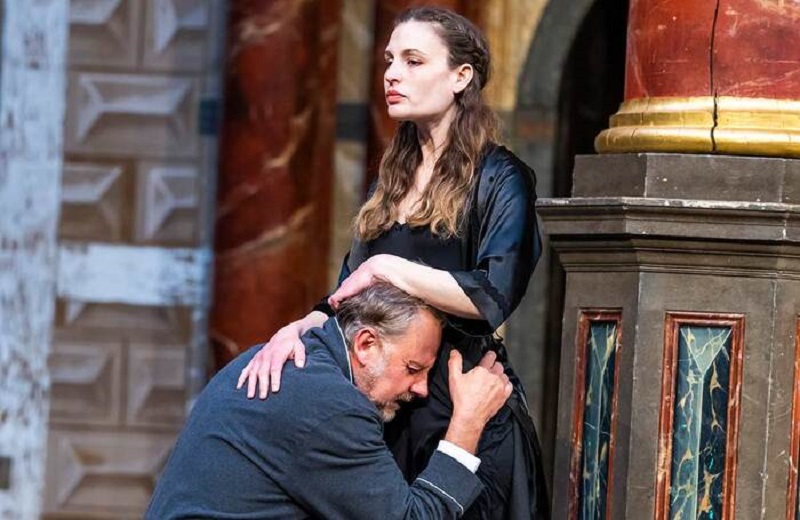 Amie Francis and Dickon Tyrrell. Photo credit: Helen Murray.
Designer Khadija Raja contributes a larger-than-life marble statue of Caesar which is carried off through the yard by the conspirators once the leader is toppled amid much laughter. Raja and Page (after a static start) achieve a fluid movement of characters around most parts of the theatre with successful use of the upper stage by messengers and lookouts who conjure up the Battle of Philippi in our mind's eye. The fight directors are skilful in making the frequent male-on-female combat with a big weight difference appear realistic even thrilling.
This is a touring production, and the cast is therefore stripped down to eight with much doubling up. But it was distressing to see actors (other than a change of costume) fail to make any distinction between their first and second characters in terms of accent, intonation, body language or any aspect of their physical presence. Jack Myers (Casca and subsequently Octavius) was particularly unimpressive and bereft of ideas here. When, as Casca, he or the directing team discover and labour a gross pun relating to oral sex that is not in the original and only appears because of Cassius's gender being flipped, it was all I could do to stop myself from walking out. Similarly, when Dickon Tyrrell playing Caesar reappears as the ghost, he seems bereft of ideas as to how to suggest the supernatural.
In the interest of fairness, I'm aware that Page and her team argue for the transgressive (their word not mine) gender-changing based on the unheralded historical role of Fulvia, widow of Clodius murdered in 52 BCE as well as wife and co-conspirator of Mark Antony. She was a background source of power, the darling of street gangs, and probably accompanied her husband to several battle headquarters. I just think that when the production travels to the wonderful open-air theatre in my home town of Brighton at the height of summer, it's unlikely that people will be poring over programme notes (printed in eight point) to absorb all this.
A play that is arguably sympathetic to assassination is super-relevant as the world wonders if a targeted hit on Putin is viable. But programme notes ignore current events and choose to reference the so-called "Squad" of left-leaning Democrat members of the US House of Representatives. An essay in the programme alleges that female world leaders are a scandalous rarity, and the patriarchy impedes such appointments. Bored with being obliged to write this review, I chanced to look up at the BBC News channel and saw the prime ministers of Sweden and Finland strolling through a forest as they discuss the possibility of their countries joining NATO. Oh – both women!
Even the groundlings seemed unimpressed; my feeling was that they resented the requests from the actors who mingled with them to be a partisan populace and shout out pantomime-style. True audience participation occurs when there is an exchange of energy and spectators are borne along on a wave rather than constantly badgered.
If it's the job of a critic to describe their overall experience, then I can say it was a bad evening and I don't believe I was alone. To add a final touch of opera, the couple next to me – not in the interval but, bizarrely, as the second half began – produced a picnic that would have been sizable by the standards of Glyndebourne and included pastries that seemed to be wrapped in dead leaves.
I still have bad memories of a confused production of the play here eight years ago by Dominic Dromgoole featuring Elizabethan costumes (rather than togas) and a mass of traditional Roman props. Two poor interpretations of the play in succession? Perhaps "The fault, dear Brutus, is not in our stars / But in ourselves …"