"The Confessions" at National Theatre, Lyttelton
Jeremy Malies on the South Bank
26 October 2023
"My life would be a beautiful story that would become true, bit by bit, as I told it to myself." A character quotes Simone de Beauvoir to this effect in a new play by Alexander Zeldin who has been an artist in residence at the National Theatre. The Confessions came to London after a run in Vienna and will have a further European tour.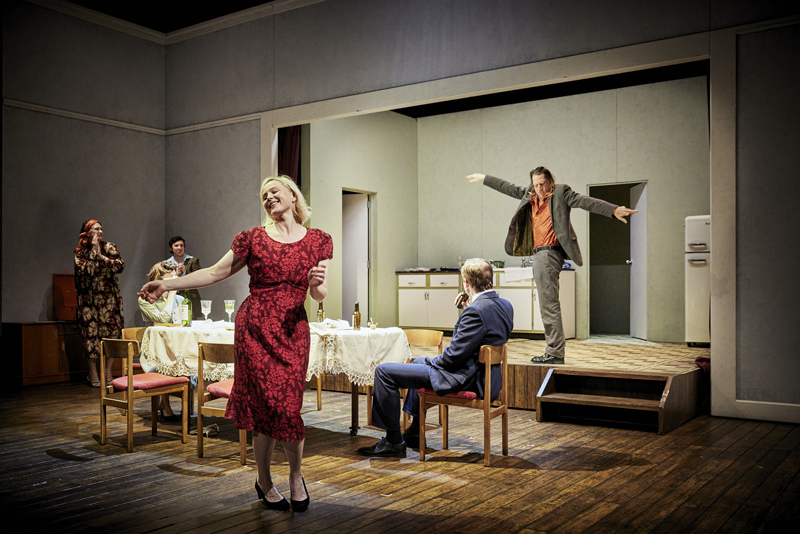 The cast. (Eryn Jean Norvill foreground.)
Photo credit: Christophe-Raynaud-de-Lage.
Zeldin's previous work (notably the Inequalities Trilogy) has dealt with fundamental themes such as poverty while people work in the gig economy, inadequacy of temporary housing for the vulnerable, and a Chekhovian portrait of stoicism from users of a community centre in Faith, Hope and Charity. Zeldin has treated all these themes forensically.
My interest was keen in the opening scenes here as we watched social comedy in a seventies home to the south of Sydney with Eryn Jean Norvill (a Sydney-born actor) as Younger Alice who is returning to a middle-class home having failed her first-year university exams. Ghastly neighbours begin to drop by, and part of me thought we were heading for an Australian version of Abigail's Party which I might have enjoyed.
But deep down I knew better and that we were in for a large helping of metatheatricality in a time span from 1943 to 2021. Zeldin has every right to experiment with form in any of his plays, and particularly when creating a piece that is based on conversations with his mother. But however his career develops, I hope he never loses sight of a proven ability to chronicle lives blighted by social and economic disadvantage.
I'm in a minority but could rarely engage with this, though it should be said that I got off to a bad start watching a drama that has two actors play young and old versions of the central character. Older Alice (Amelda Brown) had been sitting next to me in the stalls prior to her walking onto the stage apron and then onto the stage proper which in turn features a stage within a stage for the first scene. Something about Brown's clothes and demeanour had put me wise as to what would happen. Every evening, one of the theatre-goers in the stalls is always going to be sitting next to her and on press night it happened to be me. I knew enough not to break the fourth wall and ignored Brown but began the evening fearing that things would prove formulaic and tricksy.
Amelda Brown as Alice.
Photo credit: Christophe-Raynaud-de-Lage.
Alice's homecoming quickly becomes a marriage of convenience with the stolid boy next door who has been waiting for her. He is played by Joe Bannister who impresses with his range, moving from an unimaginative low-level navy security officer to playing an acerbic misogynist academic who is a fulcrum of the plot.
If this is a rite of passage then there is development. I don't think I would want to read what we intuit is Alice's trite art criticism from the snippets that Norvill gives us, but I don't think she would flunk her first-year exams again. This is a painterly evening. At least three characters reference the Watteau painting "Pierrot" in which a figure is trying to burst out of the frame, an action that Older Alice replicates with some creaking symbolism. The script skewers the pomposity of artists talking about their own work.
Zeldin has said that plays at the National should not necessarily be about the great, the good, and the distinguished. Modest but worthwhile lives should be celebrated too, and he has chosen to write about his mother. But plays about small towns have been done so well in Americana that I wonder if the theme needs this iteration in a plot that spans Australia, Italy, and the UK without truly taking wing.
The acting is terrific and warrants stronger material with the performers interrupting each other, speaking over each other, and finishing each other's sentences all at high speed. A scene during which Norvill in early middle age continues her rejection of and rage against her mother Peg (Pamela Rabe) brings empathy for both characters. Rabe is equally good, establishing plausibility in her actions and motivations as two other characters, Viv, a neighbour of the newly wed Alice near a Sydney naval barracks, and Eva, a truly loathsome literature academic who summarizes her admiration for T.S. Eliot to an undergraduate by saying that she "digs Eliot hard"!
Eryn Jean Norvill, Joe Bannister and Brian Lipson.
Photo credit: Christophe-Raynaud-de-Lage.
The most heartfelt and resonant line all evening had Norvill captivate the auditorium when Alice speaks of the privilege of actually seeing great art while travelling in Europe when most can only look at it in books. But if this is a piece about painting then John Logan, Howard Barker, Yasmina Reza, and Alan Bennett have done it better.
It goes without saying that this is a memory play, but I never bought into Older Alice's supposedly elegiac tone and the insightful perspective she claims. The flamboyance of the constant entrances to and exits from the main auditorium rather than the wings became wearisome. And clunky maxims such as "The world is full of hard surfaces", advice that crops up three times, began to bore me.
Zeldin directs the play himself. He is not afraid to use dead air with many pauses of more than 10 seconds and one of half a minute. It's one thing to write this in your script, another to have the nerve to carry it out. There is a flamboyant quality to Zeldin's direction, particularly when he marshals two groups of actors in simultaneous conversations. The stage directions encourage the cast to ad lib occasionally. Zeldin will have been able to calibrate this during rehearsal though I wonder if, as an actor, I would have the courage to add my own text with the author in front of me.
As Alice's brief marriage fails, the set (by Marg Horwell) implodes of its own volition. Stagehands come on to further break up the pieces. Even the walls, which don't quite extend across the Lyttelton's legendary breadth, are carried away in front of us. Elsewhere, Horwell is skilful with period touches as she evokes a fifties school hall and the Formica-dominated kitchen of Alice's parents.
Lighting by Paule Constable mimics Alice's school, the Reading Room of the British Museum, and sometimes hints at an art gallery. Constable and Zeldin opt to keep the house lights up for large parts of the evening. Original music is by Zeldin's childhood friend Yannis Philippakis. It ranges from hymn-like long rhythmic patterns in moments of intimacy to metallic blasts of sound after scenes of conflict.
As the play gets into its stride during the concluding scenes (this is an evening of an hour and 55 minutes without an interval), all notions of time are elastic as Alice's memory becomes fogged after an act of violence committed against her. There are more conversations in parallel, and both versions of Alice can slide between memories. For one exquisite moment after a scene of ritualistic cleansing, they catch sight of each other. Much later they laugh in unison and finally touch hands.
At its best, the play has Older Alice reflect on missed opportunities in the poignant manner with which Beckett characters look back at the midnight of their youth. But these highpoints are fleeting. Conscious of so many wonderful elements and aware of the ecstatic applause, I was sad that the evening did not touch me more.