"Much Ado About Nothing" – Globe Theatre
Tom Bolton on the South Bank
13 May 2022
The memory of repeated lockdowns may be fading now, but the return to normality is a work in progress. The Globe's main, outdoor theatre has not staged shows with a full audience since the summer of 2019, so the opening of its summer season with Lucy Bailey's production of Much Ado About Nothing feels like an occasion. There is a full house and a buzz of expectation among the groundlings, who make this space such a distinctive experience. Fortunately, the Globe is ready with a show that is judged just right: a cathartic release of collective energy, and a fine account of one of Shakespeare's most purely enjoyable plays.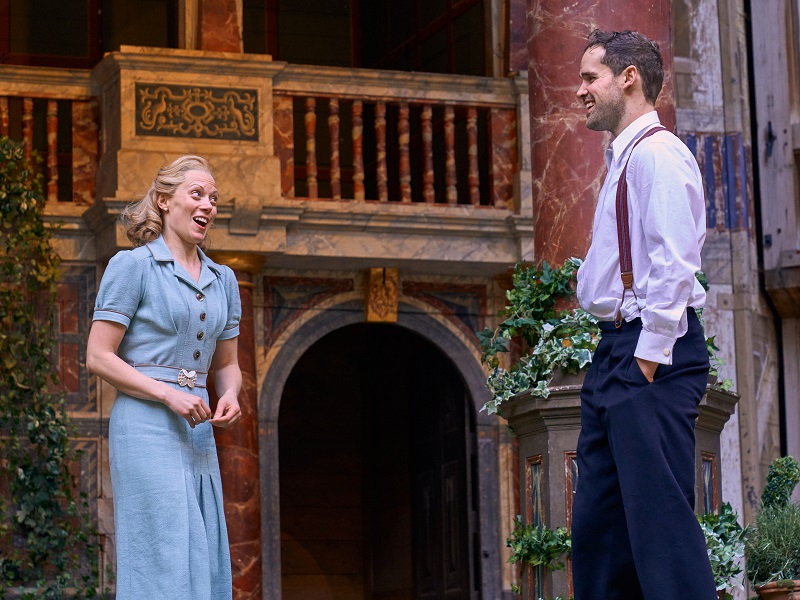 Lucy Phelps and Ralph Davis. Photo credit: Manuel Harlan.
Directors tend to emphasize the shade in Much Ado, sometimes at the expense of the light, but perhaps the mood is changing. Roy Alexander Weise's recent Royal Shakespeare Company production used futurist fantasy, and Bailey handles the off-stage conflict with a light touch. Set in a post-Second World War Messina, Joanna Parker's designs turn the Globe's stage into an ivy-hung loggia, with lawns suitably worn from a summer's use. It is an idyllic refuge. The show is sound-tracked by four accordion-playing women, who lounge on the lawns, perch on garden seats, and are sometimes drawn into the action. With war so prominent in the news over the last three months, Bailey credits the audience with the ability to imagine what is not shown, while appreciating the brief refuge from hostilities the play provides.
George Fouracres (centre) as Dogberry. Photo credit: Manuel Harlan.
Don Pedro, Benedick, and Claudio, returning from war, arrive in a world run by women, who seem to be getting on fine without them. We see Lucy Phelps's Beatrice and Nadi Kemp-Sayfi's Hero joking with the gender-swapped Leonata (Katy Stephens) and Antonia (Joanne Howarth) and their household, before the advent of Don Pedro (Ferdy Roberts) and his friends trigger an explosion of sexual tension. Soon, Phelps is sparring with Benedick (Ralph Davis), while Don Pedro sets up Claudio (Patrick Osborne) with Hero. Within a few scenes the pair are engaged to be married, although Hero has not uttered a word. Her lines come later, when everything begins to unravel, but the sense that the power has shifted away from the women is clear.
The cast work together with an infectious enthusiasm and an ease for which Bailey must take a great deal of credit. The relationship between Leonata and Antonia is a delight to watch, as they snip at each other in sisterly fashion – sometimes literally, as Howarth wields a pair of shears – before singing a duet together in a moment that begins as comic, but becomes surprisingly moving. Stephens's captivating performance reinvents the role completely. Roberts's Don Pedro is authoritative and a little bit silly in equal measure.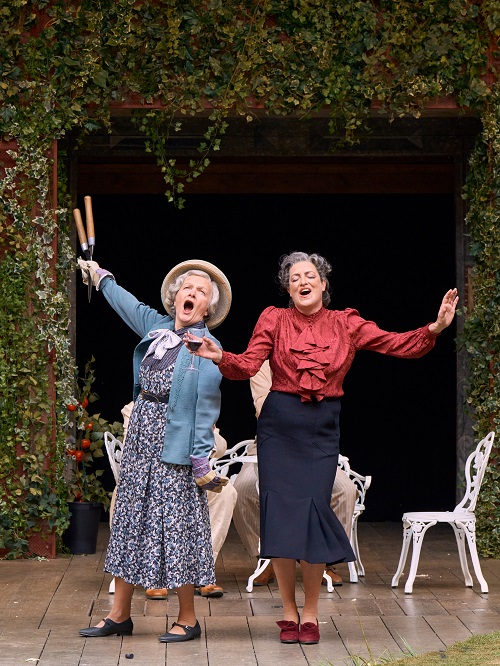 Joanne Howarth and Katy Stephens.
Photo credit: Manuel Harlan.
The play's slapstick Keystone cops scenes can be hard to handle, but the comic scenes are very funny. George Fouracres comes into his own as Dogberry. The constable struggles to maintain his focus, apparently on the verge of zoning out as though he had taken something potent before heading out to work that morning – Captain Mainwaring on Fentanyl. When he lurches towards the pit on his bicycle and crowd surfs his way off stage, the audience laugh all the harder in their alarm at what he might do next.
The performances of Phelps and Davis as the central pair, Beatrice and Benedick, are nuanced and highly entertaining. Phelps shows her range with a level of physical comedy in complete contrast to her buttoned-up Isabella in the RSC's 2019 Measure for Measure. Clever and cool in the first scenes, she quickly loses her composure and behaves with a spectacular clumsiness. She is hilarious eavesdropping on Leonata, while becoming hopelessly entangled in a badminton net, but her klutz-like tendencies also make sense of her sudden request that Benedick should kill Claudio, which she blurts out in a moment of uncontrollable emotion. Davis, as Benedick, is similarly accomplished – funny and charming, one of the lads, but capable of stepping away and seeing more clearly than any of his friends. His eavesdropping scene is a delightful piece of physical comedy, blazing a chaotic trail across the stage.
Nadi Kemp-Sayfi as Hero.
Photo credit: Manuel Harlan.
The dark elements of the play seem less important than the comedy. Don John (Oliver Huband), the bastard brother bent on evil deeds, is a pantomime villain – a stock role essential to create the jeopardy that prefigures a happy ending. And there definitely is a happy ending.
The show sweeps the audience along with it, the performers soaking up the energy from the pit. Bailey has done an excellent job providing entertainment, but her production takes the play seriously too. She gives the cast space to fully inhabit their roles and to bring out the best in one another, and she never feels the need to patronize the audience. Her production is that rare thing, a Shakespearean comedy that makes everyone laugh without trying too hard. It is the perfect play for a summer's evening by the Thames, and a welcome reminder of why the Globe remains a venue like no other.