"Henry V", Sam Wanamaker Playhouse
Shakespeare's Globe and Headlong with Leeds Playhouse and Royal & Derngate, Northampton
Jeremy Malies on the South Bank
28 November 2022
This is spare, fast, exact, original and probing. It's an impressive debut for Headlong working in association with Shakespeare's Globe. The production is not closely anchored in time but the modern dress with a few bowling shirts and Harrington jackets put me in mind of 1950s London gangland.
Oliver Johnstone and Joshua Griffin. Photo credit: Johan Persson.
The text has been filleted – most notably the "O for a Muse of fire" prologue is taken out – and yet we start with an astute addition. Director Holly Race Roughan and dramaturg Cordelia Lynn insert some action from Henry IV Part 2 in which Oliver Johnstone as Hal, who believes his father to be in his death throes, tries on the crown for size. The prince is upbraided, and playing Henry IV, Helena Lymbery (outstanding both here and later as Exeter), reflects on having usurped the crown from Richard II, something that Hal as Henry V allows to weigh on him as a burden of guilt. Lymbery also uses the oft-quoted phrase "busy giddy minds / With foreign quarrels" which has been levelled at both Tony Blair and Boris Johnson by critics of their international policy and notions of a so-called "just war".
What really impressed me here was the fresh takes on enormous speeches that can appear hackneyed (certainly stale) in less imaginative hands. Johnstone intones "Once more unto the breach" almost in the foetal position as if he is not encouraging others but struggling against his own tendency towards inertia and fear that the whole pretext of this war is self-serving. It makes for a forensic piece of introspection without the contrivance of a soliloquy or aside. Johnstone achieves even more rapport with the audience when pondering the likely cost in deaths and maiming at Agincourt.
Set design by Moi Tran features a backdrop of burnished bronze. Lighting designer Azusa Ono illuminates this sufficiently for characters to observe friend and foe in it as reflections. Grappling points for the scaling of Harfleur's walls gleam at us from the metal and flicker in the candlelight. There are mildly Brechtian overtones, notably the cast announcing the act, scene numbers and entrances.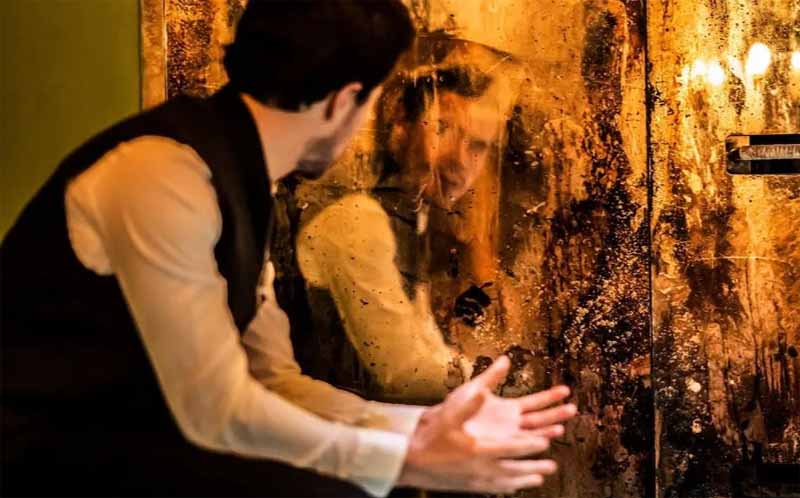 Oliver Johnstone as Henry. Photo credit: Johan Persson.
Tess Dignan (head of voice) combines with Race Roughan to ease all the performers into unmannered first-rate verse speaking that sits on the pulse of the meter. There is much multi-roling with the actors proving resourceful in transforming themselves and an (unflamboyant) element of gender-blindness. Dharmesh Patel impresses as Scroop, depicting him as a disloyal spin doctor with just a hint that he and Henry have been lovers. Patel reappears as a succession of minor characters in whom we assume Henry can see his old friend as a ghost. Fight director Kate Waters has us imagine French troops swarming around the English invaders at Harfleur within the tight confines of a thrust stage that is only 40 feet wide.
"What is my nation?" says a suitably engaging Joshua Griffin as Fluellen at a time when our contemporary government is becoming increasingly sub-national. There is first-rate support throughout, and Henry's former Eastcheap companions who are now would-be traitors and plunderers of French spoil seem suitably villainous. Tran and Race Roughan combine on a surprise piece of stagecraft to show the hanging of Bardolph (Jon Furlong excellent). He and his cronies hint skilfully at their backstory with the king through the odd glance and pointed expression.
Treatment of themes such as ethnic cleansing in Henry's slaughter of French prisoners evokes Bosnia and possibly Ukraine. There is a clumsy nation-state insertion (also Brechtian) at the end in the form of a scene showing an explicitly modern-day citizenship test centre in which the faltering English of Joséphine Callies as Princess Katherine is assessed.
I type this shortly after watching Suella Braverman (UK home secretary) grilled by a committee on immigration policy who chided her for allowing decisions on migrants to be made by staff who have been trained for two days. I get it that Katherine is being treated like chattel as a wife and with derision as a foreigner but should have liked the point to be made in a less prescriptive way and with some of the wit that abounds elsewhere in this production.
I had fallen out of love with Shakespeare's Globe to the point of suggesting to my London editor that I should not visit again for this magazine. I'm delighted that he convinced me otherwise. Pre-publicity had made me worry that the whole play would be seen through a post-colonial lens of bludgeoning unsubtlety, but I was wrong. Race Roughan has said in interviews that she always crosses her fingers during press night. She need not have taken such a precaution here. This is a smart and inventive Henry V for our times.