"Rita, Sue and Bob Too", Royal Court Theatre
Christine Eccles in Kensington and Chelsea
16 October 2017
In reviewing Rita, Sue and Bob Too it has become almost impossible for me to disentangle it from the #MeToo furore which engulfed the production and saw it temporarily banned from the Royal Court, the theatre that first staged it in 1982.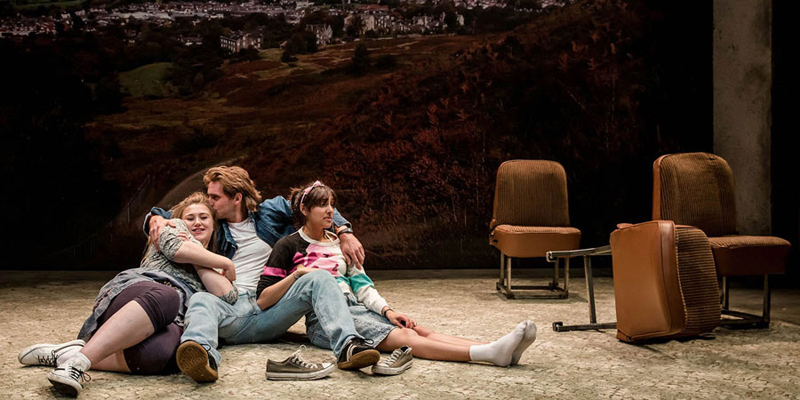 Gemma Dobson, James Atherton, Taj Atwal.
Photo credit: The Other Richard.
At the height of the recent Weinstein revelations, Vicky Featherstone, the Royal Court's current artistic director, set aside a whole Saturday to stage an event in which hundreds of written anonymous accounts from actresses about their sexual abuse were read aloud on the stage of this famously outspoken theatre. Featherstone wanted to take a lead in cleaning up working practices in the industry. Following this event she then zeroed in on an incoming show, Rita, Sue and Bob Too, a revival of the late Andrea Dunbar's coming-of-age play set on an impoverished northern council estate.
After months of trundling round on a nationwide tour Out of Joint, one of the last of the subsidized touring companies, was poised to bring Rita, Sue and Bob Too into Sloane Square in a kind of triumphant homecoming. Instead, it found itself caught up in a scandal that back in the early autumn — pre-Weinstein — it had tried to play down. Following allegations of sexual harassment, 76-year-old Max Stafford-Clark, the play's co-director with Kate Wasserberg, had been forced to step down from the production and quit his position as artistic director of Out of Joint, the company he had set up.
Stafford-Clark was the original director of this 1980s landmark play during his 1979-1993 tenure as artistic director of the Royal Court. But times had moved on leaving Stafford-Clark stranded with his distinctly non-PC brand of upfront sexual frankness which the young women working for Out of Joint found neither funny nor charmingly flirtatious. The tragic irony is that Stafford-Clark —  one of the giants of the 1960s cultural revolution — is a champion of women writers and of working-class writers. Dunbar was discovered, nurtured, and sustained by his belief that she represented exactly the sort of voice that should be heard on the Royal Court's stage.
But after Featherstone re-examined the play she felt that — given the post-Weinstein climate  — its unabashed semi-autobiographical comic exploration of sexual grooming was inappropriate. The 1987 film version had billed it as "Thatcher's Britain with its knickers down". This rumpy-pumpy image led Featherstone to think that putting on a play in which two 15-year-old girls have joyful sex with a married man, mostly in the back of a car, was "conflictual" and she pulled the plug on the  show. Almost immediately she was denounced on social media. Two days of Twitter bombardment followed. Surely this was exactly the right moment for a revival? How dare the Royal Court, the bastion of fearless speech, censor a young working-class female writer? Since when did staging a play mean a blanket endorsement of its actions? Featherstone then screeched through a complete 360-degree U turn and cancelled her cancellation. Too late, the play had become a controversial cause célèbre  — my, how Dunbar would have laughed at metropolitan luvvies getting their knickers in such a twist!
James Atherton, Gemma Dobson, Taj Atwal.
Photo credit: The Other Richard.
Dunbar — a single mother of three by three different fathers — had put on stage the life she lived and saw around her on the Buttershaw estate in Bradford in Thatcher's Britain. By the age of 29 she was dead from a brain tumour. Her teacher had seen an advertisement for the Royal Court's Young Writers Festival and had coaxed a few scrappy scenes from the teenage Dunbar in which Stafford-Clark saw much potential. This became The Arbor (1980). He then commissioned her and, in a process more akin to drawing teeth, extracted a working draft of Rita, Sue and Bob Too.
One of Featherstone's reasons to back her original cancellation was that she thought the play dated and unable to withstand a possible critical mauling if brought back into the Royal Court spotlight. So the audience arrive freighted with a great deal of pre-packed baggage prepared to be shocked either at its casual depravity or shocked by its dated jejune writing. Or both. What is terrific about Dunbar from the off — and what Stafford-Clark must have responded to — is her sense of immediacy. This is what happens. This is how it happens. Two curious and open-eyed schoolgirls babysit one evening for a married couple and on the ride home are more than up for a "jump" as soon as Bob, the 27-year-old husband, suggests it. Dunbar subverts the usual expectation that the nubile actresses should strip for the ensuing sex.
These two giggling girls, Taj Atwal's Rita and Gemma Dobson's Sue, stay fully clothed with not even their knickers down – just hoicked to one side. The girls squabble about who goes first, sloppy condoms are flung out of the window – all this in the confines of a clapped-out motor. ("Will you get your head off my leg, Rita — l can't move for you"); and it's Bob (James Atherton — give that man a medal!) who has to get quiveringly butt-naked and pump away, trousers round his ankles. It's not exactly love's young dream.
From this famous opening scene, it continues to hold up well as a fresh and refreshing take on sex, morality, marriage, and men. Misogyny seeps through every scene — of the routine "run an iron over my jeans" sort — but it's matriarchy that rules. Despite the name-calling and slut-shaming, the ever resilient pragmatic women of Yorkshire just get on with it." As long as you're alive, that's all that matters," says Sue in Dobson's wonderfully nuanced debut portrayal of a lass both brassy and sassy but also wise beyond her years. Lt's the 1980s, so Bob's got a girly mullet while his wife sports mannish padded shoulders. Dunbar is half in love with Bob, a charismatic chancer about to be thrown on Thatcher's scrap heap. He's good fun. He's a laff. When it comes to it., he'll do the right thing. Even though it's also the wrong thing.
There are neither villains nor victims in Dunbar's comically vital world of battle-axe mums in curlers and beer-bellied dads in string vests. Rita, Sue (and Bob too) will inevitably morph into their parents – until then, why carpe diem! Her dialogue sparkles, makes its point, and swiftly moves on. Which l guess is more than can be said for the convoluted debates about it, the historical revisionism about Stafford-Clark's contribution to its revival, and the way in which the #MeToo issue is dragging on but maybe getting nowhere.