"Belleville", Donmar Warehouse
Jeremy Malies in Covent Garden
24 February 2017
One of the numbers in George and Ira Gershwin's An American in Paris is "Who Cares?" I couldn't get this out of my head when watching Amy Herzog's Belleville which depicts the failing marriage of American expatriates living in Paris. Despite superb work by James Norton and Imogen Poots, it's difficult to become involved even when the physical comedy elements turn excruciatingly visceral and convincing.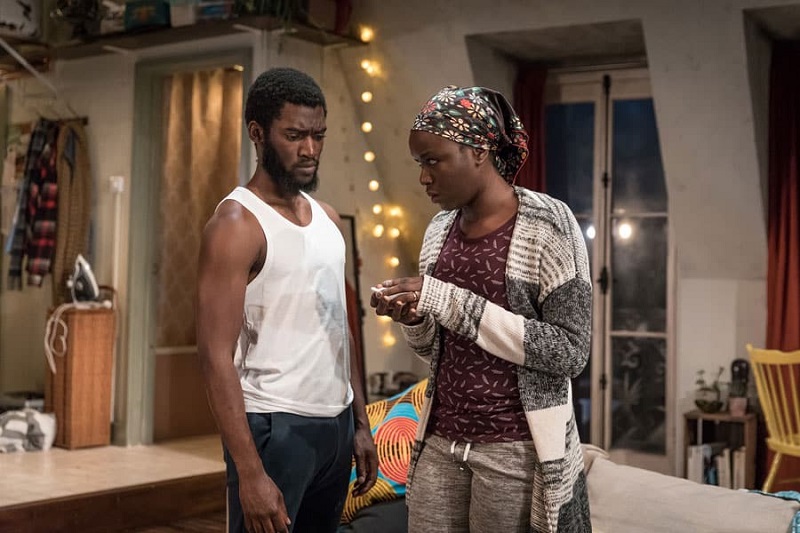 Malachi Kirby and Faith Alabi. Photo credit: Marc Brenner.
Poots, who was born and raised in London, has now turned in two wonderful performances as drink-addled American women. (She appeared in Who's Afraid of Virginia Woolf? at the Harold Pinter Theatre last year.) This time she's a millennial Bostonian out of New York who has found herself in a multi-ethnic quartier of Paris in a fauxhemian flat that is created vividly for us by designer Tom Scutt who lavishes care on deliberately pretentious props.   
Norton is equally impressive when teetering between a sophomoric vulnerability and emotional manipulation of Poots which includes confiscating her mobile phone on which she is totally reliant. The pair are credible as a dysfunctional couple with their bouts of passive aggression, pet names and endless dissection of their insecurities.  
Poots' character is a failed actor who has turned to giving yoga classes only to find that her students never turn up. Her lines include: "To be an actor you have to love to suffer. I only like to suffer." She is proving lazy in her efforts to learn French and shows a crassness and lack of education when discussing religious holidays with her Muslim landlord. Poots will have enhanced her reputation with a portrayal of self-absorbed assumptions of entitlement based on privilege back home but she may want to choose future roles more carefully. Her nuanced delivery often revealed that Herzog's dialogue here is indifferent and no actress could have negotiated the plot's frequent lurches into melodrama. 
I don't expect to like or empathise with all the characters I see in a play but it's a prerequisite that the principal couple who form the love interest should merit some attention. Large portions of the play are unengaging. The action begins with Poots disturbing Norton who is unexpectedly home from his work as a doctor with a medical charity and is pleasuring himself while watching computer porn. It's an interesting or unedifying start according to your taste. Herzog excels with a drip feed of information relating to Norton's job and we soon realise that something is amiss and it will be crucial to plot development. Reviewers were enjoined not to indulge in any spoilers and though I don't expect the piece to be revived anytime soon I'll abide by this.
Malachi Kirby and James Norton . Photo credit: Marc Brenner.
As with Poots, Norton's considerable technical resources are rarely stretched by the dialogue. Even if the point is to expose the vacuity of a certain stratum of American society, the verbal jousting must get off the ground. It's revealed early on that all is not well financially. Norton is consuming marijuana in industrial quantities and the couple owe the Franco-Senegalese owners of the apartment four months' rent. Faith Alabi and Malachi Kirby impress as these characters but their ability and charisma only serve to underline that the roles are woefully underwritten.
Taking a shrewd guess that audiences Stateside and in the UK will have enough French to understand it, there is a whole coda scene in which the couple converse in French while clearing up after their tenants. As Alabi says while scrubbing the floor post the eviction: "C'est pas une catastrophe." Immigrants with a strong work ethic proving stoic after their snowflake WASP tenants have left amid bad debts and a web of deceit is a memorable final image. 
But this is one American export too many. The sheer freight currently carried by Amy Herzog, her multiple awards and now a teaching post at Yale have led the dramaturgy department at the Donmar Warehouse to make an error of judgement.