"M. Il figlio del secolo", Piccolo Teatro
Maggie Rose in Milan
7 October 2022
M. Il figlio del secolo is a literary adaptation, based on Antonio Scurati's historical novel of the same title. It has been made possible on a grand scale thanks to the financial support of two of Italy's major theatres, the Piccolo Teatro and the Teatro Argentina in Rome.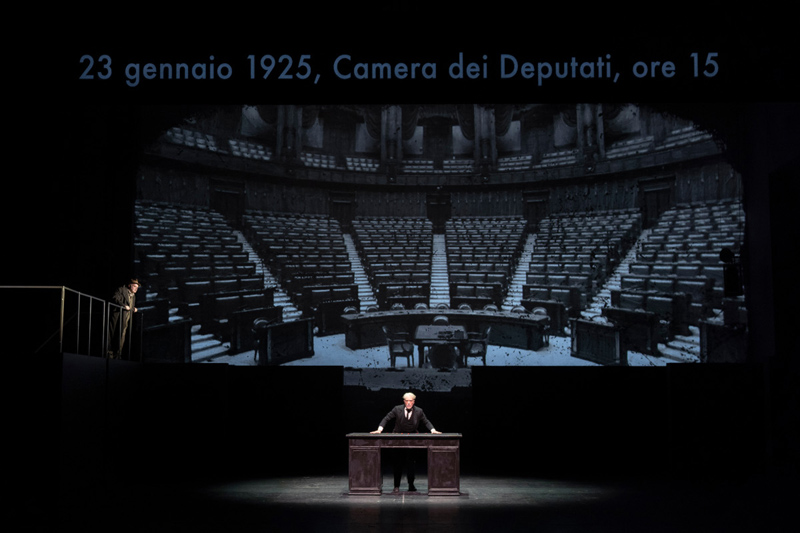 Photo credit: Laila Pozzo.
Scurati's award winning bestseller, published by Bompiani in 2018 (English translation: M. Son of the Century, Harper Collins 2021), is according to its author, "the novel where nothing is invented". It is derived from Scurati's in depth research of Benito Mussolini's papers, letters, telegrams, etc.
The stage adaptation, with a cast of 18 actors playing more than 80 roles, has been carried out by Massimo Popolizio, a well-known stage actor who directs and plays one of the two roles that embody Mussolini.
In the play, Popolizio interprets Mussolini 'the performer', a part that underscores the dictator's histrionic personality, while Tommaso Ragno is Mussolini, the politician. For the adaptation, Popolizio has deftly chiseled 31 scenes from what is an 800-page tome relating Benito Mussolini's rise to power from 1919 to 1924, a period that begins with the formation of the fascist squads, continues with the March on Rome in 1922 and ends with the assassination of Socialist leader Giacomo Matteotti and Mussolini's triumph in the 1924 elections, the point at which the dictatorship began.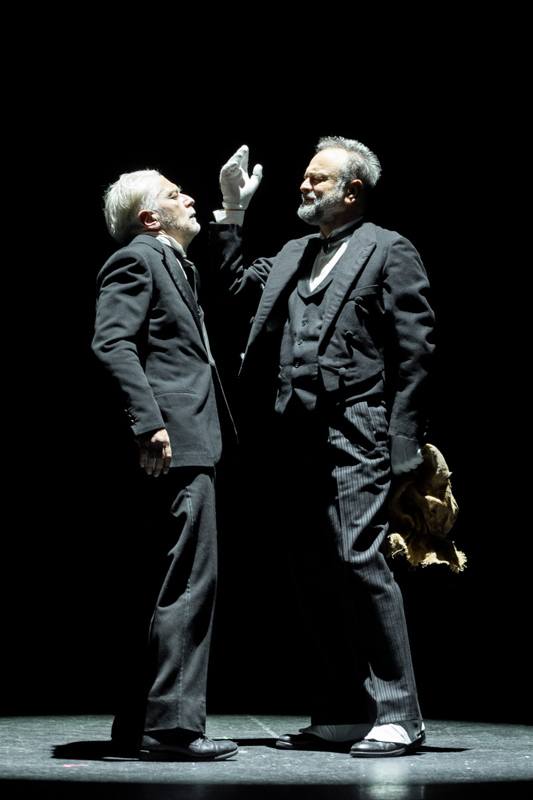 Tommaso Ragno and Tommaso Ragno. Photo credit: Laila Pozzo.
Audience members are invited to embark on a heady journey of three hours through a deeply turbulent moment in Italian history. In an interview in the theatre programme, the adapter-director acknowledges his debt to Brecht regarding his decision to create a fascinating, theatrical mix of dramatic scenes, songs, variety and choruses.
The outstanding cast members, stunning scenery, lighting and costume designs which conjure up the atmosphere of the interwar period contribute to an epic and ethical production.
While on one hand you might perhaps lament a lack of depth in the characterization of some of the well-known historic figures such as Antonio Gramsci and Gabriele D'Annunzio who rapidly come and go, on the other hand, the plight of Giacomo Matteotti and his wife, Velia, who, finding themselves far apart, are forced to communicate through letters, cries out to be heard. With this co-production, the Piccolo Teatro affirms that it is once again at the top of its game.